There's something dreamy and relatable with R&B songs that would want us to believe in it and let love in when it talks about love. This is the reason why R&B songs are the go-to and mainstay songs in weddings. With a pool of R&B songs, you may find it hard to choose which ones would make it to your wedding playlist because they are all too beautiful.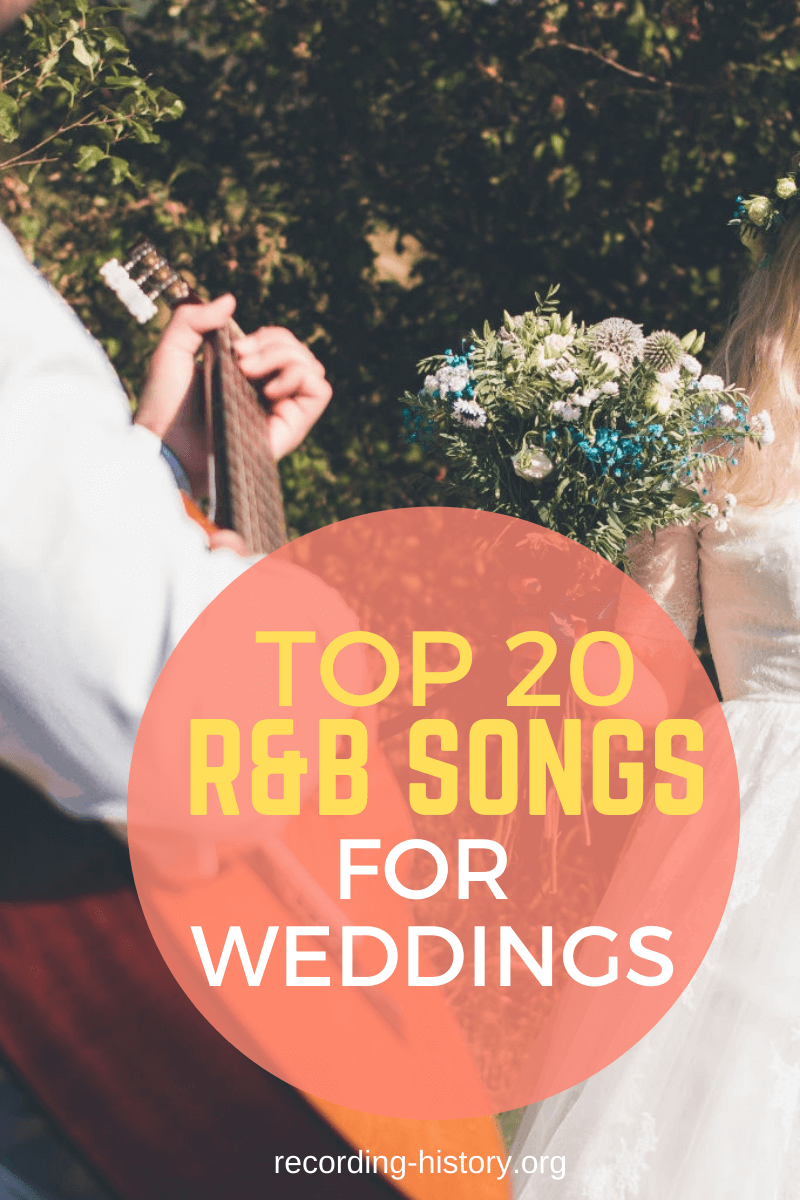 Top 20 R&B Songs for Weddings
Choosing the best R&B song to play at your wedding can be stifling because every song is perfect but since you need that wedding playlist right here, right now, here are some handpicks that you can consider. 
1. Just the two of us (Bill Withers)
This classing R&B jazz/soul song tops the list because it is the perfect package. It has the subtle R&B runs that will keep the mood up and the crescendos in between to keep the event fun and exciting. 
2. On bended knee (Boyz II Men)
This song is always on the list of the best wedding songs ever written and being clustered in the R&B zone makes it all the more special. From one of the most famous bands of the late 80s and the rest of the 90s, guests will surely be hooked in the magic of the moment. 
3. Stand by me (Ben E. King)
From the 1961 album Prince Royce, this sultry R&B soul is something that we all know by heart. It starts with that jazzy intro that truly makes it a standout and the lyrics that we grew up memorizing. 
4. Everytime I close my eyes (Babyface)
With its immortal lines, and every time I close my eyes I think of you, your wedding will be nothing short of romantic and memorable. It has lyrics that speak to the heart and an R&B soul run that will make sure that you feel the warmth of the moment. 
5. You and I (Avant)
This 2013 is the mash-up of classic R&B soul and contemporary jazz. So much elements in one song that will really hype up the emotions in a wedding. This song is just too beautiful to ignore. 
6. Over and over (Nathan Skyes)
This song is surely love at first note. It is not that popular but it surely is personal. It speaks of a man in love choosing one woman over and over again. Imagine these professions of love in an R&B soul manner and that would be heaven. 
7. Wonderful (Arika Kane ft. Kmelz)
Released in 2011, this song is a piece of appreciation and devotion to the person you love and how everything is just made wonderful by being with this person. 
8. Best day ever (Andy Stokes)
This 2018 R&B soul has one of the most classy take on love that is good for dancing and just having fun in such a lovely event. With those runs and lows, it will really be the greatest anthem for the best day ever. 
9. If I ain't got you (Alicia Keys)
This maybe the song that made people give Alicia the highest respects because this song is just full of honesty and emotions, telling the one you love with people watching that everything means nothing if you ain't got him/her. 
10. Let's stay together (Al Green)
This 1972 classic is all you need on a momentous occasion like weddings. Fighting for love always is the theme of the song, mixed in R&B soul tune that will really set the mood on a hype. 
11. Just the way you are (Bruno Mars)
This song may be upbeat but it does not fall short of giving us the real talk in R&B pop. This is just what you need to make the event festive and sweet all at the same time with the lines, and when you smile, the whole world stops and stares for a while. 
12. Marry your daughter (BRKNRBTZ)
It may sound like pure soul but it actually is R&B. This song took the world by storm as it sounded like Westlife and Boyz II Men reincarnate. With the subtle runs and simple lines that are written like country, this song is the total package. 
13. Ain't nothin like the one I've got (Calvin Richardson)
This R&B soul remix of 2019 under the album Gold Dust talks about the life of a settled person, waking up next to an incredible woman. This definitely suits the wedding playlist with these alone. 
14. Perfect duet (Ed Sheeran with Beyonce)
Hitting the world by storm in 2017 being sung by two of the most top notch artists in the planet, this song of Ed Sheeran talks about not wanting to have another because they already got each other as the perfect pair. 
15. Made to love ya (Gerald Levert)
This sweet rendition of one's devotion to someone makes this song the perfect R&B for your wedding. It's like another form of wedding vow saying, I was made to love you, touch you, but in song form. 
16. Every kind of way (H.E.R.)
This 2017 R&B soul nominee for Soul Train Music Award is not just one of the breakout songs of 2017 in its own right but also a very beautiful ode to the love of your life. Its best lines are, I want to love you in every kind of way, I want to please you, no matter how long it takes. 
17. Steady love (India Arie)
This is a very personal song as it was dedicated to the partner of one of the most empowering black women in the world. It is a subtle, sweet and a very honest depiction of how true, equally empowered men love their women and that is through steady love. 
18. Closet thing to perfect (Jagged Edge)
This collaboration song has the sweetest lyrics. With all the ruggedness and imperfections, what better way is there to express your adoration over someone by telling them that through it all, he/she is the closest thing to perfect. 
19. Marry me (Jason Derulo)
All hail to the hit single of the first champion of the first season of The Voice USA in 2009. Aside from it being R&B pop that will make hearts swoon, it was also nominated for the World Music Award in 2014, the year of its release. 
20. All of me (John Legend)
Imagine being embraced within the arms of the person you chose to settle with during your wedding or reception with this song on the speakers. Who would not melt with John's R&B runs while he sings, all of me loves all you. 
Conclusion
When it comes to R&B wedding playlists, you will never run out of beautiful songs so our advice is for you to choose the most intimate and personal songs that you could get; the ones that will really narrate your love story and who you are as partners.