Recessional songs in weddings are magical because it is a song that signals that the vows have been made and the bride and the groom are now husband and wife.
It is also the song that signals that the fun in the reception will soon commence and that all that are gathered there are invited to the next phase of the celebration.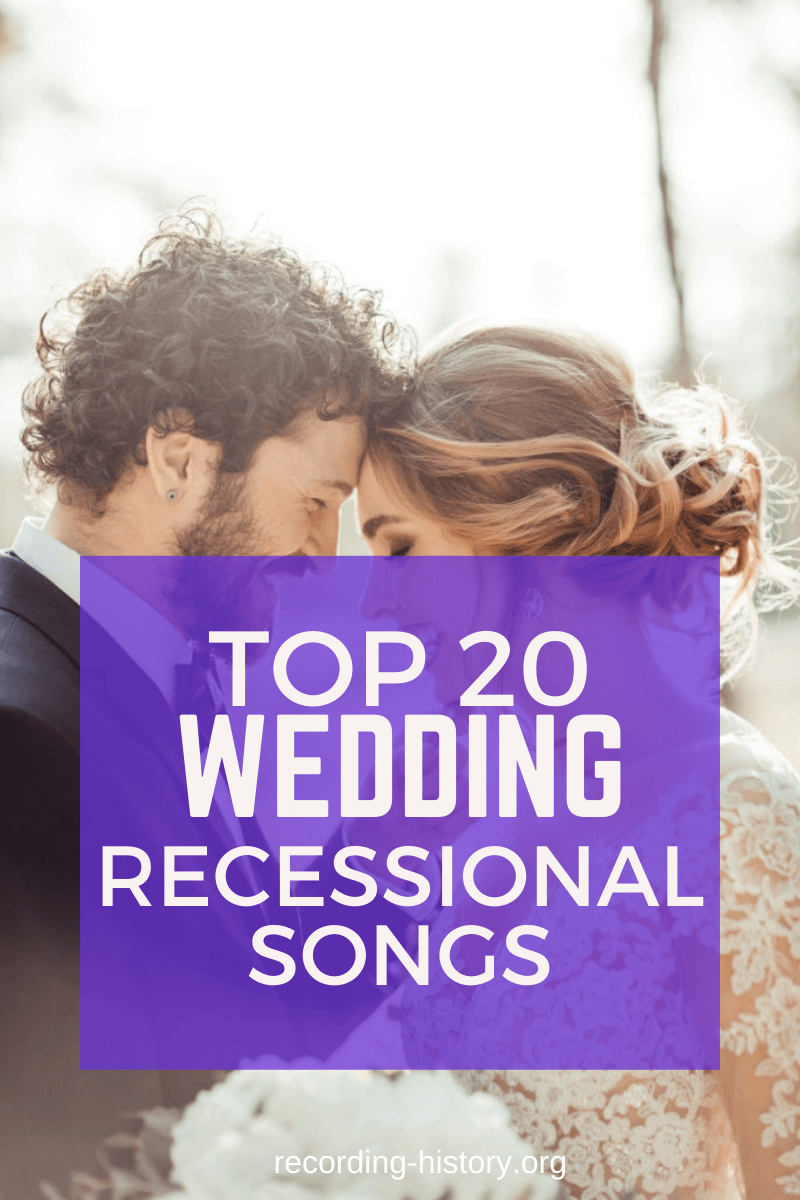 Top 20 Recessional Songs for Weddings
If you are looking for the best recessional songs for weddings to finalize the ultimate for your perfect wedding, here is a list that will help you to sort it through. The list is not limited to slow beat recessional songs if you wish to be more bold and modern. 
1. Beautiful day (U2)
Weddings are some of the best, most memorable and beautiful moments days of a person's life and what better way to celebrate that than through songs. It was released in 2000 under the album All That You Can't Leave behind and won a Grammy for Song of the Year and Record of the Year. 
2. Unconditionally (Katy Perry)
This is an upbeat recessional song but its lyrics are super perfect for the love shared by the newlyweds. It is both a party beat song and an upbeat soul type that is perfect as the newlyweds walk together down the aisle as newly wedded couples. 
3. 40 Day Dream (Edward Sharpe)
Floating in between alternative rock and indie folk, this will transport your wedding to a 1960s feels kind of moment. And it is a good recessional song for your wedding because of its celebration of love as the magical, mystery kind and singing this in beautiful runs. 
4. Everybody talks (Neon Trees)
It was released in 2012 under the album Picture Show. With its upbeat alternative-indie rock genre and playful lyrics, it will set the mood for the upcoming party and signals the end of a beautiful wedding ceremony. 
5. I will wait (Mumford and sons)
This song intersects in between alternative rock, indie and neo folk; genres that this group is known for. It makes a perfect recessional song for weddings because it gives a tinge of intimacy and the affirmation that someone will hold your hand through it all. 
6. The time of my life (Bill Medley and Jennifer Warnes)
This song was made popular by the movie 1987 film Dirty Dancing and won an Academy Award for Best Original Song that year. But aside from that, it is also a good recessional song for weddings because of its pop vocal duet and ascending tones. 
7. On top of the world (Imagine Dragons)
This will give you the chill vibe in love. With an indie beat in the beginning and pop rock in the chorus, it will make you relive the ceremony in mind with so much nostalgia and fun. 
8. I do (Colbie Caillat)
Colbie never really falters when it comes to making us feel how good love is. It basically is about taking the chance and finally making it right hence, making her say I do over and over. The upbeat, chill beat is a good plus for an unforgettable recessional in a wedding. 
9. You are the best thing (Ray LaMontagne)
With that saxophone, bass guitar and the classic raspy soul tone of Ray makes this song a beautiful recessional song for weddings to remember. And the lines, you are the best thing that's ever happened to me at the end of the chorus is just so perfect for the occasion.  
10. This kiss (Faith Hill)
Who says that country is just for country? Well the kiss literally and figuratively seals the deal in weddings, making the union formal and sweet. As is the case, this song makes a good upbeat recessional song to remember.  
11. You're all I need to get by (Marvin Gaye)
From the very first lines saying you're all I need to get by until the middle and last lines talking of commitment and dedication is basically about weddings. And because it is, you need to add it to your wedding playlist as your recessional song.
12. Love never felt so good (Michael Jackson)
Fusing pop, funk and disco in one love song, MJ does not only remind us of why he is a legend but also offered us once again a song that will always be timeless even for weddings. Ending with the lines love never felt so good while the newlyweds hold hands after the ceremony is just too iconic to forget. 
13. No one (Alicia Keys)
What better song is there to settle in all the love from the wedding and prepare everybody for more love in the reception than this song. It just explodes of love and being the right persons for each other so recessional song for weddings, here you go. 
14. Loving you easy (Zac Brown Band)
This just not talk about the good things that come after the wedding but of all the good things that come with settling down with the right person and how loving him/her just becomes easier every day. These are all the reasons why the beat and the lyrics make it a good recessional song for weddings.  
15. She is love (Parachute)
Taking it from the perspective of a man who confesses how imperfect and undeserving he is of her love but has a woman who has chosen him over and over and telling that she is love. Its soft rock beat and great lyric gaps make it a perfect recessional song for weddings. 
Think of that perfect country wedding and mash this song in and it will be magic. With that classic country tones and professions of love for his bride, it will really make you love out loud looking at the newlyweds making their way out of the church. 
17. I love you will still sound the same (Oh Honey)
This is an indie-pop vocal duet that makes a good recessional wedding song because its lyrics are like wedding vows and of course preparing on making a new life together. Plus, saying I love you will still sound the same even when we are grey and old is just stunning for recessionals. 
18. Lost in this moment (Big and Rich)
This song is a certified country pop song and like most country songs, it tells a story. This one tells the story of a being wed with the love of your life and being lost in a beautiful moment asking God to bless their brand new life. What a tear-invoking recessional song this will make. 
19. Grow as we go (Ben Platt)
This one's gold for Ben talking about how growing together does not always mean growing apart, sometimes it just means growing as they go. It will surely make people cry especially if the newlyweds have had a long relationship or long engagement. 
20. First day of my life (Bright Eyes)
If you want to go a bit bold for your recessional song, this song is a hit. It is personal, it is a narration of just feeling reborn because of love and being chosen by someone who loves you back and just as much as you love them.
Conclusion
Recessional songs are an important choice for weddings because they set they conclude the solemnity of the wedding ceremony and condition the mood for the next part of the celebration, so make no mistake when it comes to these songs.