People who buy a turntable are not just simply purchasing any music equipment, but are also buying into the whole experience. Playing vinyl records shows how passionate you are with music. Crosley is one of the most popular brands of turntable in the market. However, is it worth every cent?
In this article, we'll help breakdown the reasons why you should or shouldn't buy Crosley turntables. We'll also make a comparison between Crosley and other brands to see how they fare against each other. At the same time, we'll recommend the best turntable brands worth every penny.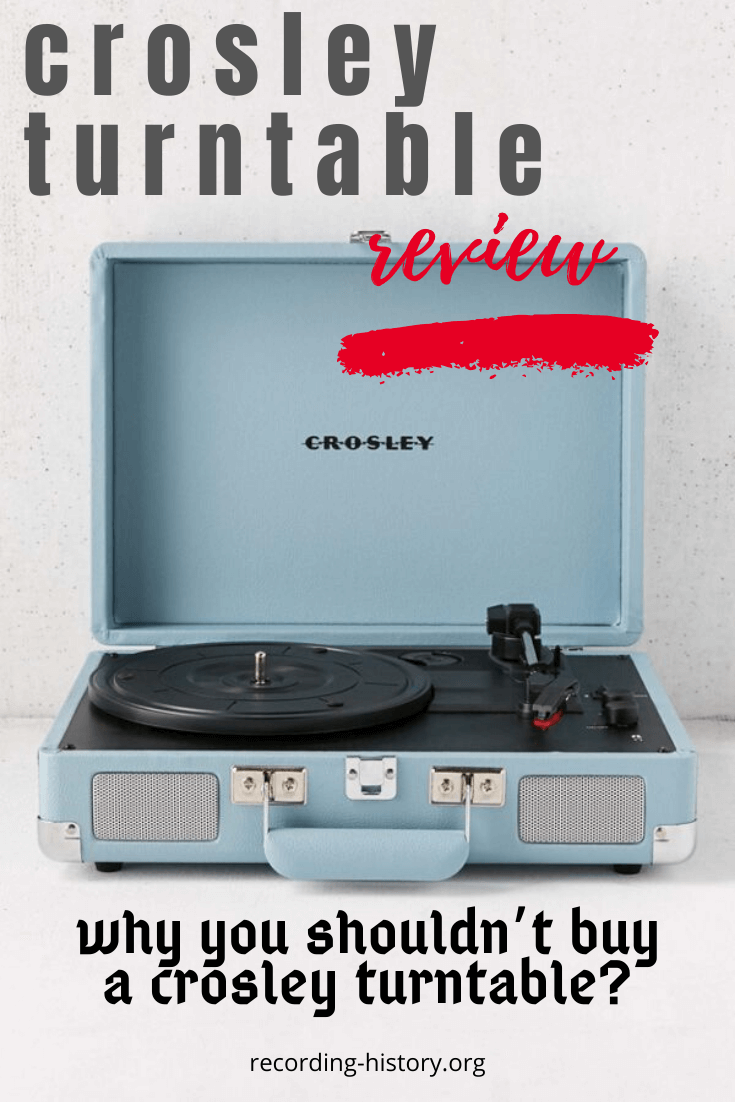 History of Crosley Turntables
The history of Crosley turntables began when Crosley Radio, an electronic manufacturing company located in Louisville in Kentucky developed its first turntable in 1992. This came as a bold move by the company to address its declining sales. Fast forward, Crosley is now one of the leading brands of turntables as well as other musical equipment such as jukeboxes and radios among many others.
In 2017, the company launched the Vinyl Rocket and was marketed as the only current production of vinyl jukebox in the world. At the same time, it became the first vinyl jukebox in Crosley's collection. This jukebox can hold up to 70 records and is capable of playing both sides of the vinyl offering more than a hundred selections.
Is Crosley a Good Turntable Brand?
Crosley turntables are quite popular among people who are just starting to discover the joy of listening to vinyl records. They are also quite popular with online shoppers. However, you might wonder is it a good brand for a turntable? The answer depends on what you are looking for in a turntable.
If a basic turntable is what you are after, then many would probably say that Crosley is a good brand. Crosley turntables are known for its cute, colorful, and retro style. If looks are important to you, this brand may be suitable for you.
However, those who have been listening to a vinyl record for a long time may have a different view. They may argue that there are plenty of other choices that are better than Crosley.
Here's a closer look at the reasons why many find Crosley turntables a decent brand to begin with.
Pros:
Crosley's turntable designs are unique and attractive. Therefore, it attracts many customers who prefer a turntable that's lovely to look at.
It is compact and easy to transport. With its portable "suitcase" design, you can conveniently bring it wherever you go.
It comes with an affordable price tag. Hence, making it a popular choice for budget-conscious individuals and beginners.
Crosley turntables are capable of playing three different speeds without any hassle.
Why Shouldn't you Buy a Crosley Turntable?
Most collectors of vinyl records criticize the Crosley brand. It has a reputation for having poor quality and performance as well as a short shelf life. One particular model, the Crosley Cruiser, is known for destroying vinyl records due to poor tracking among many others. You'll also find plenty of bad reviews online.
Do Crosley turntables ruin records?
Unfortunately, Crosley turntables have a low-quality design which is why it is inexpensive in the first place. The ceramic cartridges used by Crosley are heavy which means that your precious vinyl records are more prone to scratches due to the added weight. It is also poorly calibrated which just adds more drag to the surface of the vinyl.
Alternatives to Crosley turntables
There are plenty of other options aside from Crosley turntables. Some of the most popular alternatives are Audio Technica, Rock 'n Rolla, Music Hall, and Victrola to name a few.
Is Crosley turntable better than Victrola?
If you are looking to buy a vintage-inspired turntable that will fit your budget, you should consider Victrola. Both brands offer the same sound quality and attractive retro designs. However, Victrola is slightly more affordable than Crosley.
Is Audio Technica better than Crosley?
Yes. Most vinyl collectors will tell you to choose Audio Technica over Crosley any day. Users recommend the AT-LP60 which ranks higher than Crosley models in terms of overall performance. Many prefer Audio Technica when it comes to sound quality and functionality.
Conclusion
While Crosley is slowly making new changes and innovations to their turntables, they still have a long way to go. If you are buying a turntable with the hopes of achieving the ultimate sound experience, you might just end up disappointed with a Crosley turntable particularly if you choose the entry-level models.
On the other hand, if you just want to put it on display to make your collection look cool and retro, then a Crosley turntable will do as long as you don't intend on using it on your priced vinyl records.