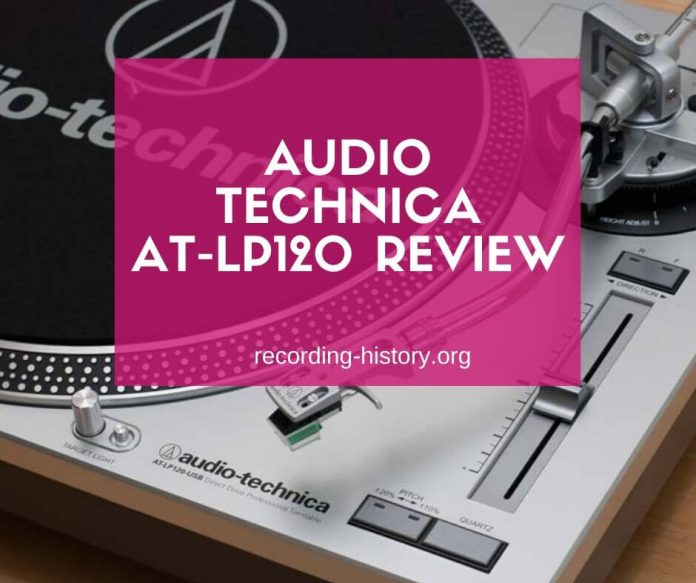 Want to invest in a turntable but don't know where to start? If you are looking for a reputable brand known for producing high-quality turntables, the Audio Technica LP120 might be a good option. 
Vinyl record collectors often complain that their precious collections often end up getting scratches after playing it on a turntable several times. To avoid this, you should avoid cheap buys and instead invest in a high-quality turntable such as the Audio Technica LP120.
The Audio Technica LP120 is one of the leading products in the market today. It is introduced in the market by Japanese manufacturer, Audio Technica and was originally designed to replace their discontinued line of Technica SL-1200 series. 
Here are the pros and cons to help you make the right choice.  
Pros: 
Good playback

Enable you to digitize your records

Features a counterweight, pitch lock, and pitch adjust

Has USB support

Easy plug and play

Reasonable price point
Cons:
Does not come with a speaker or headphone jack

Hard to replace RCA cables

The anti-skating feature does not work
Verdict:
Audio Technica LP120 is a solid entry-level turntable that won't break your bank. It produces high-quality conversions of LPs and has a good overall performance. 
Key Specifications:
Enables you to convert your vinyl records into digital music

Minimized vibration

Features a wired connectivity technology

Has USB support

Features playback controls

Comes with a high-quality cartridge
Built-in Preamp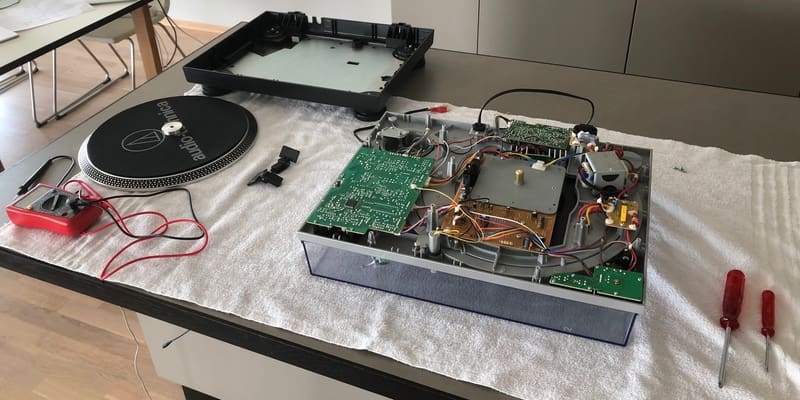 The built-in preamp of Audio Technica LP120 makes it easy to plug the turntable and play your favorite records. You also have the option of adding an external preamp since this turntable features a line position that can bypass the internal preamp. Whichever you use, you can achieve the sound quality you are looking for. 
Direct-Drive Design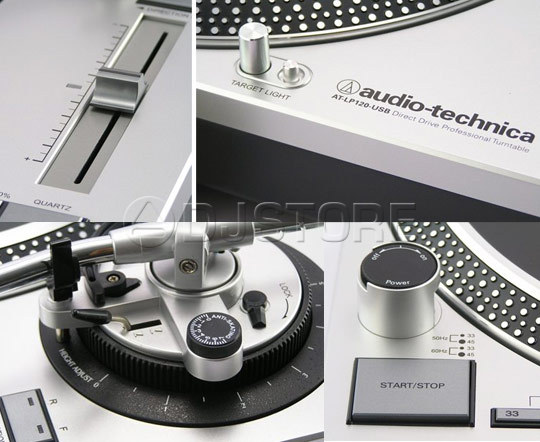 The Audio Technica LP120 is built with a direct-drive design. This means that you'll find a motor under the spindle responsible for turning the platter. 
This feature makes it more convenient because it eliminates the task of changing a worn belt over time. Many DJs love this feature because it allows them to play records at full speed. However, the vibrations may tend to go up the record and platter. 
How to Set Up
The Audio Technica LP120 is a direct-drive turntable that features a USB and analog connection. You can use it with a standard audio device or attach it directly on your computer.
One of the advantages of the Audio Technica LP120 is that it is easy to set up. Just follow the directions on how to set it up and you'll be playing your records in no time. The cartridge is already pre-assembled which makes it easier and more convenient to setup. 
Be careful when opening the dust cover as it only goes up to 60 degrees. Otherwise, if you force it, the cover may just break off. 
You also have the option of upgrading your equipment by getting a stylus-tracking force gauge. Another option is to use high-quality speakers and an additional preamp. 
Customer Reviews
We've gathered a couple of reviews from customers who have purchased and used the Audio Technica LP120. One amazon user named Tranzdekk gave it a four-star rating due to the fact that it produces a great track. At the same time, he says that the product itself has a heavy-duty build quality. He also bought an additional stylus head to maximize the turntable.  
User David Gee also gave it a high rating on Amazon and was also drawn in to the product's high build quality. He also found the push-button easy and convenient, especially when switching speeds. You won't have to move the platter and belt. The head shell is also easy to remove while the direct-motor drive allows you to control the pitch.   
Another Amazon buyer gave it a solid rating with an emphasis on the amazing sound quality. He also liked that the LP120 came with additional features and that there is no platter warp. 
User Real Bill Nye, on the other hand, did not like it's anti-skate feature and found it to be useless. In his experience, it doesn't function beyond 0.5 on the dial. Also, if you have sensitive wooden floors, the record will constantly skip even with the lightest steps. 
Will, another Amazon user, says that after three months of using, the turntable developed a motor pulsation noise which keeps getting louder. 
FAQs
Do you need an amp for Audio Technica LP120?
Yes. The Audio Technica LP120 should be connected to an amp. Although it comes with a preamp, it does not have a built-in speaker. You still have to connect it to a separate speaker.  
How do I balance my Audio Technica LP120?
You need to apply the right tracking force for your cartridge. Otherwise, it can result in distortion as well as other sound issues. 
Hence, you need to set the tracking force during the setup and balance the tonearm. You can also use a specialized gauge to ensure that you apply the proper tracking force.
How do I connect my speakers to Audio Technica LP120?
Just connect the RCA plugs to the RCA adapter cable making sure the colors match. Then connect the adapter cable to the speakers. Once completed, you can connect the AC power cables of your speakers.
Does Speed Accuracy Guarantee Accurate Sonics?
The measured speed accuracy of the Audio Technica LP120 produces impressive results. This turntable runs at the proper correct speed while its deviation is 10Hz. It also has a solid performance when it comes to speed stability. 
Should you buy the Audio Technica LP120?
We recommend that you do. The Audio Technica LP120 fare well against its competitors in the same category. At the same time, it comes with a lower price tag but is packed with all the essential features collectors want in a turntable. 
The Audio Technica LP120 is ideal for newbies who also want to digitize their collection of vinyl records as well as DJs who want to play records with speed.