Nothing could stop our craving for that classic tone that turntables/record players could give, not even the rise of the digital era of music.
With the advent of portable and wireless music streaming, you would think that turntables will no longer have a place in the song player debate. But as we can see, the relevance of turntables and record players no longer reside on just playing vinyl records but in getting the experience of playing one with the combination of digitized forms.
As such, modern turntables are building the classic vinyl experience but with the fusion of wireless and non-wireless connections which makes it portable.
More so, a lot of people think that modern turntables are too expensive and although they want to have one for their vinyl collections, they would not invest on one because they perceive it as impractical. But that is not the case and there is no limit in experiencing classic music galore using your vinyl because there are turntables/record players under $500 and we'll look at some of the bests of their kind.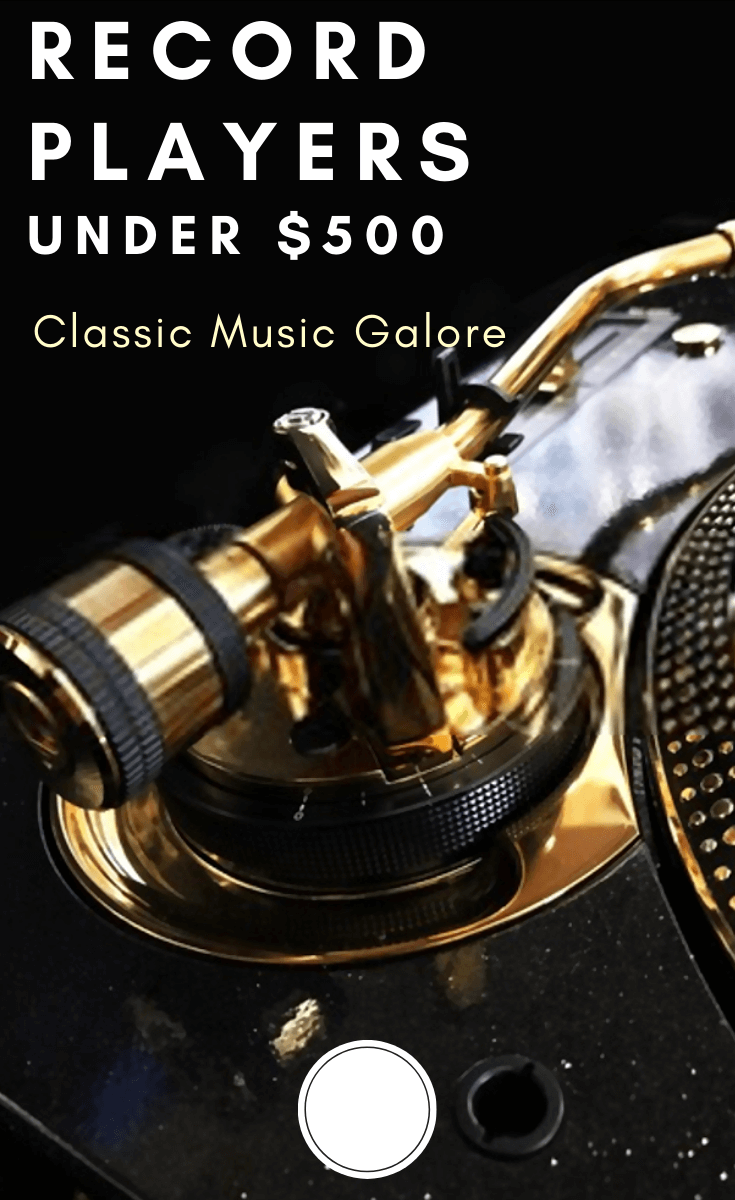 Best turntables/record players under $500
Now that we know that budget record players do the job of bringing you classic vinyl listening and more, the next question is what are the best turntables under 500 that we can consider?
What makes them standout and what innovations have been incorporated to them that are not present in others? If you are interested in knowing what brands and models made it to this list to satisfy your curiosity or for future reference, here is a rundown of the best budget record players on the market today.
1. Audio Technica LP 1240-USB
This one is probably one of the best catches for professional record player use specifically for disk jockeys.
It is designed with high portability and mobile use which features multiple-motor, drive belt.
It also features up to date software called Audacity which is perfect for music touring like the auto-converting USB feature from vinyl to digital formats.
It also has a switchable pre-amp which is compatible with various receivers.
Other major upgrades are also present with this one since it features anti-resonance specs like the non-slip platter, speed indicator as you switch from 33, 45 and 78 RPM and S-shaped tone arm whose height can be adjusted, with a lockable rest and an anti-skate feature.
Pros: 
High torque and direct drive for more portable and dependable use especially for DJs.
It features a manually operated playback control for pitch, speed, reverse and start and stop adjustments.
Comes with a removable stylus target light for easier record cueing.
Designed with a die-cast aluminum platter with extra DJ-grade non-slip mat for continuous spinning and ripping.
Equipped with S-shape, balanced tonearm and an Audacity software for a stable spinning and ripping and for auto-conversions of vinyl records to digital formats.
Also comes with built-in pre-amps, RCA cables, USB, RPM adapter, dust cover and slip mat.
This model features both USB and analog outputs. It performs via direct-drive at high-torque for easier start-ups.
This one can be automatically connected to your computer so you can mix and convert while you are spinning.
The major plus for this one is that it does not require the conventional turntable inputs like RCA and the like when you need external speakers for the built-in pre-amps to perform efficiently.
It also features the Audacity software for automatic audio-conversion from LPs to Mp3 and manual start and stop buttons, forward and reverse, a pitch lock and a pitch slider to control the pitch automatically.
Plus, you can experience three-speed variants at 33, 45 and 75 RPM with a phono pre-amp gain of 36dB and an aluminum platter that enhances stability by blocking off resonance and unwanted vibrations.
Pros: 
It has a RIAA equalizer for its phono pre-amp for clearer and more controlled volume.
Features an automatic audio-conversion from vinyl to digital formats through the Audacity software.
Easy navigation and playing with its built-in controllers for speed, pitch and forward and reverse.
Features a three-speed RPM and an aluminum platter with slip mat for a more stable ripping and spinning.
A professional-grade DJ turntable with anti-resonance and anti-vibration features.
Features a dual magnet phono cartridge with a diamond stylus.
Comes with a target light for easy record cueing, S-shaped tonearm for stability and flexibility and comes with cables such as RCA, USB and RPM adapters.
3. Fluance RT81 Elite
The first thing that will get your attention with this is its smooth but solid wooden case which is crafted from elite-grade wood.
This is not a normal case though because it was designed to incorporate an isolation feet, a rubber slip mat and a die-cast aluminum platter to stabilize vibration and decrease resonance while spinning.
The signal clarity is also commendable with its built-in pre-amp with a ground terminal and gold plated RCA cables for better tuning and more clarity.
It is a crossover with Audio Technica as it features the same stylus like that of the AT95E. It is a diamond, elliptical stylus designed with an S-shaped tonearm for a high definition vinyl experience.
Pros: 
Has the ability to play LP and EP vinyl records at a high fidelity capacity through the AT95E stylus.
Three-speed belt-driven turntable at 33, 45 and 78 RPM with USB, RCA and RPM adapters.
Infused with isolation feet, rubber slip and aluminum platter to minimize resonance and unwanted vibrations while ripping and spinning.
Comes with S-type tonearm with an anti-skate system for an undamaged vinyl playing and an accompanying stylus rest.
It also has buttons for easy navigating specifically used for start and stop, reverse and forward and others.
4. Crosley K-100
This is a drive-belt turntable with free Bluetooth speakers. Unlike the other three-speed budget turntables, this one only features two; at 33 and the standard 45RPM.
It is manually operated with on and off, stop, play and reverse buttons for easy use. It is also equipped with S-type tonearm with an anti-skate, height adjustment, hydraulic lift control and a lockable rest for its AT95E stylus.
Aside from the two Bluetooth speakers, it also includes a built-in phono pre-amp with detachable RCA cable outputs. Alongside these, it has a damped die-cast aluminum platter with a slip mat for a more stabilized spinning and audio-converting. Plus, the Bluetooth speakers come with an AUX cord for higher connectivity to other gadgets.
Pros:
Works on a high-torque direct-drive with built-in pre-amps.
It comes with two 30W Bluetooth speakers to aid the pre-amps in delivering clear sounds.
Equipped with the AT95E double magnet cartridge and a diamond stylus.
Comes with S-shaped tonearm for more stability and to avoid unwanted vibrations.
Comes with a dust cover in modern, sleek design.
5. Pro-Ject DC Turntable
The major difference it has amongst the items on this list is its expanded platter to accommodate all sizes of LP and EP records.
It is considered as one of the best budget turntables because of its depth of innovation through the years at a sustained $300 price range.
It now features a carbon fiber tonearm instead of alloy with an incorporated head shell that is not sold separately unlike how others typically do.
It also comes with the Ortofon 2M Red cartridge which at normal rates would sell for $100 because it is also sold separately.
It can be upgraded to the 2M Blue cartridge for greater efficiency in musicality. More than that, it has other exclusive Pro-Ject innovations like the Pro-Ject Connect It which can be downloaded via Audioquest to support gadgets in converting LP and EP into digital formats, among others and the Pro-Ject Acrylic Platter that does not only look chic but also gives more accurate sounds.
Pros:
Upgradeable cartridge for better musicality.
All in essential accessories like the Ortofon cartridge and upgraded platter for just $300.
Platter is innovated for anti-resonance and more stability for a more stable ripping and spinning.
Pro-Ject Connect includes AUX and RCA outputs, USB port, Bluetooth and it is also compatible with PC and Mac.
High precision belt drive output infused with a new sorbothane suspension motor.
6. U-Turn Audio
Like the Pro-Ject, this too has innovated its platter into an acrylic one to provide better speed consistency and faster and clearer playback.
It is also infused with a diamond Ortofon OM5E stylus which produces clearer sound. As for the tonearm, it is crafted with an OA2 gimbal tonearm which is high in sound precision and accurate in tracking and in correcting low sound distortions.
The major plus for this tonearm is its internal ant-skate mechanism and an adjustable counterweight to make sure that the records are not scratched or damaged regardless if it is 7, 9 or 11 inches.
The belt drive of this one is suspended externally to banish motor noise and to make sure that speed consistency is achieved at either 33 or 45 RPM.
Pros: 
Built to deter resonances and unwanted vibrations during spinning.
The OA2 gimbal tonearm is specifically designed with frictionless bearings for the stylus to move more flexibly to produce more accurate sounds.
The OM5E is upgradeable to any Ortofon stylus series like the Ortofon Red or Blue.
It works on a two-speed belt drive at 33 and 45RPM but is innovated for low-noise motor for a better vinyl experience.
Can connect via Bluetooth, USB, AUX and RCA jacks.
The verdict
The turntables and record players that made it to the list are all commendable in their own rights but of course, there are more outstanding ones.
We based the verdict upon two conditions; level of innovation and value for money in terms of functionality.
This is not to say that they are not all good catches because it is really amazing that we have these choices for less than 500 but needless to say, the real winner is having all that we need in one for less the price.
It was a hard battle between the Audio Technica LP-1240 and the Pro-Ject DC because both of them really upgraded their craft. The LP-1240 built on easy maneuvering with all these convenient buttons to press for everything and its portability for professional spinning and touring but on this round, we will give it to Pro-Ject DC.
First off, it has all the features that we need both for laid-back home listening or professional spinning.
It has all the modern specifications that we all rave for like enhanced connectivity through Bluetooth and non-wireless connection via RCA, AUX and USB plugs.
Aside from this, the stylus or needle it has is state of the art and is upgradeable for better musicality. This means that you do not need to count a thousand hours before you change it because you can buy an extra Blue cartridge now and switch them as much as you want it depending on the type of sound you want to produce.
Other than this, it has innovated its platter to make it more anti-resonance and for it to eliminate extra vibrations by introducing the Pro-Ject Acrylic Platter. Most important of all, it now makes use of a carbon fiber tonearm with an incorporated head shell instead of the alloy material tonearms are made of.
Second and most important of all, the value for money premise achieved. Normally, head shells for tonearms are a separate purchase and each costs $60-80. Consequently, the Ortofon stylus series specifically the Red cartridge would sell separately for $100 dollars but is already infused in it. If bought without these free upgrades, the Pro-Ject DC with these essential specs would have cost you $480 and not $300-350. This is what value for money means: getting more than what you pay for.
For these reasons, we are giving big props to the Pro-Ject DC.
Buying guide
What to expect from a record player under $500
At the most fundamental end, record players under $50 are not that different from high-end record players. They do what they are expected to do but with lesser price.
Record players under $500 now feature three-speed specifications and are designed for professional use like in sound mixing, DJ spinning and many more.
Most budget record players have also banked on connectivity, allowing digital formats to cross-over vinyl records by either auto-converting or playing vinyl records to and using digital formats for preservation, storing and portable streaming.
The main problem about budget record players though is that the pre-amps are not that solid and you might need external speakers for you to control the pitch and volume of the record player. Nonetheless, they deliver the job and most of them are good buys.
How do you choose the best record player under $500?
When it comes to choosing the best turntable/record player under $500, you must be very keen when it comes to specific features. These features do not only include the basic parts that should be there to ensure that the vinyl will play but some key innovations that will make the listening experience a fusion of the past and the present. As such, here is a rundown of the things to look for in choosing the best record player under $500.
1. Drive
There are two basic choices for this feature and that is direct drive or belt drive. This is a basic part of the record player and one of the most important ones to be exact because it connects the platter to the tonearm for music from the record to be produced.
The drive and belt driver mainly differs in terms of the amount of human effort that is needed In buying a record player.
A direct driver is resistance-free and is needed for impromptu mixing for DJ jobs while the belt drive is for manual platter and spin but is perfect for some laid-back vinyl listening at home.
2. Cartridge
This is the needle that is connected to the tonearm of the turntable which makes the music come out. It is pre-mounted and holds the stylus that makes it spin. This part of the turntable could be upgraded for better sound experience.
3. Phono preamplifier
Not all record players have built-in pre-amps that work as speakers. Most often than not too, budget record players do not have that good pre-amp that is why they would still need external speakers to improve the volume and quality of the records played in the turntable. But the good news is, new models can now connect via Bluetooth and USB ports.
4. USB output
As have been mentioned, this is one of the new innovations for modern turntables/record players. Aside from being able to connect to speakers wirelessly, some USB features auto-converts vinyl records to digital formats like MP3 for preservation, storing and for portable music streaming later on.
5. Ripping and Connectivity
By ripping we mean auto music encoding or the auto-conversion from vinyl to digitally formatted music. Connectivity on the other hand allows the turntable to connect to other devices like laptops, phones and tablets for more variations in home music streaming. In the modern set-up, these are must features.
6. Speed and Size
When it comes to speed, a multi-RPM turntable is what you need. We are just lucky because modern models now come in three-speed RPM specifications. By speed we mean, what is the RPM it could support?
Three-speed turntables are already a good catch. In terms of size, portability matters and it is a common feature among budget and modern turntables. It is also important that the turntable you choose could accommodate all the vinyl sizes available for you to play your various vinyl record collection.
So far, these are the features and specifications you need to look for before buying a turntable/record player. But if you need more convincing, here is a video from Ana(dia)log which you can check out for more information about record player specifications.
Frequently asked questions
Are Audio Technica turntables any good?
Now that turntables are making a hit comeback, one of the most raved brands at present is the Audio Technica.
Reviewers and many users would commonly say that it has one of the most accurate vinyl to digital media conversion and playback. So if the reason for buying one is for these digital specifications, then yes, Audio Technica is a good turntable/record player brand.
Aside from this, this brand has been around for a significant span of time and in terms of reputability, it surely has made its mark in the turntable and record player industry while keeping up with the times.
One manifestation of this would be their AT stylus series patent which is now used by other brands to upgrade their turntables' needles by enhancing the accuracy of the sounds recorded and played in the turntables and record players. This brand also paved the way in the introduction of the S-shaped tonearm with anti-skate mechanism, lockable tonearm rest and the tuning light signal for easier cueing of records.
What sounds better, CD or vinyl?
Noobs to vinyl often ask this question and the outright answer is of course, vinyl sounds better than CDs. They have a smoother, classier vibe and the accuracy of the sound details and clarity are always on the spot.
Vinyl has the capacity to take you back in time and make recordings sound so realistic that you will be transported to the time the records were made as if you were there.
CDs on the other hand are more prone to skipping problems and are not that dependable for storage as they have limited space and can be brittle at times.
Others would hold other views stating that CDs sound better or are not in any way different from the music from the LP or EP because all it does is to replicate the sound from the vinyl. But this remains debatable so it still depends on the people experiencing it.
How often should I change my record player's needle?
Collecting vinyl records is not an easy job because like all things, it needs maintenance and this includes changing your record player's needle at times.
There are various indicators that will signal you when it is time for changing. The needle or stylus is that small cone-shaped ellipses that are usually made of diamond or sapphire.
The standard set by most manufacturers is that, the needle should be changed after 1000 hours of playing time to ensure that the records are not damaged and the needle not broken because broken needles are more expensive than changing one. But new innovations amongst trusted turntable brands that are also selling budget models of turntables have devised enhanced technologies to make sure that the needle lasts for more than a thousand hours.
They have been banking on stylus series from Ortofon and crossing over from one brand to the next to enhance the needles of their budget models without paying for more.
Are ceramic cartridges good for turntables/record players? 
While they are cheaper in price, they are heavier in pressure and this is why there is a growing consensus that ceramic cartridges can ruin turntables.
They have a high tracking pressure because ceramic cartridges weigh 10 grams while high-end turntables only have cartridges which weigh 5 grams.
High tracking pressure scratches your vinyl records and we all know that damaged ones would have track skipping problems and that is never a good vinyl experience.
New budget turntables and record players from reputable brands never used ceramic cartridges because they are well aware of this possible damage. They never go off from the standard diamond or sapphire material so never opt for a ceramic cartridge no matter how cheap they are because you will surely regret it in the long haul.
Conclusion
Basically, we outlined the rave for turntables at the present time and why they are still relevant up to this point. We also discussed some buying guides that you need to be informed of to make a sound choice in your turntable fascination.
We also answered some of the frequently asked questions when it comes to record players. Most importantly, we gave a roundup of some of the best turntables and record players under 500 that you could consider if you intend to buy one in the future.
Thus, in conclusion, there is a guarantee that even if your choice of turntable/record player is budget type, you can still get the best of the vinyl experience because these models are made for that function at an optimum level.
Budget turntables do the job and they have modern specifications like greater connectivity and potability that sets them apart from conventional turntables. All you have to do in choosing the best one under $500 is to weigh all your desired specifications and find them in one. Do not be afraid to ask, look for more information and trust your gut feel. After all, the goal is to have a fulfilling vinyl experience.
Other turntables you may be interested in
References