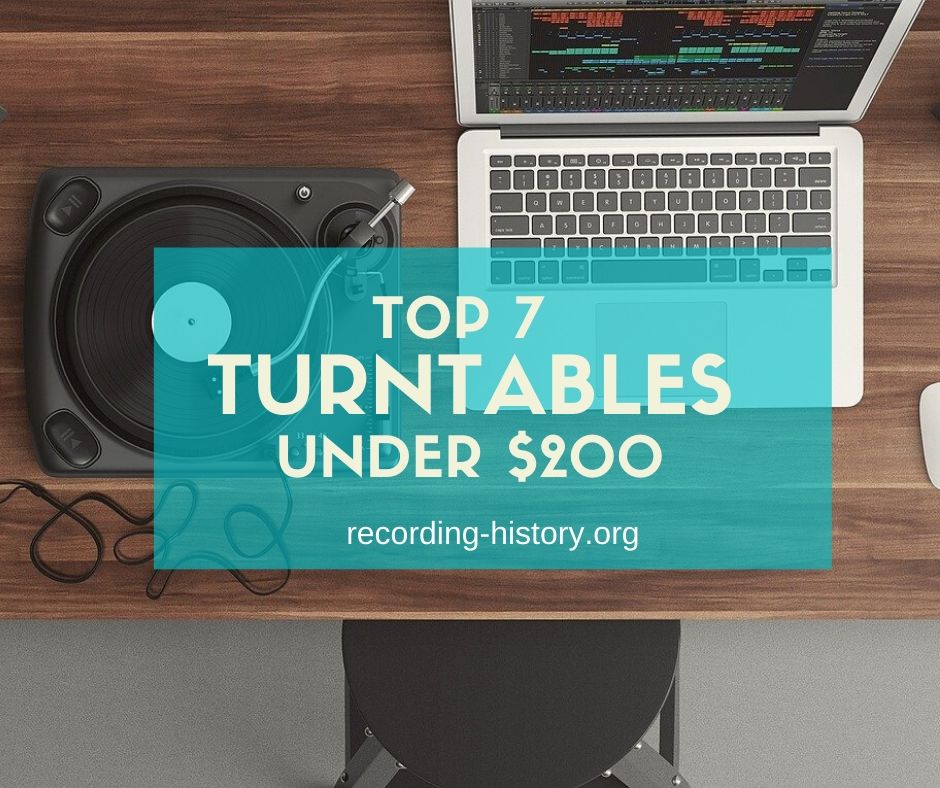 You might think that turntables' glory days are gone. In the era of digital formats for music, it is fascinating how the industry for turntables and record players remain alive.
It has not lost its tune and it is safe to say that we are at the dawn of a new golden age for turntables and record players because reputable brands have not stopped producing them and innovating them to keep up with the times.
Suddenly, turntables and record players can be connected through wireless connections and auto-conversion to Mp3 right from your vinyl is now possible. Most importantly, our access to modern turntables have become easier as budget but quality turntables are making a scene.
Much fascination is given to these budget turntable models and in this article, we will be focusing on the best turntables/record players under $200; what makes them a raved for item and what innovations have been done to them.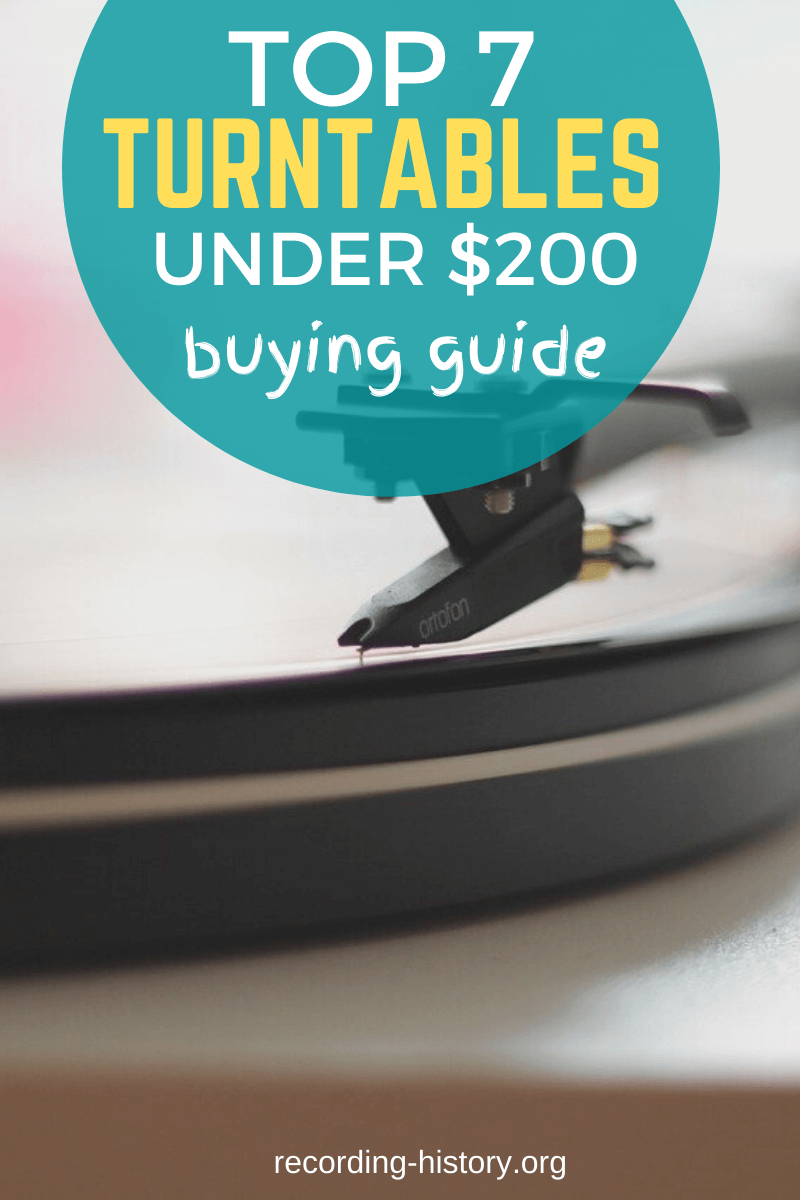 A. Buying guides
What to expect from a record player under $200?
They might be entry-level turntables but you could expect that they would surely do the job. Most entry-level turntables are designed for portable spinning and scratching for spinning hobbyists and professional DJs.
They have the same built and basic features just like those found in high-end turntables. Some common issues arising from record players under $200 however, would be the volume produced since some of them do not have pre-amps while others have very weak pre-amps.
Some would have pre-mounted head shells connected to the cartridge but popping off in high volumes has been reported. Nonetheless, quality-grade budget turntables are still raved about because they deliver with lesser price. You just have to be observant enough to know which ones are good buys and which ones are lemons.
Things to consider before buying turntables/record players
You might think that turntables are just no brainers but to tell you the truth, it is a big deal and it needs a significant amount of time to be thought of.
Just because you have the budget to buy a high end one, you would instantly go for it. But budget is not the only concern here and that is why you need to know some of the most basic things to consider before buying one.
#1. Budget
Speaking of basic, budget is the most basic consideration. Since this article focuses on the best turntables/record player under 200, you are already sure that yes, you can buy your own turntable without breaking your savings.
Budget is always the primary constraint amongst turntables before and with the introduction of budget models, this dilemma has been addressed. But of course, you have to be wary of the budget models. If you have not gotten good reviews about it, stop considering it right there and then. Never settle just because it is cheap.
#2. System
So your turntable is budget-friendly, but are there accompanying connectors? Will it connect wirelessly via Bluetooth? Does it support USB channels?
Does it produce music in the first place? Just because you bought it cheap would not mean that it will work just right. Check the system first and in here, check the warranty length.
#3. Need for Space
Another thing to consider is the space that it would take. This is a common problem for budget turntables because most often than not, their built-in amplifiers are not that strong.
This means that you would still need to buy external speakers and other connectors for you to get the desired volume that you want from it. You might have the budget but do you also have enough space at home for all of these accessories?
If you think that all the external accessories will not fit the space saved for it, then go for high-end ones but if it does fit even with all these external accessories, you can go for budget model turntables.
#4. Brand new, budget type or second hand
With all of the previous three considerations in mind, would you settle for a brand new, high-end one, a budget type model or a second hand high-end model?
To answer this, assess your needs. Why are you even buying one in the first place? If it is for DJ work, budget turntables could do as well. Second hand turntables are always a risk and brand new high-end ones may not be that practical.
B. Best turntables/record players under $200
Putting all of the aforementioned things into consideration, it is now time for us to reveal our pick for the best turntables/record players under 200.
The basis for these picks would be their value for money since they are only budget type turntables but review-wise from various people who have used it, they have more significant pros than cons. These make them more noteworthy among their contemporaries.
1. Audio-Technica AT-LP60XBT-BK
This model which is only at $149 is a two-speed fully automatic turntable at 33 and 45 RPM. It is fully automatic which means and is equipped with Bluetooth wireless technology and has an automatic audio-conversion feature.
It also supports other audio formats like aptX codec which gadgets like phone, computer and tablets might be unable to play most of the time. It can also connect to other wired sources like RCA and AUX and could play in HiFi even with external high-powered speakers.
It also features the ATN3600L integral dual moving magnet phono cartridge equipped with a replaceable diamond stylus. With its redesigned tonearm and platter specifically designed to avoid resonance when playing, this is a good catch for turntables/record players below 200.
Pros:
Infused with AC adapter handles that will reduce the noise in the signal chain during audio-conversion.
Has a built-in switchable phono pre-amp that can be connected to external speakers and other wired outputs like RCA and AUX.
Equipped with the CSR BT chip set which allows it to connect to process aptX codec audio files.
Its cartridge is already automatically connected to the head shell which makes set-up easier and more convenient.
Cons: 
You will need to buy external power speakers for you to generate the desired volume.
Headshell is not that sturdy and it may require you to buy a more expensive gold plated one.
2. Stanton T.62 MKII
This is one of the cheapest professional-grade DJ turntable in the market right now. It operates via direct drive on an 8-pole, brushless DC motor creating high motor torque of more than 1.6 kgf.
It also has manually operated pitch controls for you to avoid unwanted vibrations and shrieking sounds. It is equipped with the standard static balanced straight tonearm which makes tracking, ripping and spinning more convenient.
It also has a pre-mounted head shell on the Stanton 300 cartridge. It is a two-speed turntable at 33 and 45 RPM with two start and stop switches for audio mixing and in battle setups in spinning.
Most importantly, it is infused with the full version of the Deckadance DVS software which allows the DJ to auto-convert raw spins to Mp3 formats. It also features a non-slip mat for a more stable spinning for DJs.
Pros: 
Comes with RCA and AUX cables and supports Bluetooth connections for a more portable audio-conversion.
Tonearm is adjustable and pitch controls and playback are manually operated for more control in the audio being mixed.
The cartridge case is flexible as it could also accommodate the Stanton m477 cartridge.
High power turntable with a motor torque of 1.6 kgf.
Cons:
No built-in pre-amp hence, you will need external speakers.
No cueing level and no auto-return.
3. Fluance RT80 Classic
Speaking of HiFi sound, this one is one notch ahead of the rest. It makes use of the AT91 cartridge, an integrated double magnetic cartridge with diamond stylus that is adjustable, upgradeable and known for its anti-distortion and anti-resonance advantage.
It operates via belt-drive with adjustable counterweight and a solid wood case to enhance stability. This further means that resonance is low and unwanted vibrations are eliminated.
It also comes with a built-in pre-amp on two speeds at 33 and 45 RPM. It is flexible, being able to play LP and EP on a manual, drop the needle to the tonearm mechanism.
It features the S-type tonearm with an advanced anti-skating system that ensures a stable mixing and non-scratch to the vinyl. Its major upgrade would be the sound isolation feet and a die-cast aluminum platter which reduces reverberations and unwanted sounds.
Pros:
Comes with gold plated RCA outputs Texas-grade built-in preamps and a grounding terminal that produces crisp sounds.
Its diamond tipped stylus which drives precision and extreme accuracy for HiFi audio.
Comes in S-type tonearm that promotes static balance for a more stabilized scratching and spinning.
Equipped with the AT91 cartridge that is adjustable and replaceable.
Cons:
Anti-skating system is not that precise and the rubber mat is not that stable.
The cueing mechanism was reported to have frequent slips.
4. Numark PT01 Scratch
This is one of the most portable scratch and cut turntable under 200 that you can find. It has this Numark trademark called the adjustable scratch switch, adjustable for right hand or left hand spinning, which allows you to use the turntable anywhere by just plugging it in AC power.
It also comes with a red slip-mat that can accommodate all spinning pressures from light, moderate to heavy. It can also go to battle setting for more upbeat and complex sounds and can be connected to RCA outputs and even headphones for some laid-back individual listening.
Most importantly, it has this feature that lets you record digitally right there and then in your laptop so you can basically just take it anywhere.
Pros: 
Enclosed in a quality hard case protector with accessories compartment for greater portability.
Provides on the spot scratching and recording from vinyl via USB and along with its downloadable software.
Adjustable gain control for the built-in pre-amp.
Anti-resonance capability and flexibility for both right handed and left handed spinning and scratching.
Cons:
Only features scratch switch instead of scratch fader.
5. Pioneer PL-990
It is fully automatic and it features a lightweight straight tonearm and a built-in phono equalizer which means that you can connect it in any external speaker as long as you have RCA or AUX.
More than this, it is also equipped with a double magnet cartridge with diamond stylus. This makes the tone it produces warm and crisp. There is also one button for all commands as it is fully automatic and it automatically shuts down after idling use.
It has a vibration absorbing feet and a rubber mat for the platter so that unwanted vibrations are eliminated. It plays on two speeds, 33 and 45, and comes with free RCA  and 45 RPM adapters. And as far as the spinning job is concerned, it gives more than its market value.
Pros:
Comes with free phono equalizer for audio flexibility.
Features high precision DC servo motor for greater platter rotation accuracy and clearer sounds,
Anti-resonance and eliminates unwanted sounds when spinning.
Comes with a universal type cartridge connector.
Cons: 
RCA cables have rear plugs and the built is a bit lightweight and unstable.
Has the tendency to produce inner groove distortions when spun at a high speed or connected to high power external speakers.
6. Sony PS-LX310BT
It is really one of the best in its entry-level range being fully automatic and being able to support wireless vinyl record playing. It features Bluetooth and USB outputs.
The brand has a reputation for state for the art audio production and this turntable can easily connect to soundbars, headphones and even wireless speakers.
The best upside of this turntable is its one-step auto playback which will automatically lower the tonearm and auto cues music for an uninterrupted music streaming. With this, it also automatically lets the tonearm rest after the entire record plays.
Moreover, it also comes with three settings of low, mid and high that matches the quality of the record and plays it distortion-free.
Pros:
Promotes tone stability with its aluminum die-cast platter.
Features USB ripping which transforms, stores and shares vinyl records to digital formats.
Comes at two speeds (33 and 45 RPM) with 45 RPM adapter, RCA cables and AUX.
Has a switchable phono pr-amp with three gain settings.
Cons:
Has a tendency to be incompatible with other Bluetooth speaker brands.
Rubber mat and counterweight are not that heavy to promote stability and anti-resonance.
7. Crosley C100
It also has an S-shaped tonearm with adjustable counterweight for a stable ripping and spinning.
Its major plus is its adjustable pitch control that makes it a really good catch for professional mixing and DJ spinning and the hydraulic lift control for anti-skate, and lockable tonearm rest.
It also has a built-in phono pre-amp that is perfect for most speaker systems. As for the needle/stylus, it is compatible with the new NP5 stylus.
It operates on a belt-drive at 33 and 45 RPM. It also features a full manual operation when it comes to stop and start. It is also ultra-stable because of its damped die-cast aluminum platter with extra slip mat.
Pros: 
Comes with a built-in pre-amp and an adjustable pitch control.
Has an adjustable tonearm with S-shaped design and an adjustable counterweight.
Professional-grade quality for portable DJ spinning.
Manual stop, start and playback  for good spinning.
Cons: 
Has a tendency to skip track at full volume and fast speed.
Built-in amp is not that powerful and external speakers are really required.
The winning product and why
We could go on and on about the best turntables/record players under $200 but in so far as functionality is concerned, the mentioned turntables on the list deserve the hype. But of course, there should be a verdict as to which one of them deserves the highest praise.
Honestly, it was hard to choose and it was a tough battle between Sony and Numark but the winning product is the latter.
Sony has established its name in the audio world for as long as we can remember and it is but fitting for a reputable brand like it to keep up with the times and innovate.
But props for Sony for the one-button navigator feature because it really is a major plus.
But Numark won because the designs are all purposive for DJ spinning and most importantly, it is the most portable. Portability allows greater connectivity and more fluid music streaming.
For example, it is flexible to both wireless and non-wireless connections such as USB, Bluetooth, RCA and AUX.  You may even have it connected to your headphones for individual listening.
Above all, it is the perfect combination of the past and present spin and scratch since you can record your sounds or vinyl right there and then with the aid of its downloadable conversion software.
FAQs on turntables/record players
#1. Can I use my headphones instead of speakers?
The answer is yes but it needs a specific amplifier called the headphone amplifier because you cannot plug your headphone jack right away.
Headphone speakers are the new talk of the town at present because they have a proven reputation of better sound quality compared to stereo receivers and regular integrated amps.
Line-level RCAs could do this job even better so if you want to switch to headphones, you might want to buy one. Simply plug in the headphone amp before plugging in the headphones in the jack that is usually located in front of the turntable.
The best headphones for turntables would be the earbud type and the ear fit type. Headphones with volume controls are a major plus.
#2. How can you record the audio when you scratch?
First and most basic of all, you will need an audio-conversion software. Most turntables are already equipped
With built-in audio-conversion software for an automatic audio-conversion as you connect it with your PC or Mac. This is where the stop, start and playback buttons also become important.
Consistent scratching or scrubbing will produce rhythmic sounds which at different pressures and consistencies could give a whole range of different sounds. Through the USB port and the wired connection between the turntable and the USB or other storage, you can transfer the sound from the turntable to PC or Mac and then transfer it to the storage unit.
#3. Will these turntables work with Bluetooth speakers?
Perfectly, if you have a Bluetooth turntable. Analog turntables only depend on cable outputs and the Bluetooth technology gives turntables greater connectivity. And of course, greater connectivity means greater portability too.
Suddenly, you could stream newly ripped sounds via Bluetooth. The upside is, most contemporary Bluetooth turntables are now compatible with a lot of sound bars and no longer just exclusive branding and connectivity. This also allows streaming from iMusic, Spotify, and other online streaming apps and mix it raw with your record to produce modern sound mixes.
#4. How much should you spend on a turntable? 
When you begin checking the market, you would find that entry level turntables would cost within the range of
$100 to $700.  Based on reviews, turntables within the $300-500 range are the best catches for turntable sets since these are really lauded for their durability and HiFi audio.
These turntables are already professional-grade and are used as professional DJ work and audio mixing, among others. Thus, if you are buying one but not for this purpose of professional audio-mixing and other stuff, a $200-300 turntable or below will do.
The accessories are another case and you might also need to spend a few bucks for these. Our advice is, choose the most immediate. If you need to crank the volume up, spend on the external speakers first. If it is about the audio clarity, replace the stylus or upgrade the cartridge.
You can also replace the head shell if necessary. The point is, there is no absolute price range to how much you have to spend on a turntable because it completely depends on the product that you want to achieve. And of course, the better the music output you want to achieve, the more expensive it might get.
Read more:
#5. Is there a difference in the sound expensive and budget turntables make? 
The answer is yes. Expensive turntables have a more complete and more quality-grade built-in system from tonearm, to platter, to cartridge so at first play, of course, you would hear the difference between an expensive and a budget turntable.
The good news is, budget turntables are upgradeable and you could get them to sound like expensive ones in no time. For example, the best turntables/record players under 200 at present are now equipping their budget models with replaceable phono cartridges and stylus that could be upgraded to quality-grade ones.
Audio platters for budget turntables are also designed to allow low resonance and to eliminate unwanted vibrations for a more HiFi quality audio.
With all of these, if the only thing that separates expensive turntables and budget turntables would be the quality of the audio output that they produce, we could say that budget turntables are customizable and can be transformed into expensive sounding turntables in no time. This distinction is now considered irrelevant because of this new trend in budget turntable designs.
#6. Which turntable drive is better? 
The turntable drive is the operating unit of the turntable/record player. A turntable is classified as either belt-driven or direct-driven.  Belt-drive turntables make use of the belt drive attached to the platter and spins when a vinyl is cued.
The belt drive is known for its preciseness and low-effort playing. On the other hand, the direct-drive includes a platter that is directly attached to the motor of the turntable/record player. This means that it has a faster start-up time and the direct-drive turntable is loved for the consistency of the sound it produces.
The answer to this question is dependent on your personal preference, honestly speaking. If you aim for consistent and precise sound and playback, the belt-drive is the better option for you. But if you want durability or long-term consistent playing, opt for the direct-drive turntable.
Conclusion
Drawing from all of these, it is evident that turntables are here to stay. Modern times call for modern specifications and features and they have not fallen short of new specifications that make them sought after items even at present.
But needless to say, there are a lot of things to consider when buying one and it requires keen eyes and consistency of preference in terms of why you are buying turntables.
We have presented our picks for the best turntables/record players under 200 for you to have at least a mental image of what to expect and what not to expect out of budget turntables like them.
Indeed, buying turntables/record players is not an easy feat. You need to consider function, budget, and why you need one in the first place. But classic, good music need not be that expensive. As a matter of fact, it is only within arm's reach if you consider these best turntables/record players under 200.