Budget model turntables are making a round in the audio industry today because they are everything you need and must expect out of a turntable but with less the price.
The turntable industry never slept, and as such has kept up with the digital call of the times by introducing key innovations in digital connectivity like USB channels and Bluetooth connection.
DJ and professional audio work have been the key recipients of these innovations as turntables of professional-grade did not only become more financially easy to access but were designed with optimum portability.
With all of these, it is but fitting that we offer you a roundup of some of the best turntables under $1000 that are making noises in the turntable industry at present. These turntables were handpicked on the basis of functionality, ease of use and overall value for money.
A. Best turntables/record players under $1000
1. Pro-Ject Debut Carbon DC
This turntable is a consistent pick in the list of the best budget turntables under 1000. It operates on a belt-drive on a two-speed change (of 33 and 45 RPM), a die-cast aluminium platter and an upgraded Ortofon 2M Red Cartridge which is considered as one of the best magnet cartridges at present.
Its major upside is its lightweight carbon fiber tonearm which would cost as much as $70-85 if bought separately.
This is not the turntable for neophyte DJs though because it does not feature automatic specs like an auto-returning tonearm, a built-in phono pre-amp and all the small buttons that fully automatic turntables just let you press to do the job. But if you want to learn all the basics and master audio recording with vinyl, this is certainly one of the best choices out there especially that it was built for stable spinning and scratching with the addition of the felt record mat.
Pros:
Damped die-cast aluminium deck/platter for quality sounds.
Convenient set-up and easy use.
Equipped with a lightweight and stiff tonearm made of carbon fiber.
High quality cartridge with the Ortofon 2M Red.
Cons:
Speed change is still done manually.
Requires an added phono pre-amp.
Does not support USB channels for auto-conversion.
2. Audio Technica LP-120-USB – Best Turntable for professional DJs
This entry-level turntable works on a direct drive motor on a die-cast aluminum iron platter that is known for its anti-resonance and controlled vibration features.
It features both a built-in phono pre-amp and a USB channel for automatic audio-conversion. You can easily change speeds with this turntable because of its three-speed feature of 33, 45 and 78 RPM.
It also features the AT95E diamond stylus, one of the most recent upgraded styli of the AT series which is known for their sound accuracy and capacity for balanced frequencies.
You will easily love this because of the convenience factor. For one, it has an easy tweak head shell if you need to replace it, a vertical tracking angle for easy record cueing and a stable tracking force to avoid jumps and skips.
More importantly, it supports USB outputs for automatic audio-conversions and automatic buttons for playback, stop, start and reverse play, among others.
Pros:
Good value for money since it is user-friendly for both neophytes and professional DJs.
Features one of the most commendable styli series with its AT95E stylus.
With built-in phono pre-amp and a USB output for automatic audio-conversion.
Cons:
Not that sturdy in built as it is made of plastic only.
The USB output is not that commendable.
3. Pioneer PLX1000
This is another turntable that delivers more than its price. Aside from the sleek, modern, black design that is really eye-catching, it features a high torque motor on a direct drive which ensures that the rotation through the platter is stable and that the tonearm and the platter are controlled.
It also comes with a counterweight die-cast aluminum chassis which allows extra vibrations and unwanted sounds to be eliminated and for resonance to be avoided.
It is also good for ripping, scratching and spinning because of its multi-tempo feature +/-8 and 16 depending on the rhythm and speed that you want and if you get unsure or want to start over, there is a third button that will allow you to revert the tempo back to zero.
It also comes with professional-grade gold plated RCAs to facilitate greater connectivity and interchangeable power and audio cables for better portability.
Pros:
Professional grade performance with high portability.
Easy to use, anti-resonance and eliminates extra and unwanted vibrations.
Comes with a multi-tempo specification that is perfect for professional scratching and spinning.
Cons:
Does not come with stylus; sold separately.
Without built-in phono pre-amp.
May require you to spend more for important specifications.
4. Fluance RT81 Elite
This turntable also works on a belt drive motor with a built-in phono pre-amp.
Like the Pioneer, this one also has one of the most attractive solid plinths that does not only make it look like it is the 1950s but also has a stabilizing effect on the quality of the sound it produces and making it a one of a kind analog vinyl listening experience. This is because the wood plinth is made of MDF wood with an isolation feet, rubber slip mats and die-cast aluminum platter. Moreover, it is also equipped with the AT95E diamond, elliptical stylus which is an addition to the top-graded AT styli series.
With its S-type tonearm, audio tracking is made easier and the sound clearer and more precise. Plus, with its gold-plated RCAs and ground terminal, warm and accurate sounds could be heard.
Pros:
Really delivers commendable sound quality that is one of the best for its price.
Focuses on sound accuracy and stable sound production with the solid plinth desk, isolation feet, aluminum platter and rubber slip mats.
Equipped with the A-grade AT95E diamond stylus.
Cons:
Speed inconsistencies have been frequent issues.
Does not support USB outputs.
Tonearm is of plastic build.
5. Sony PS-LX310BT Belt Drive
This budget turntable works on full automatic operation. It comes with a straight design tonearm and could run at two-speed on 33 and 45.
It also allows automatic audio-conversion thanks to its USB and Bluetooth outputs. And of course, because it is Sony, it features high connectivity to other soundbars and no longer just with exclusive Sony soundbar units.
It also has a double moving magnet cartridge with counterweight for an anti-skate feature. And with its damp die-cast aluminum platter, the more stable the sound will be ensuring a no resonance and no vibration recording and conversion for your records.
Aside from this, it could accommodate 7, 10 and 12 inches vinyl records with easy navigation automatic buttons for start/stop, up/down and selectable gains for volume control at low, mid and high.
Pros:
Supports Bluetooth and USB outputs.
Convenient set-up and easy plug and play.
Built-in phono pre-amp with gold plated RCA and AUX.
Comes with three selectable sound gains at low, mid and high.
Cons:
Has issues with its wireless connectivity.
Falls short in tonearm, cartridge and stylus upgrades.
6. Sony PSHX500
It is belt-driven and one of the first Sony turntables to have crossover cartridges with Audio Technica. It works via belt drive and at a two-speed feature of 33 and 45 with free 45RPM adapter.
It also comes with a built-in but upgradeable phono pre-amp for more quality sound. Its most recent upgrade is the high resolution sound feature that offers super detailed and accurate sounds.
However, this has been contested since a considerable number of reviewers would claim that it is not as hi-res as it is marketed. Nonetheless, the stability it lays on the table with the sound it produces is given much value as could be seen in its damp die-cast aluminum platter and a 5mm rubber mat.
Another upgrade for this is its extended tonearm at 9inches with an anti-skate base, a built-in finger lift for easy cueing and an integrated head shell. It uses the cone type AT91 diamond stylus which is considered as one of the best styli series in the turntable world.
Pros:
The built-in phono pre-amp is upgradeable.
Supports USB outputs and automatic audio-conversion.
Features a crossover cartridge with its Audio Technica MM Cartridge.
Cons:
The Hi-Res feature is not as superb as claimed.
Its built-in phono pre-amp is not that commendable.
7. Rega Planar 2
This is probably one of the most savvy turntables below 1000 in the market today. It approached the less-interference and unwanted vibration issue with the combination of manual operation, RB220 tonearm, Rega cartridge, solid wood plinth for counterweight and belt drive.
One of the major kicks of this turntable is its floating glass platter that makes the sound more consistent and warm as it gets to a faster speed.
It has no built-in phono pre-amp though and you will be required to buy one or a separate speaker to make the volume louder.
Most importantly, you can keep it running for five minutes and it is super upgradeable when it comes to phono amps. Its most trusted crossovers are the Rega Fono A2D phono stage and Ruark Audio.
Pros:
Banked on stability and less motor noise.
Upgradable phono stage to Rega Fono 2AD and Ruark Audio.
Easy set-up and fast maneuvering.
Engaging, superb sound and good value for money.
Cons:
Needs cartridge upgrade every now and then.
Dust cover looks cheap and not sturdy.
8. Stanton ST.150 MKII Professional Direct Drive
This is the most recently upgraded entry-level turntable from Stanton. Its main upgrade is its straight tonearm which is designed as skip-proof.
For a more stabilized and accurate sound detailing, a non-slip rubber mat with S-shaped tonearm, an anti-resonance base and adjustable pitch and reverse controls are made available.
The tonearm and brake speed are also adjustable for easy spinning, cueing, playback, stop and start.
It also comes with a target light button, an adjustable shock-absorption feet that goes with the non-slip rubber mat and a full version of the Deckadence software to keep it up and going in just a few minutes and to automatically convert audio into storage devices even while you are playing it on set.
Pros:
High torque motor that leads to accurate tracking.
Reliable in scratching and spinning even in live concert environments.
Fit for professional DJ touring with its anti-vibration feet.
Cons:
Although solid, the wood plinth is not that stabilized for an anti-resonance capability.
Speed changes can be abrupt and uncontrollable at times.
The winning product and why
After everything is said and done, it comes down to the verdict of which one is the winning product. We based our verdict on two conditions: first, its flexibility to both neophyte and professional-grade setups and second, its specifications and level of innovation that has been included in it.
With these as bases, we have two clear winners: the Pioneer and the Stanton.
First in terms of flexibility, the easy maneuver features of the two are commendable as they could be well-suited for both professional-grade use and neophyte DJ training.
Both are powered by high torque motor on a direct drive operation so stability is there and the controls that they are infused with are specific in mastering sound audio mixing using scratch and spin.
Second, the level of innovation to support this would be manifested in the automatic buttons that they have. From multi-tempo to pitch control up to the non-slip mats, rubber feet and specialized tonearms, everything produces balanced warm tones in a detailed, precise manner.
B. Buying guide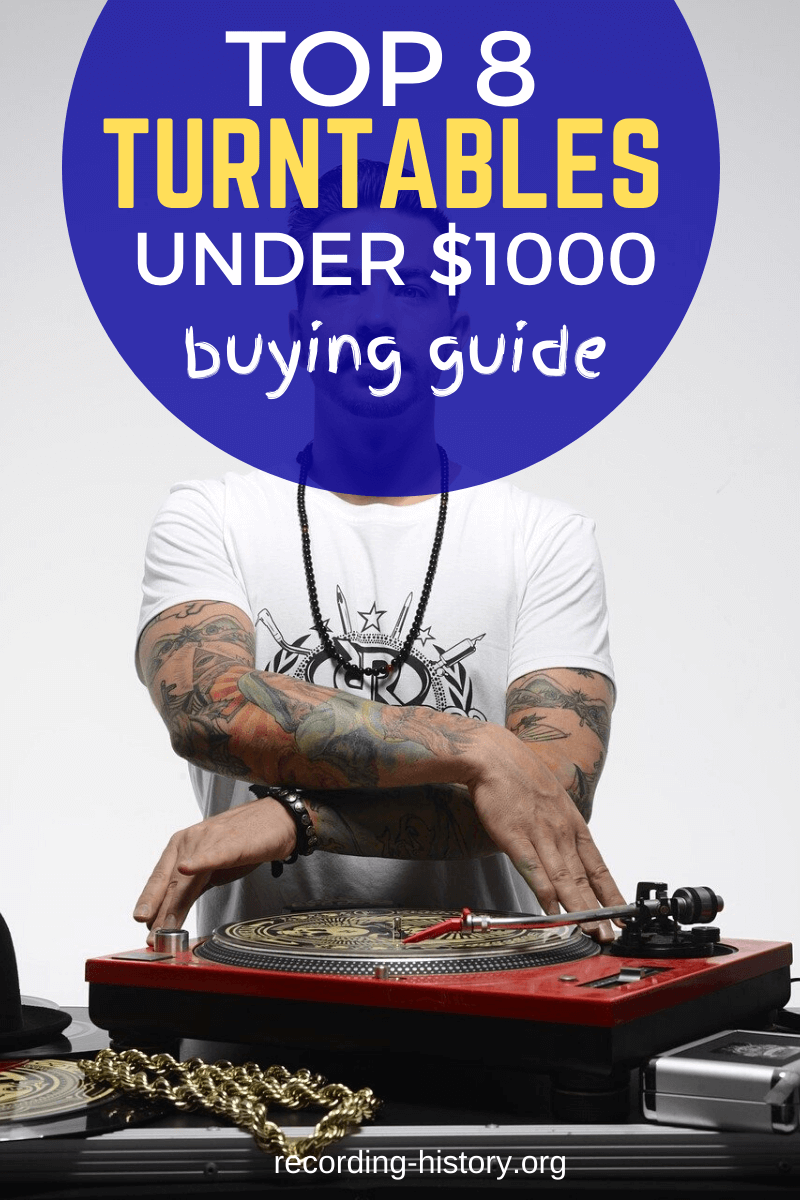 What to expect from a record player under $1000?
There is a good chance that you will land on good turntables under $1000 because it has been a deliberate decision by the top turntable brands to provide DJ hobbyists and professional ones with turntables that are efficient enough to do the job but with less the price.
Of course you can expect that in so far as functionality is concerned, turntables under $1000 would have the basic specifications that modern turntables have like belt-drive or direct drive operations, two to three speed rotation, rubber feet for stability, tonearms, upgradable cartridges and stylus and other basic functions.
What might be lacking though are some equally important specifications like a power built-in phono pre-amp.
Some budget turntables may have built-in phono pre-amps but they are not powerful enough to really power the desired volume you want. This may require you to buy external speakers or an amplifier to make the sound more loud. And this is quite a dilemma sometimes because for the other accessories, you might be shelling out too much money.
Nonetheless, the answer to this greatly depends on your personal preferences and the things that you are looking for in a turntable. Of course if all that you are looking for is found in one, then it is automatic that the expectations are met but if not, then we keep looking. But then again, at a general verdict, you could expect that turntables under $1000 could deliver the job in as much as high-end turntables would do.
How we choose these products
There is a whole range of checklist to consider in choosing the best turntable under $1000. Of course, we will not take into account everything but we will highlight some of the most important considerations which you need in choosing the turntable for you.
#1. HiFi preference
HiFi stands for High Fidelity sound or in simpler terms would be your preference for accurate and detailed sound.
Whatever your purpose is for putting this on the top of your list, do not expect that all turntables below 1000 would be able to deliver this. But good catches are always on the lookout and you just have to be patient in looking for one.
Just a piece of advice, if this is what you are looking for, start with the most reputable brands first.
#2. Budget
In the first place, this article was written for people with a bit of budgetary constraints for devices such as turntables. The proper question here is how much are you actually willing to spend? As have been mentioned, some key specifications cannot be found in one turntable.
There could be limitations such as in terms of digital outputs like the Bluetooth and USB outputs and you might even be required to buy other accessories like external speakers, RCA plugs, amplifiers and AUX.
If you are not prepared for these kinds of expenses for your turntable then you have to think twice before buying one. Another thing to consider when it comes to budget would be, is it high range, mid-range or low range?
Low-range turntables cost $100-$250 while mid-range ones would cost $300-$600. High range turntables on the other hand would cost $650-$1000. From these ranges, you can easily pick your choice.
#3. Purpose
The two main objectives behind turntable buying is whether it will be used for personal, laid-back listening at home or for professional DJ work.
If it is purely going after the classic, warm tones of the vinyl era then do not spend so much on the turntable that you will choose. But if you need it for professional work, of course, you are expected to buy mid-level to high-end ones. But you must also know that even at a professional-grade turntable need, there are budget turntables that you could run to so you must be aware of these choices.
#4. Popular brand or an underrated one
Not all popular brands are expensive and not all underrated ones would deliver given the price. In choosing between these two, you must take into consideration the first three.
If you have the money for a popular brand just to make sure that you get that HiFi experience be it for laid back listening at home or in between professional gigs, go for it. But if the purpose is for some DJ practicing or portable, one or three-time use turntables then some underrated ones could be a good choice.
At the outset, some underrated ones are really the dark horse in the turntable industry and there could really be good choices if you know what to look for.
#5. Aesthetics
Whether we admit it or not, aesthetics or the overall appearance of the turntable is a very important thing to consider. Needless to say, aesthetics manifest our personality as owners/users of devices like turntables and so, this deserves a spot on the things that must be considered before buying one.
The classic wood designs are still very much available in the market but at the same time, the modern, metallic or black designs are also present.
More contemporary designs would feature the briefcase design, the floating glass design and many others. DJ would mostly opt for the modern designs because most often than not, the mixing happens in clubs where the lights are dim and the wood accent cannot be appreciated that much.
Home listening however, would have a leaning towards wood aesthetics to invoke perhaps the olden times when vinyl records were still very much alive.
#6. Pre-amp and speakers
These two are almost always inseparable and they are very, very important in making your choice. Not all turntables have pre-amp speakers. You need this to control the volume of your vinyl record.
Those with pre-amp speakers however, do not always have powered ones and may entail that the owner buy another set of external speakers. So in choosing the right turntable for you, go for the most complete ones.
C. QAs
#1. What is the difference between belt drive and direct drive?
There are two major operation systems of turntables: the belt drive and the direct drive. The drive is the motor of the turntable that allows it to produce music when it is connected to the needle/stylus.
The belt-drive works through an elastic belt which is attached to the motor and as it spins through the platter, sound is produced. The direct-drive on the other hand has a platter that is directly attached to the motor which means that on cue, the platter will automatically spin to produce sound.
A lot of people love the belt-drive because it has the ability to isolate the motor sound thus, giving a more precise and warm HiFi tones. However, it is accused of having imprecise playbacks. Because of these, professional DJs who are always on the go would prefer the direct drive.
#2. Why would I need a turntable pre-amp?
Some turntables have pre-amps and some don't. Some built-in pre-amps in budget turntables work fine and loud but most of the time, don't. This is a crucial part of the turntable because it affects the sound quality and therefore, also affects the quality of the recorded audio from their original sources.
The main function of phono pre-amps is to boost low frequency sounds to reduce or balance high frequency ones. In this balance, recording and even record restoration would be more accurate. Accuracy means that the converted audio from the vinyl record would sound the same as the original tapes.
Other than this, you also need a turntable pre-amp because you just cannot plug in RCA and AUX outputs directly to the turntable. Having pre-amps would also boost the dB signal of the turntable by at least 10 dB. This means that although the signal from the built-in pre-amp is weak, you could get your desired volume if you have a phono pre-amp.
#3. How often should I change my turntable's stylus?
There are two reasons why you need to change your turntable's stylus. The first reason is for upgrade because entry-level turntables now have that convenient feature for better musicality.
The second reason is you really need to have it changed because one, it does not sound like it used to and two, it is jumpy and now damaging your vinyl records. But this question does not have a definite answer though, because changing your stylus depends on some factors.
If we follow standard procedures, diamond stylus, according to a lot of users' reviews and audio experts, should be replaced after 1,000 hours of playing time. If each vinyl would have a playing time of 40 minutes, 1,000 hours would equate to 1, 500 albums or vinyl records.
Changing your stylus once a year would be a fair projection if you use your turntable every day. But if the frequency of use is not on a daily basis, then this standard rate of changing your stylus might not be applicable. But if you think that this is a safe maintenance procedure then by all means do it.
#4. Does dust affect records?
There is a reason as to why turntable brands keep upgrading turntables up to the smallest detail like dust covers because dust could pose a real threat on your vinyl records and turntables in the long haul. For starters, dust affects the performance of your stylus and the vinyl records as well.
Most of the time, dust build-up is the main reason why you could hear popping sounds and unwanted crackles when you are playing your records.
Dust can also affect the performance of the stylus because the particles will cause it to jump hence, skipping on some parts of the song. Most importantly, it is the main culprit behind wearing vinyl records.
#5. Are there other types of styli aside from the elliptical one?
Yes and we have two major types: the spherical and the elliptical. We mostly hear of the elliptical
ones but there is also the spherical styli which is known for the crisp, warm sound quality that they produce.
This warmer tone is due to the wider radius that it could cover which means that smaller tone modulations are traced to produce higher frequency tones. The spherical styli is a solid preference for professional DJs and audio mixers because it offers greater ease in scratching and back spinning.
The elliptical styli on the other hand works on two-radius groove which is in contact with a wider area and offers more precise record tracking at a high frequency quality. The best thing about this type of styli is that it offers less distortion and is opted for in HiFi listening because of its high sonic performance.
#6. Do vinyl records really sound better when sourced from original tapes instead of digital audio-conversions?
The bias towards original vinyl tapes is still rampant up to this day but this is the answer that will settle the debate once and for all.
It does not matter if vinyl records are sourced from original tapes or from digital formats because the quality of the sound will always depend on the quality of the source material.
This means that whether or not the record came from the original tape or not, if the quality of the vinyl itself is not good, then expect that the outcome will also be not good. So this is not a question of which source is better but which recording was better made.
Nonetheless, some people cling to this issue, accusing digitally pressed vinyl records as not dynamic and loud when it comes to the audio produced so this question still holds validity.
Other turntables you might consider
Conclusion
The best turntables under $1000 are modern music beasts in themselves and are truly far from their classic ancestors. As modern audio devices, they have kept up with the demand of the times with specific features that sets them apart from the older versions.
With all of these specs and more, the fine line between classic jam and modern beats are bridged, paving the way for a trip down memory lane in an upbeat mixed sound that we all could relate to.
It is not an easy job to find the best turntables under $1000, though. It requires a thorough run through of what to look for in them and what does not seem practical as a choice.
It also involves considering specific aspects, factors and other checklist items for you to land on the best choice that will represent your preferences and value for your money. With all these things in perspective, we hope that you get the best turntable under 1000 of your dreams.