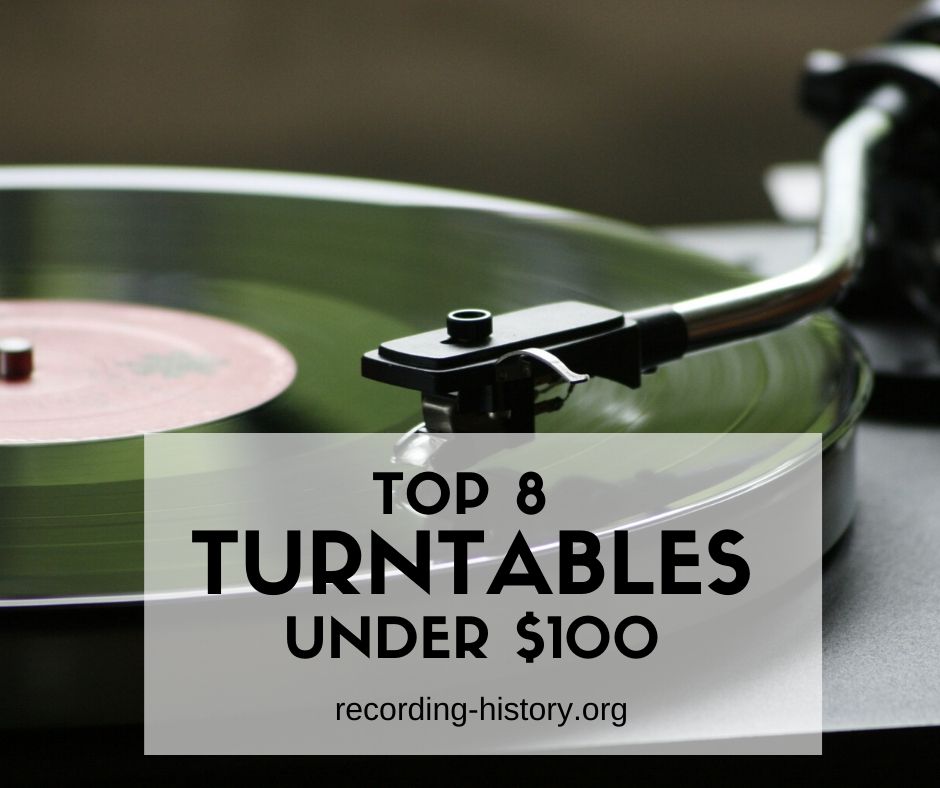 Nothing is better than a chill day or night with good music on from old songs, to jazz, to soul to contemporary. And there is certainly a different vibe when tones are a combination of edgy and classy which can be achieved if you have a turntable or a record player at home.
So if you want to know where to play those old vinyl records you, and your folks have collected over the years or just want to be an old music soul in a modern world, this roundup article is for you.
Best turntables/record players under $100
While record players are a good investment for people who are hardcore music lovers, it may not always be practical to invest so much on record players or turntables given all the new innovations in portable gadgets that play music for you whenever, wherever.
This is the reason why you need to know that you have a choice and it is not always expensive. Here are some of the best turntables/record players under $100 that you can consider.
1. Victrola 50's Retro
This is a product straightly cut out of the 50s with its retro-vintage style. It is like those turntables in classic American diners complete with a metal case. But this retro record player should not be underestimated because its features are all modern.
It is called the 3-speed turntable because it could play your vinyl at 78, 45 and 33 RPM which is a major upgrade for compact record players like this one.
Most importantly, as vintage as it looks, it supports all major digital outputs for preserving and reproducing your favorite vinyl records.
Pros:
It records vinyl to MP3 format.
It could stream AM/FM ranges complete with a backlit tuner.
Has built-in speakers and CD players.
The box comes with a free 3.5 mm audio jack for your gadgets like phones, tablets and laptops.
It can connect wirelessly through Bluetooth at a radius of up to 33 feet away.
Beginner friendly and music mixing friendly with the three-speed spec.
Con:
Built-in speakers are not that loud.
2. Victrola Navigator 8 in 1
It is also called the 8 in 1 Nostalgic Entertainment Center because of the eight ways it could play music at a classy vinyl vibe.
This includes wireless streaming through Bluetooth and non-wireless playing through a built-in cassette player at the back of the turntable, through a 3.5mm audio jack which you could plug to your devices for non-stop music playing for up to 33 feet away, through CD player, USB port, FM radio and RCA and headphone jack.
Aside from these, you will easily fall in love with its wooden case which makes it look very classy.
Pros: 
Equipped with a recording function which is compatible with Mac and PC operating systems as well as a USB port for saving vinyl records.
Has a three-speed feature at 33, 45 and 78 RPM for mixing music and revival production.
Has a remote control to control pace, volume and others.
Has built-in power speakers that do not fuss at high volumes.
Cased in legit wood that makes it durable and sturdy.
Cons:
Remote control does not have a switch on and switch off button so you'll have to do this part manually.
The tonearm is too light.
3. Jensen JTA-230
This is also a three-speed turntable at 33, 45 and 78 RPM for DJ work such as revival production and remixing.
It is belt driven which means that you have to do everything manually but will give you the best vinyl experience.
Although manual, it has built-in power speakers which might no longer require you to opt for added external speakers.
Its major plus is its MP3 encoding feature in which a built-in auto MP3 conversion software transforms and saves vinyl sounds directly in a USB. But this one is not just used for saving music but also in editing or remixing music.
Pros:
Three-speed belt-driven turntable with built-in stereo speaker system.
Comes with a 3.5mm auxiliary jack and RCA jack for non-wireless streaming via laptop, tablet, iPOd and mobile phones.
Equipped with USB port and MP3 Encoding for editing, converting and recording music to digital formats.
Has pitch, volume and tone control buttons to adjust the speed, volume and tone of the record.
Has a power indicator, auto stop switch and stereo headphone jack.
Comes with a dust cover for protection not only of the record player but also of the vinyl record while it plays.
Cons: 
Its built-in speakers have been reported to have some issues but it is easily corrected by connecting it to an external receiver or speaker.
4. 1byone Belt Driven 3-Speed Portable Turntable
It is a good find for just $50 especially with the sound quality it produces. It has built-in stereo speakers that are placed in front to produce clearer sounds.
It has a sturdy, balanced tonearm and a briefcase style casing making it portable and easy to store. It is also three-speed at 33, 45 and 78 RPM and comes with a free 45RPM adapter.
It is very easy to operate and good for music hobbyists that are always on the go.
Pros: 
It is trendy and retro at the same time with built-in 1.5W speakers, a tonearm with soft damping control and RCA and auxiliary jack for devices such as laptops, mobile phones and tablets.
Has a USB key for you to play and save your vinyl records from the USB or to convert it to MP3 files.
Lightweight with retro leather case and dust cover.
Cons:
Built-in speakers are not that loud so you will have to buy an additional external speaker to connect it to for a louder volume.
A significant number of reviewers would attest that when it is played at 45RPM, there is a five-second lag at the beginning and end of the song.
5. Popsky 3-Speed Vintage Turntable
If you are thinking of vintage, country nights, this is perhaps the turntable that will give you the vibe.
The first thing that will attract you to this is its classic wood, sleek and lightweight design with a rubber foot pad to avoid skips in songs because of vibration.
It is a 3-speed turntable at 33, 45 and 78RPM with a free 45RPM adapter in the box.
You will not worry about your vinyl's size if you have a whole collection of it because it can play 7, 10 and 12 inches vinyl records. Its sound quality is crisp and warm like how vinyl records should sound like thanks to its built-in speakers.
Pros:
It is versatile with its three-speed feature and because it could accommodate three vinyl record sizes.
Converts MP3s and other audio files.
Equipped with two built-in power speakers and crafted with an anti-resonance feature by adding three elastic plugs beneath the platter which minimizes vibration and produces crisper sounds.
Comes with RCA and auxiliary jacks for music streaming through laptops, phones and tablets.
Can receive and transfer music through Bluetooth and has an automatic on and off switch.
Comes with a removable dust cover for protection.
Cons:
Speakers are not that loud in actuality and you will have to connect it to an external speaker.
Experiences of poor bass frequencies have been reported and it is most probably because of the small, compact built-in speakers.
6. Wockoder Portable Turntable
This one also comes with a three-speed feature at 33, 45 and 78 RPM and is belt-driven to minimize vibration and skips in the music being played.
It will also allow you to experience a wide range of vinyl collection as it can accommodate 7, 10 and 12 inches vinyl records.
It has a classic wood design with built-in speakers and wireless features such as Bluetooth. You can also connect music and stream it using this turntable with its RCA and auxiliary jacks.
Pros:
Has decent sound quality and has convenient controls.
It is very affordable and its compact, vintage design is attractive.
It is portable with great connectivity being able to connect wirelessly through Bluetooth and non-wirelessly through RCA and audio jacks.
Cons:
The bass tones are not that good.
You might find lags and skipping sounds when you raise it to higher volumes.
7. Audio-Technica AT-LP60X-BK
It is a fully automatic turntable at two-speed feature of 33 and 45 RPM. It is also equipped with an anti-resonance design with a die-cast aluminum platter and extra rubber underneath it to minimize vibration.
It was also innovated to improve song tracking and minimize resonance by redesigning the base of the tonearm and the head shell. It comes with an AC/DC adapter to reduce unwanted noises in the signal chain.
Pros:
Can convert vinyl records to MP3 and other audio file formats.
Built with anti-resonance design as it has extra rubber pads beneath the platter to minimize vibration producing warmer and crisper sounds.
Has built-in preamp cables to be connected to external speakers.
An improved integral dual magnet phono cartridge with a replaceable diamond stylus for more quality sound.
Comes with dust cover for protection and a 45RPM adapter.
Cons:
Does not come with built-in speakers.
8. ION Audio Max LP Vinyl Record Player
This eye-candy does not disappoint at $60. First off, it has a classy natural wood finish and can play at three speeds (33, 45 and 78 RPM).
For more diverse vinyl listening, it comes with a 1.8mm auxiliary jack, a separate RCA jack which connects to external speakers in HIFI separates.
It has two built-in power speakers and is equipped with the conversion software that will allow you to automatically convert vinyl records to digital audio files like MP3 and in saving records in USB.
Pros: 
Has built-in software for auto-audio conversion in MP3 and through USB.
High connectivity in both wireless (through Bluetooth) and non-wireless inputs (RCA/AUX).
Plays all standard record speeds at 33, 35 and 78 RPM with a free 45RPM adapter.
Built-in speakers are good for the price.
Cons:
External speakers will still be needed.
The verdict
Now that we have given you a rundown of the best turntables under $100, it is time to give our verdict on which one of them is the winning product. It was a battle between the Victrola 8 in 1 and the Jensen JT-230 but we based our verdict on greater modern functionality and level of innovation. As such, the winner is the Jensen JT-230. 
While it shares common specifications like the 3.5mm AUX jack, RCA jacks and three-speed feature, it won because of its built-in MP3 conversion software that would allow both the aspiring DJ and the music hobbyist to experiment on record musings, revivals and other modifications through on the spot converting, editing and recording.
Its controls are also made for this function as it has auto switches for on and off as well as in controlling pitch, tone and speed which are essentials in remixing, recording and editing music. So basically, it is very efficient in making old songs remixed into newer ones if you feel like it thanks to this MP3 encoding innovation.
Buying guide
What to expect from a record player under $100?
There are many reasons why we would get cheaper record players.
Less expensive record players are often the first choice of beginners in polishing their ears for music or in mixing beats for DJ work.
Second, some people are just tired of digital music and they want a feel of music, physically covering the room.
Of course, record players under $100 are often underestimated. A lot of people would say that the music is not that smooth and that they would even damage your vinyl but that is certainly not true.
For some outstanding brands, like the ones we have already mentioned here, you could expect optimum performance and they surely keep up with the times and your modern needs through certain innovations like USB and Bluetooth support.
Features to consider before buying a record player?
Before buying your own record player/turntable, you must first know what specific features to look for based on your need for a record player. You should also be updated of some of the newest specifications for you to know. So here is a rundown of the features to consider before buying a record player.
Drive: In buying a record player, you first need to decide if you need a direct drive or a belt drive. The drive is the motor that connects with the platter and spins for the music to be produced. For instant spinning which is needed in DJ jobs and a resistance-free platter when it is turned off, you may want the direct drive record player. But for laid back listening and home music, opt for a belt drive.
Cartridge: This is often referred to as the needle or the pickup which is already pre-mounted in the tonearm and it holds the stylus which reads the record and produces the sound. This is upgradeable for better musicality.
Phono preamplifier: This one is sometimes built-in and sometimes not and it is up to you if you still would want to amplify the volume produced by the record player. For outside preamps, they could be connected to a receiver, speakers or even in a separate component. You can connect your record player with built-in preamp to the mentioned devices too if you want a louder sound out of your record player.
Manual and Automatic: This feature determines how frequently you will have to stand to change the records or adjust it. If you want to experience the old-school stand up and sit down process every time you change the record or you are really meticulous with the sound quality by adjusting the needle, go for the manual record player. There is also a semi-automatic one which allows you to control the needle but automatically shuts off after use and the fully automatic one where you are only one button away from turning it on, putting the record manually and will automatically lift the tonearm after the record is done.
USB output: One of the latest innovations in record players now would be the USB output. This feature lets you immortalize and preserve your vinyl records. It will record your records as you play them in the turntable. This allows you to save digital copies of your vinyl with the smooth vinyl sound and all for portable streaming later.
Ripping and Connectivity: Aside from the USB output, it is also important for modern turntables to connect to other devices through other channels like Bluetooth. Auto music encoding to MP3 files and other audio files should also be a must.
Speed and Size: By speed we mean, what is the RPM it could support? Three-speed turntables are already a good catch. As for size, potability is a good feature to look at for budget turntables. There are budget turntables out there that are not just portable but could also accommodate vinyl records in 7, 10 and 12 inches which means that you can play your vinyl set without worrying that it would fit inside.
Design: Not only should you look for the sound quality but you should also be keen with the design because it speaks of your personality. Do not be mistaken and think that turntables all look retro and vintage. Some come in futuristic designs or contemporary ones so it is basically up to you if which among these would build your personality.
QAs/FAQs
Is Victrola a good record player brand?
The fact that Victrola has been one of the leading record player brands for more than 100 years, it is already safe to say that it is a good brand if we are speaking of reputation. But there are other things to consider of course.
Victrola record players built on their vintage look that they innovated through the years. There is no question for its sound quality because it is as smooth as it could get. It is a good gift for music hobbyists. However, it is not good for DJ work.
While it has Bluetooth, cassette, AM/FM and USB outputs now, it cannot spin as fast and the built-in speakers are not power speakers. Most importantly, if you are kin about the price, modern Vitrolas are a bit pricey. But in terms of the sound quality and style, Victrola is an overall good record player.
Do you need a speaker for a record player?
As have been mentioned in the previous section, it all depends on your need for sound or volume. Most record players have built-in speakers or phono preamp but most often than not, these preamps are just built for room use and are not that loud especially budget record players because their built is compact.
So, if you want a louder sound from your record player, yes, you will be needing a speaker. Fortunately, record players have always kept up with the times. There are two ways to connect your record player to a speaker. You can either opt with the traditional way using RCA cables or you can connect through Bluetooth.
Does vinyl actually sound better?
This is a resounding yes over and over! Digital formats are sometimes broken and fussy and not as smooth. Vinyl brings detailed tones and the clarity is just one for the books.
There is audio loss for vinyl and you would really get the best vibe from the band or singer as if they were singing the song to you. Because of its good sound quality, vinyl can really inspire you to invest on records and let us get this straight, once you go vinyl, you will never look back because it is the total experience and it improves your music experience.
What's the difference between a record player and a turntable?
The confusion between a record player and a turntable is common and the answer to this is not that complex if you think of it. The turntable and the record player are two halves of a whole.
The turntable is the major component of the record player is the audio system of the whole component. The turntable is composed of definite features: the platter where you will place the record, the tonearm that will mix the record, the motor, cartridge and the needle that will produce the sound from the record. Normally, turntables have built-in speakers but for better amplification, external speakers should be connected.
On the other hand, the record player is composed of amplifiers, speakers and of course the turntable itself. While it is the audio system of the whole component, it is also more elaborate than the turntable.  It could be connected to receivers, Bluetooth, USB and could play digital formats like MP3, CDs and others. Unlike turntables, record players are bigger in size and not as portable as turntables. Nonetheless, this is its only drawback.
What do you call a vinyl player?
There is much debate on this but all answers point at the same thing. Conventionally, vinyl players were called phonograph records or even gramophones with this big megaphone like fixture protruding from the cartridge.
It was introduced in 1887 and is often associated with Thomas Edison. In the 1910, the UK standardized the name to gramophones but it was too technical-sounding so in the 1940s, this thing that produces music out of big circular records was called turntable or your vinyl player.
Can cheap turntables damage records?
There is an on-going consensus that cheap turntables will definitely damage records for many reasons. One of the alleged reasons why is its size. Because it has short tonearms, platter and short everything, it is said that they will damage your prized vinyl records.
They are also accused of not having a good sound quality, with wrong stylus and very lightweight which will have an effect on your overall vinyl experience. While this could be true for some, it is not true for all.
There are cheaper versions of turntables from reputable brands that were made with the quality of their original versions but at almost half the price. This accusation towards cheaper turntables is just so generalizing but it also poses up the challenge that if you ever buy one, make sure that you know what you are looking for.
Other turntables you might interested in:
Conclusion
In conclusion, record player/turntables are a good addition to your home music experience. They are also functional in your interest in mixing songs and in your potential DJ career. You can also remix and produce revival songs at home with their innovated digital outputs that are not compromising the classy sound and feel of vinyl records.
Most importantly, now that you know that you could actually buy a turntable/record player for a minimal price but with same experience, it is equally important to bear in mind that not all cheap turntables would give you an expensive quality. So make sure that you need some advice, look for reputable reviews and roundups for you to know which features should be there and specifications that you want to prioritize.