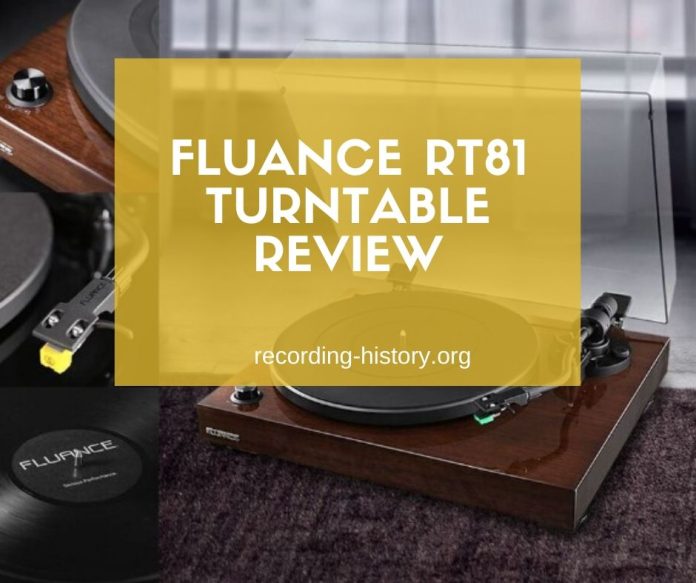 The competition for the best modern turntable has begun for quite some time. We have seen old brands suddenly coming up with new turntable versions and entering the budget type hype on turntables.
Some models have been notable over the years and continue to be so given the innovations they have been upgraded with.
One of these budget friendly modern turntables that have gotten the interest of many would be the Fluance RT81.
We are sure that you have heard of it  and might be one of the many people who have been fascinated by it so in this article, I will review the Fluance RT81 and give you a rundown of everything you need to know about it. 
Verdict
Overall, the RT81 is beyond decent. It is technologically competitive and its specifications are above average at a very reasonable price. Aside from this, we think that it is impressive, especially that it has a cross-over elliptical stylus from Audio Technica.
It is pretty bold to build on using a rival company's banner product and to infuse it in the Fluance RT81 means that they really want to deliver the best performance from a budget turntable.
More than that, it is also visually attractive with its walnut color and wood finish and aluminum interiors, from there alone, you could already consider this a winner. Plus, all the key specifications like digital format support and HiFi speakers are constructed well so I would really give the RT81 a 5 of 5 too. 
Pros and Cons
Pros:
It has a stable tonearm and the anti-skate system really works.

It is easy to use with all of its knobs and switches and the Auto-Stop button really delivers.

It has an accurate and gentle cueing lever. 

It comes with a reputable elliptical stylus with the AT95E. 

It has an attractive plinth and dust cover. 
Cons
It has the tendency to be oversensitive to physical shock, thus, may be unstable at times. 

It cannot maintain consistent speed after long record playing. 
Who is this product for?
Given its compact design and easy to navigate buttons and jacks, the Fluance RT81 is good for both professional use and newbie music mixing. It is highly portable for on the go record mixing and of course for just lazy couch days for laid back listening. 
Key features and benefits of the product
Aesthetics
The RT81 does not only deliver when it comes to usability but also in terms of aesthetics. As have been mentioned, the plinth has a glossy finish with dark walnut color so when you first see it, all you would think is how expensive it could be.
Other than that, it also has glowing LEDs for basic buttons such as on/off button, speed button and others. 
Operational Control
This turntable is also easy to use. It has knobs and switches like the ones we have already mentioned (the on/off and speed buttons). You can switch to 33RPM by twisting the knob to the left and 45RPM if you twist it to the right.
You are sure that you have hit the desired speed when the LED glows in either red or blue. Aside from these knobs and switches, there is also the cueing lever which automatically raises the tonearm after the record stops playing and lowers it when you put the record in. 
It also has a lightweight platter made of die-cast aluminum and an accompanying thick rubber pad to grip on the record without skating and of course to minimize unwanted sounds. Moreover, the tonearm in itself is coated with black powder along with other small parts to be attached. 
Stylus
The RT81 takes pride in its AT95E conical stylus which when sold separately would cost you another $50-75. This elliptical stylus from Audio Technica has been branded as one of the best stylus series to date because of its proven accuracy and gentler grooving.
To be direct, it has been tested at a tracking rate of 2.0gm which means that it gives a solid performance and better than basic grade.
Other than this, the AT95E is upgradeable for better accuracy. This means that instead of just doing the maintenance work, you can actually make your sound experience more HiFi through the AT stylus series since most modern turntables are compatible with it. 
Connectivity
You will also be fascinated with the rear panel features of the RT81. For starters, it has two RCA jacks for typical audio outputs. Beside these would be a ground lug for phono cables if you want to.
This feature is already indicative of higher notch quality from the RT81 because not all budget turntables have this. As you go on the panel, you will find the slider's switch for on and off and beside it will be the operation mode where you will choose between auto-stop and manual modes. 
How to set-up
Setting-up the RT81 is not as tedious as you think. First, you need to find the product manual, which by far, is one of the easiest manuals to follow with only eight steps on it.
Second, you need to rest the platter on the turntable's spindle and then loop the drive belt around the motor's pulley and attach it to the rim. Do not worry, a red ribbon to be used as a loop is already pre-attached.
After the looping process, you may now install the counterweight at the back end of its tonearm then connect the cartridge and the headshell on the other end.
Balance the tonearm and then remove the stylus guard then adjust the balance for vertical tracking and anti-skate. Lastly, connect the cables in the rear panel, test the switches and play a record. 
Customer Reviews
Truth be told, the RT81 have positively overwhelming reviews in general. The reviews highlighted various specifications.
One of the most emphasized is how good and accurate the stylus is.
A lot of other reviewers have tried both professional record mixing and just listening and have magnified how dependable and beyond decent this product is.
Tons of reviews also commended the tone quality of the RT81 along with its easy-navigation system and anti-resonance system it is equipped with. 
FAQs
How much does the RT81 cost? 
In estimate, the RT81 is in between $250-300. Of course, you will have to spend more if you are eyeing for other upgrades. Nonetheless, this price range is one of the best among budget type turntables so this is already a good bargain if you think of it. 
Is the AT95E already the upgraded stylus version? 
The AT95E is already the upgraded stylus version for the RT81. Before, the RT series was making use of the AT91. But for some professional grade stylus, you might also upgrade it to the AT1240 stylus. 
Should you buy the Fluance RT81? 
Honestly, it is a good buy. For a budget type turntable, it really comes with high quality. It has a good design, convenient specifications and most importantly, it comes with only a few drawbacks so it is a good deal.
Other turntable reviews: