Far from the experimental music trend of the 70s, the 80s is more vibrant and diverse. From hard rock to the emergence of power ballads, acoustic ballads, R&B, soul and many more, the 80s is perhaps what we could consider as the peak of unforgettable love songs.
Unintentionally, almost all people know one or two songs from the 80s that they might not even know that were from that era. So without much ado, here are some of the best love songs of the 80s.
Top 20 Love Songs of the 80s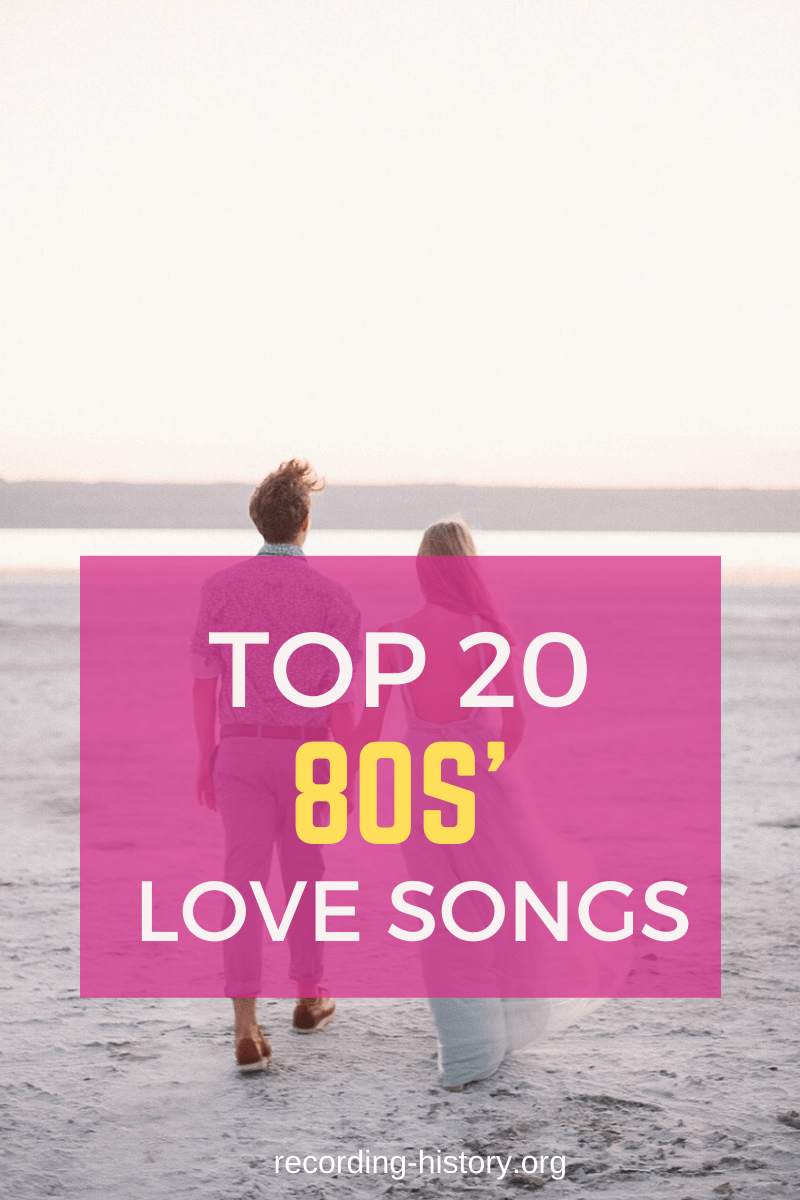 1. I just called to say I love you
Just calling to say I love you could be the sweetest thing one could do for somebody and that is what this song is basically about. Stevie Wonder performed this song in 1984 under his album The Woman in Red and won a Grammy for being Song of the Year. 
2. Endless love
Talk about 80s love songs and you will get a lot of duet songs like this one from Lionel Richie and Diana Ross. This song is a perfect wedding song as it talks about how love is eternal if you spend it with the right person. 
3. I want to know what love is
Being a neophyte at love is a tough phase but if you already know who you want to struggle with and know better in this tough journey, then this song by Foreigner is for you. It was first performed in 1989 and is one of the most revived electric rock ever. 
4. Right here waiting
Waiting on the love of your life is tough, especially if there's no certainty on their return but Richard Marx through this song gives us an imagery of how beautiful it is to wait, no matter what. It was released in 1989 under his album Repeat Offender. 
5. Every woman in the world
There are a lot of good songs that tell how one woman could be the love of one man forever through her quirky, simple ways and this Air Supply song is one of them. This pop rock song was released in 1980 along with equally hit singles Having You Near Me and My Best Friend. 
6. Nothing's gonna change my love for you
This song is basically one of the most famous karaoke songs ever. Talking about how a man vows about his unchanging love for the woman he loves, this song by George Benson was released in 1985 under 20/20 album. 
7. Heaven
This song is about how a simple moment like lying in the arms of someone you love would feel like heaven and in rock genre. This is one of Bryan Adams' greatest hits which was released in 1984 under the album Reckless. 
8. Time after time
This talks about a love that is constant and dependable with the lines, if you're lost you can look and you will find me time after time. This Cindy Lauper hit smashed the charts in 1983 under the song She's So Unusual and won a Grammy for being Song of the Year. 
9. Up where we belong
Indeed, when we love, it as if the universe has put us where we are meant to be with the person we are supposed to live life with. This light pop-vocal by Joe Cocker and Jennifer Warnes was released in 1982 and won an Academy and a Golden Globe for Best Original Song. 
10. Suddenly
This is a song of suddenly discovering love and through a sweet duet by Olivia Newton-John and Cliff-Richard no less. It was released in 1980 and became popular through the movie Xanadu. 
11. How am I supposed to live without you
This song of love and loss will leave you speechless, reflecting what has gone wrong and how do we start anew after a devastating heartbreak and then love again. It was released in 1989 under Michael Bolton's album Soul Provider. 
12. True
This song by Spandau Ballet has a very catchy tune that will leave you on LSS for days. This made Spandau international stars that they were and were clustered in jazz and soul. 
13. Have I told you lately
Although greatly associated with Rod Stewart, this song is a Van Morrison original under his 1989 album, Avalon Sunset. Talking about a divine love that is shared by people and of people still raving about it in the present because of the lyrics make it one of the best 80s love songs of all time.
14. You're the inspiration
Nothing would ever amount to being serenaded with the lines you're the reason in my life, you're the inspiration. Chicago had a lot of remarkable hits and this one is their fourteenth studio recording released in 1984 under Chicago 17. 
15. Take my breath away
This is another 80s song that was revived by the cast of Glee during a very emotional scene of love confession. It was originally sung by Berlin in 1986 by Toni Verdi in the hit movie Top Gun. 
16. Faithfully
If there is one thing we want to find in a person to love, that would be fidelity and trust. This is exactly what this song is about but in the perspective of a music man who travels often, promising that he will always be hers for eternity. This classic rock song was performed by the band Journey in 1983. 
17. I'll be there for you
What is more crooning than having someone sing to you that they want to be the air for you when you breathe? Bon Jovi does that with this song complete with that rock, raspy voice of his. It was released in 1988 and won an AMA for Favorite Rock Single. 
18. Stuck on you
This sweet song of coming home after finally realizing what a lucky man he is for having a woman that will wait on him no matter what, Lionel Richie, reminds us that love means patience and certainty. It was released in 1985 under the album Round and Round. 
19. We've got tonight
The young ones may have heard the revival of this 1983 duet by Kenny Rogers and Sheena Easton from the American musical TV series, Glee. The song is about a magical night when love, of all forms and all set-ups could be given a chance. 
20. Everytime you go away
With its signature intro chords, Paul Young talks about how to fight for love more at times when it is hard. It was released in 1985 and won a Grammy for Song of the Year.
Conclusion
If we are being honest, the songs of the 80s are the hardest to rank based on best lists because almost all songs of the 80s are magic. But here are some of the most famous songs of the 80s that is still being listened to, sung and even revived from one generation to the next.