We all dig country songs, whether we admit it or not. When we think of country artists and songs, we always have the mental image of boots, plaid or flannel shirts, jeans and cowboy hats and of course of tavern parties where cowboys and cowgirls dance their hearts out. You might not probably know but there is a whole list of cowboy and cowgirl songs and in this list we name some of them.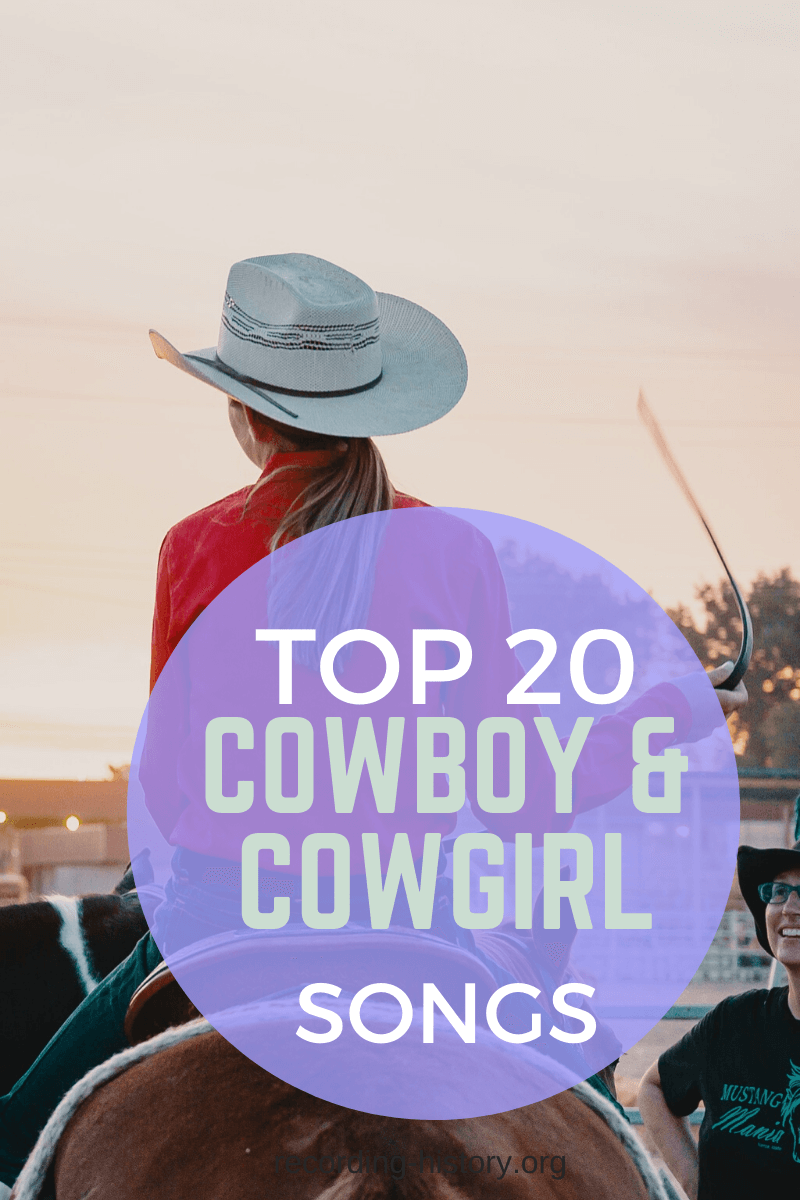 Top 20 Cowboy and Cowgirl Songs 
Cowboy and cowgirl songs are not always necessarily country songs. To know more about them, here is a list of the top 20 cowboy and cowgirl songs of all time. 
1. Cowgirls don't cry (Brooks & Dunn)
This country song talks about the bond between a cowboy daddy raising a cowgirl and the best lesson he taught her aside from riding the saddle is that cowgirls don't cry. It was released in 2007 under the album Cowboy Town. 
2. Should've been a cowboy (Toby Keith)
From the perspective of man from the country who left home early and never learned to be a cowboy wondering about all the wonderful things he could have done should he became a cowboy. This song was released in 1993. 
3. I want to be a cowboy's sweetheart (Patsy Montana)
This 1934 classic cowboy song talks about wanting to be a cowboy's sweetheart to learn how to rope and ride over plains and deserts, out west and even in the great divide. It won a Grammy Hall of Fame in the late 90s. 
4. Cowboys and angels (George Michael)
A pop take on the cowboy theme, this 1990 song talks about a cowboy's heartbreak from a woman that seemed like an angel but never fought for him the way he did. It was under his hit album Listen Without Prejudice. 
5. Mammas don't let your babies grow up to be cowboys (Waylon Jennings)
This 1978 cowboy song is very bittersweet and emotional. It narrates the unseen, lonely life of cowboys who are always on the run and gives advice to mothers to tell their sons to be doctors or lawyers and to stop them from picking guitars and drive old trucks. 
6. This cowboy's hat (Chris Ledoux)
This 1982 country song under the album Used to Want to be a Cowboy talks about the rites of passage, the things you would have to do first before you could finally take the cowboy's hat so that you will get to understand what it truly means. 
7. Cowboy logic (Michael Martin Murphey)
This song narrates that the cowboy logic is seen in the way he lives and the songs that he sings and how he got simple solutions to almost everything. It was released in 1990 under the album Cowboy Songs. 
8. That's why God loves cowboys (Aaron Watson)
This 2015 song under the album Underdog is a sweet veneration to cowboys, using their life as a metaphor for lives that need tending and mending, which is what they do to the herd. 
9. Much too young (Garth Brooks)
From the master country artist himself, this 1989 ode to a cowboy's life talks about the responsibilities that are given to cowboys at a very young age and how they are too young to actually take on these. 
10. Cowboy (Rock Kid)
This 1998 metal rock song under the album Devil Without a Cause talks about a young boy who wants to be a cowboy to feel free and just be roaming around deserts and stars. It won the MTV Video Music Award for Best Male Video for that year. 
11. That girl is a cowboy (Garth Brooks)
This may have cowboy in it but this is a beautiful love song. Taking in the qualities of cowboys as dependable, honest and loyal, Garth says that sometimes the best cowboys are not boys all the time because some girls are better cowboys than boys. 
12. I wanna be a cowboy (Boys Don't Cry)
This is another love song between a cowboy and cowgirl citing the many things they would do like camping in the prairie or riding in the sunset in the Mid West. It was released in 1985. 
13. Back in the saddle again (Gene Autry)
This Grammy Hall of Fame talks about a cowboy with a brief stint at the big city but dreams of the country life so he packed up and went home back in the saddle again. 
14. The cowboy in me (Tim McGraw)
Released in 2001 under the album Set the Circus Down, this song narrates how a cowboy will always long for his cowboy life and shall forever remain a cowboy with the urge to run and the restlessness that comes with it. 
15. Cowboys like us (George Strait)
It basically gives us the story of cowboy friends who are in the carnival for the rodeo with head out on steel horses and crazy friends to take off some time. It was released in 2003 under the album Honkytonkville. 
16. Rhinestone Cowboy (Glen Campbell)
This 1975 song tells the story of a famous rock star who feels like a rhinestone cowboy in a rodeo getting cards from strangers. The song was released in an album bearing the same title. 
17. Like a cowboy (Randy Houser)
It was released in 2013 for the album How Country Feels. This is more of a love song belted out by a guy telling the woman he likes that he will ride on a horse on a sunny day, sing her a song and steal her heart away like a cowboy. 
18. Cowboy song (Thin Lizzy)
This song was released in 1975 under the album Jailbreak. It is another rodeo cowboy song where the singer is asking his friends for them to roll him over and turn him around like riding the buffalo in the old rodeo. 
19. God must be cowboy (Dan Seals)
This melancholic song is a realization that God must be cowboy because he made grass, trees, mountains and horses to be friends and lets old cowboys find their way home again no matter how far they go. It was under his album the Rebel Heart. 
20. Woody's roundup (Riders In The Sky)
From the Toy Story franchise, we know Woody as the cowboy toy. This song was made for him and of that time he was made by the wood sculptor. It won a Grammy in 1999 for the Best Country Performance by a Duo. 
Conclusion 
While most cowboy and cowgirl songs prove to be country songs, they are not all that there is. This only shows that the fascination we have for cowboys and cowgirls is beyond country, yee-haw!