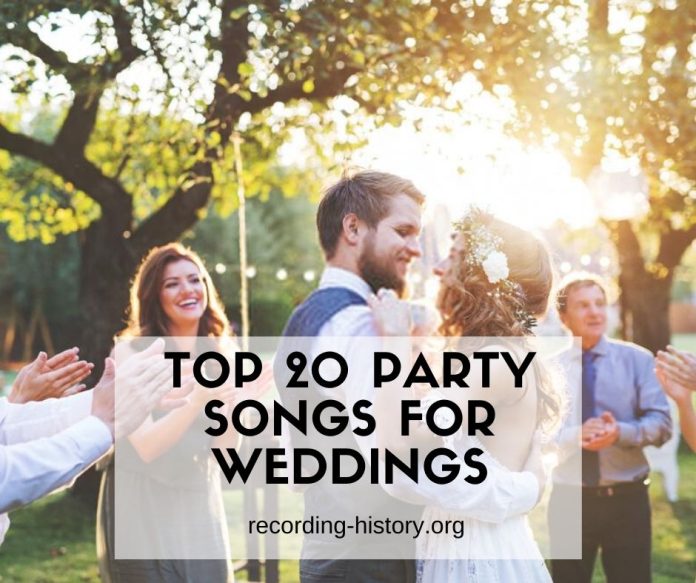 Party songs in weddings? Yes, that has always been a thing. These songs turn up the wedding into a fun time with lots of dances, chat and guests getting to know each other, which is basically the point why everybody is there right?
So if you have been wondering about the best party songs for weddings, here is a list of songs that you might want to check out.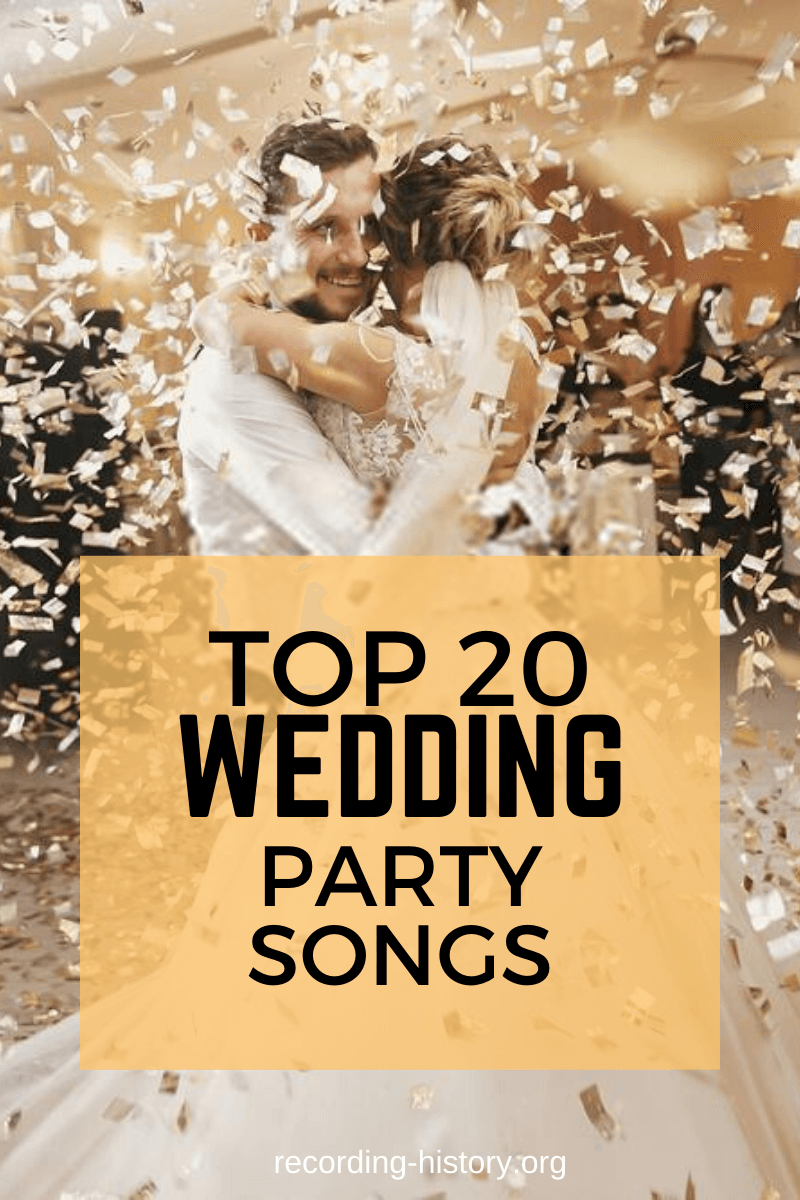 Top 20 Party Songs for Weddings
To start up the part in weddings, here are the top 20 party songs for weddings. Groove in with the classic and shake it off with the contemporary ones, you name it, this list has it. 
1. Uptown Funk (Mark Ronson)
If you are looking for a funky dance party no matter the occasion is, this is a song for you. From the first lines to the chorus, up to the end, all you will get is absolute party. It was released in 2014 featuring Bruno Mars. 
2. Can't stop the feeling (Justin Timberlake)
If you love the movie Trolls and didn't feel like your body wants to dance with this song on, then you are not normal. It is so inviting especially that it talks a lot about the dance floor and just dancing. 
3. I gotta feeling (The black eyed peas)
Its lines, I got a feeling that tonight's gonna be a good night is already enough justification as to why it has the third spot in this list. The funky pop take of this song just seals the deal for the wedding after party. 
4. I wanna dance with somebody (Whitney Houston)
Before all these upbeat songs in this list, we were all dancing along with this song. This is one of the few songs of Whitney that does not talk about pain and heartbreak and it is so perfect for wedding after parties. 
5. Happy (Pharell Williams)
Weddings are happy events and what other party song would express that than this song asking you to dance and clap along if you feel like happiness is the truth. It's so dance-y and with good lyrics at the same time so what else does not fit? 
6. We found love (Rihanna)
Finding love in a hopeless place is quite romantic already but turn that line up into a party song and it will make it more special. Not only would you feel like falling in love, you would also feel like dancing with the feeling and this is what this song offers. 
7. Moves like Jagger (Maroon 5)
This is an ode to Mick Jagger being one of the favorite artists of the band's frontman Adam Levine. But with the funky rock beat and well, beautiful party runs, it will make a good party song for weddings. 
8. 24K Magic (Bruno Mars)
This song was one of the most famous songs of 2016 from no less than the father of modern funk, Bruno Mars, himself. It was performed during the Golden Globes and also in the Grammys. Alongside that, the song is just meant for party dancing. 
9. Raise your glass (Pink)
Nothing is more magical than dancing together with the lines, raise your glass, just come on in and raise your glass! And just imagine doing that while the newlyweds party with you while they dance in the middle of the dance floor with their family and friends.  It's like a wedding toast but in dance form. 
10. Crazy in love (Beyonce)
Queen B has a song for everything including party songs for weddings and this is one of them. This song became popular when it was used in the dance-off scene in the comedy movie Hot Chicks and if you loved that scene (who doesn't?) then you can always remake it in your wedding. 
11. A sky full of stars (Coldplay)
If you know Coldplay, you would know that not all of their songs are party beat. This one made the list because of the developing party tempo which will really get fast after 45 seconds into the song. Aside from this, the lyrics are just so about love. 
12. Low (Flo Rida)
It was the official party song of 2007 after it won the Grammy Award for Best Rap Song and was featured in the dance film Step Up 2. There is no better party song than this especially in an intimate event like weddings. 
13. Dynamite (Taio Cruz)
It may be clustered in R&B but this sure is a certified party song. It was released in 2009 under the album Rokstarr and won the Billboard Music Award for Top 100 Songs. 
14. Shut up and dance (Walk the moon)
If you don't think romance, love and party could not go in one song, you are wrong because this is the exact song for that. Talking about a woman he met on a dance floor, the guy risks on love in the disco. It was released in 2014 under the pop album Shut Up and Dance.  
15. Shake it off (Taylor Swift)
Well for starters, it does not talk about an ex-boyfriend because it talks about herself and how she cannot be tainted by judgment because she just shakes it off. Other than that, it just inspires you to dance and party and just twist and shake it off all night. 
16. Can't feel my face (The Weeknd)
Although it is also categorized as R&B/Soul, it has a remix version that spells party dance. And it has beautiful lyrics so what is there to not love. It was released in 2015 and won a Juno Award for Single of the Year and Songwriter of the Year. 
17. This is what you came for (Calvin Harris)
It starts so subtle with Rihanna singing but from there, it just takes off which tells party. It has the party beat and simple repeating lines that will just let you get in the groove with friends all night.  
18. Sugar (Maroon 5)
This song was really made to be a party song for weddings. Its music video even features the band crashing actual weddings to sing it to them and of the whole entourage dancing to it during the reception before the curtain revealed who they were. 
19. Sucker (Jonas Brothers)
Aside from smashing all music charts in 2019 as the comeback song of the brother trio, it is also a special song because their wives starred alongside them in the music video. Its upbeat mood and romantic lyrics make it a good party for your wedding. 
20. Havana (Camila Cabello)
Both sultry and upbeat, this song means romance and party. It easily became one of the most famous songs of 2018 after Camila went solo from her all-female group Fifth Harmony. 
Conclusion
Party songs in weddings are needed to maintain the happy, festive mood of weddings and to make the getting to know of the families of the bride and groom more celebratory and fun. So make the right choice in party songs for your wedding if you want to make it all the more remarkable.