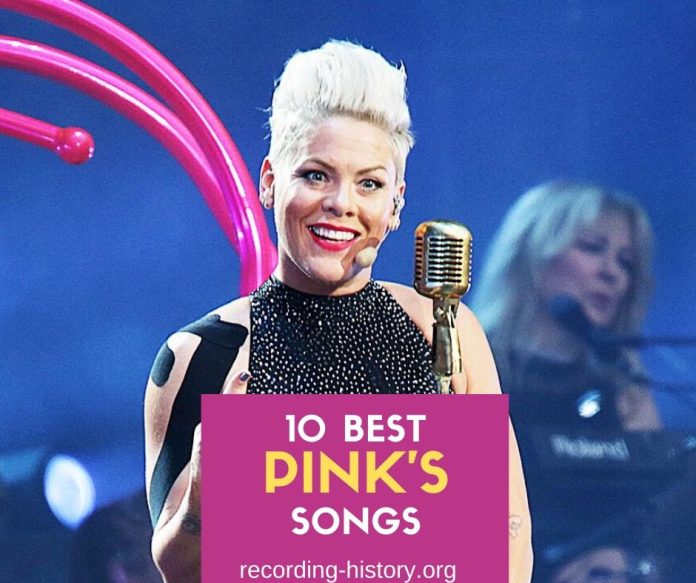 Everyone's favourite American singer-songwriter Pink, starting off solo with an R&B album, Pink soon took over the pop/rock with her 2001 album Missundaztood, selling millions worldwide. Here's a list of Pink's Top 10 Songs.
1. Is It Love 
Here's a link to a time when P!nk introduced us to the R&B filled vibes:
2. Family Portrait
Pink Pink Pink! You did it again, if it's not about our ex, it would be our family, the reflection of the young vs the old reflecting how stubborn we can sometimes be to our emotions, ok psychoanalysis over.. 
Here's a link to video that would have everyone relate to in one way or another:
3. Get The Party Started 
Here's a link to the getting ready song that's literally on everyone's playlist:
4. Lady Marmalade
It's as if all the forces of sultriness combined to create this Moulin Rouge masterpiece. Pink's vocals are hard to miss in this fiery track. 
Here's a song for those needing to feel sexy:
5. Just Like a Pill
It's sad but true, some are still struggling to deal with toxic drama, in a new decade, use this song as a great motivation to move on! 
Here's a link to a song that will definitely have you sing to a Pink song out loud:
6. Please Don't Leave Me
Here's a link to remind you why you should NOT text him/her back:
7. So What 
Here's a link to a song in which you can live all your risky behaviour through Pink:
8. Raise Your Glass
Accept your mistakes, your wrongdoings and realize that the past is in the past. Raise your glass with Pink and toast to the good mood you're in. 
Here's a link to the perfect mood booster:
9. Try 
Need a song to drive to? Here's a link to the music video to one of the most legendary Pink dances (winner of the list):
10. Funhouse
You're waiting for your uber, friends/guests at home or for your pizza to arrive, either way, this song serves as a great way to kill time. Time does fly when you're having fun! 
Here's the link to the 'works for any mood' type of Pink song: