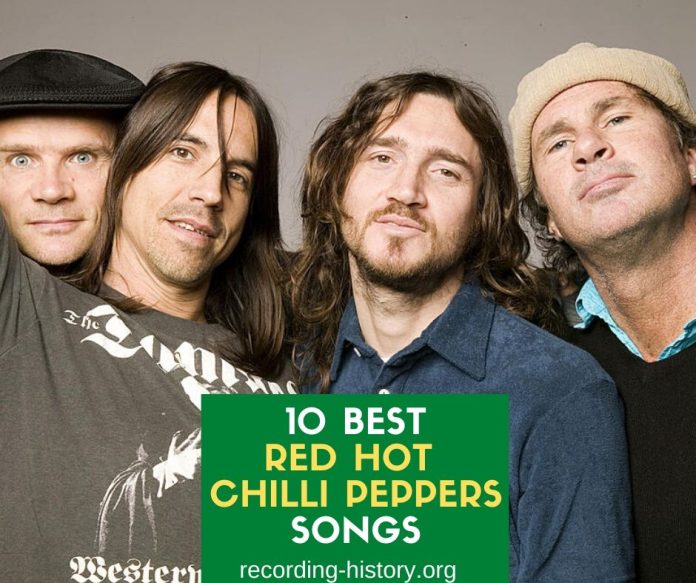 The alternative American rock band that somehow manages to combine the psychedelic with punk rock but fits in funk at the right time, here is Red Hot Chili Peppers. Formed in Los Angeles, the band became known worldwide after their best selling album Californication became a success in 1999. 
Here's a list of Red Hot Chili Peppers Top 10 Songs.
1. Under The Bridge
Under the Bridge was the song that made the Red Hot Chili Peppers, superstars. Clothed in the soul of our vocalist Anthony, this song is about his addiction to heroin and the isolation that came with It.
Now known as one of the most popular Tik Tok videos, this track took the music industry by a storm, and was originally written during a very emotional time for the lead singer-songwriter of the band. 
Here's a link to the Billboard winner of 1991:
2. Snow (Hey Oh) 
This song is about two drugs that look like snow. Cocaine and China White heroin, which was the drug of choice of Anthony.
3. Otherside
Here's a link to a track by Red Hot Chili Peppers that is now 20 years old, what a way to celebrate RHCP:
4. Porcelain
Here's a link to probably the most soothing song of the Red Hot Chili Pepper song collection:
5. Scar Tissue 
After the assumption that Red Hot Chili Peppers were washed up, they established the band with "Californication." "Scar Tissue" was a great way to reintroduce themselves. And so they did. Here's a link to quite a sentimental Red Hot Chili Peppers song:
6. Dark Necessities
Here's a link reminding you that it is completely normal to dance around your room when you think no one is looking, the well-played bass also makes this song the winner of the list:
7. Give It Away 
This song is one of the most recognizable hits of the band. In terms of music, this song portrays Red Hot Chili Peppers perfectly.
Here's a link to rebel to:
8. Can't Stop
Here's a link to a very trippy music video:
9. Californication
A cool music video, alternative rock convincing you it's actually rock and a shirtless guitarist turning 360 throughout the video. Red Hot Chili Peppers continues to break boundaries of what rock should be. 
Here's a link to a game like music video by Red Hot Chili Peppers:
#10.
By The Way
With an amazing driving beat and a good-vibes chorus, "By the Way" tells us about a girl named Dani, who is a pregnant teenage bride.
#11. Suck My Kiss
Some people might call the lyrics crude, but as the band started, the sexual references were meant positively.
#12. Dani California
A great song with a great music video. According to Anthony, "Dani" is representing every girl that he ever met.
#13. Sir Psycho Sexy
This tune is one of the funkiest and dirty songs of the band. With an amazing colorful music video.
#14. Soul To Squeeze
It was their time. They were in the zone. They made "Blood Sugar Sex Magik," yet they were so in the zone they considered this masterpiece expandable. It became one of their biggest hits when they released Iton " Coneheads."