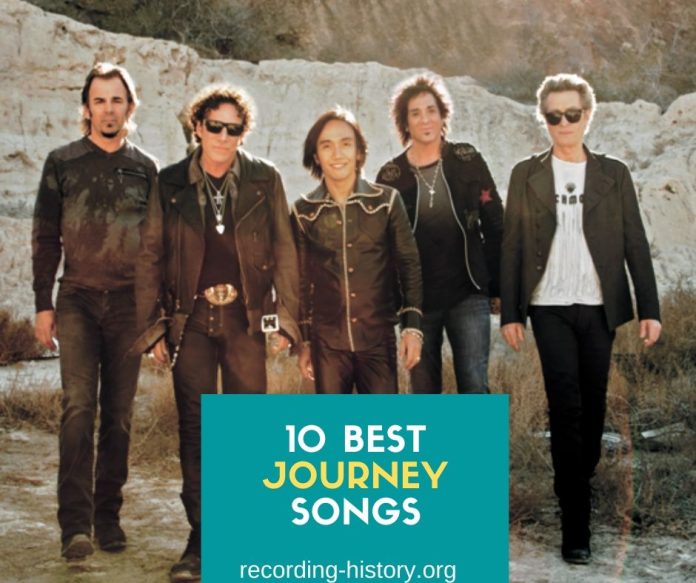 Formed in San Francisco in the early 70's, the rock band made up of members from the previous bands Santana and Frumious Bandersnatch still stands strong with some of their albums holding their rightful place in the top 10 of the UK Albums Chart. 
Although not in order (with no. 3 highly recommended, in my opinion), the songs serve as a way to understand Journey outside their commercialized songs we hear on the radio today. 
1. In My Lonely Feeling / Conversations
Released in one of their earliest albums 'Journey', the band influenced by the psychedelic feels of their previous bands, decided to take on a memorable riff that has you bobbing your head for days. 
Here's a link to the performance at Winterland:
2. Nickel & Dime 
Journey got you covered with this 1977 instrumental, this track is filled with energy and real rock n' roll. A classic hit from their third album that cannot be skipped! 
Here's a link to the instrumental: 
3. Look Into The Future
We all like to reminiscence every now and then, or 'reflect' for those that don't want to admit it. With all their emotions literally felt through the song, this song is probably the best option for a get together. 
Here's a link to the winner of the list: 
4. It's All Too Much
It's summer, burgers are nearly done and in the meanwhile you're nibbling on chips whilst you're trying to dance in a socially acceptable manner. You just can't help but shake it with this song! 
Here's a link to the track: 
5. People 
Released in their third album, this song meets the criteria of 'I want a song that's perfect start to my drive'. 
Here's a link to your new Sing-A-Long track: 
6. Sweet & Simple
I mean, the song is sweet and simple… 
Here's a link to something that will have you in your feels: 
7. Natural Thing
Soulful & genuine, the vocals alone will have you in a trance for the whole 3 mins. 
Here's a link to that long needed shower song: 
8. Karma
Compared to the likes of Hendrix, this rockin' piece will help you move on and let go of whatever it is that made you want to listen to this in the first place. 
Here's a link: 
9. Any Way You Want It 
If you haven't heard this song in 2010 during the heavily saturated world of Glee advertisements everywhere on your screen, then you're quite lucky. 
Here's a link to probably one of the second most famous Journey songs:
10. Keep on Runnin' 
You're missing out on that Journey tribute that's going on in town? Don't fret, this performance will have you feeling like you're back in 1981! 
Here's a link to the song: