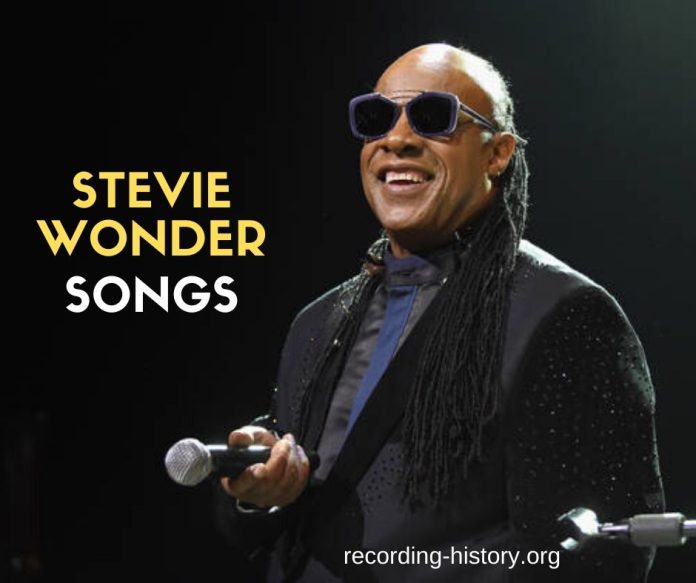 He was known as a child prodigy then he was known as an amazing creative figure. He is one of the greatest singers, writers, and producers of all time. With an enormous list of hits with more than 3 or 4 genres. Let's see these wonderful musician's top 10 songs.

#10. Just Called to Say I Love You
This award winner song was Wonder's biggest hit. It climbed all the charts around over ten countries.
#9 I Was Made To Love Her
This was one of the first-ever chart driller hits of Wonder. It climbed all the way up to the top 5 both in England and America.
#8 Master Blaster
This tune was an ode to "Bob Marley." It's built around a reggae melody and was released in the '80s.
#7 My Cherie Amour
This song was about Wonder's girlfriend, and It was called "Oh My Marsha" but named "My Cherie Amour" initially. It was released in '69.
#6 I Wish
This song is about the time when Stevie Wonder was a child. This was a number 1 hit back at '76.
#5 Higher Ground
The '70s was Stevie Wonder's time. He was full of ideas and creativity. In one of his great streaks, he recorded this song. He wrote the lyrics, the music and recorded them within 3 hours. It was his fastest production ever.
#4 Living for the City
This is a song about a boy who moves to NYC with dreams of a new life. He ends up moving drugs unintentionally and finds himself in prison.
#3 Sir Duke
This great funk song is an ode to Duke Ellington. One of the legends of jazz who died in '74.
#2 As
It is yet another hit from Stevie Wonder, although at the time Stevie Wonder made several hits for number one spot back to back. People had a little bit too much of Stevie Wonder, and that's why this hit couldn't pass beyond number 36.
#1 Superstition
When you think about funk, you can not pass without "Superstition." One of the greatest funk tracks of all time. It was released in '72 and became one of the greatest songs of Stevie Wonder.