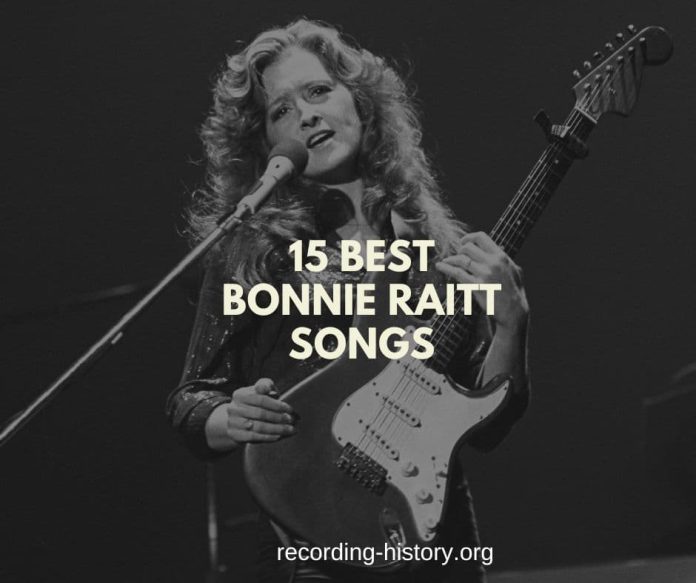 Bonnie Raitt is one of the most influential female singers and songwriters in American music history. She has been performing for five decades, receiving numerous awards, including 10 Grammy Awards. Her distinct blues-rock style has inspired generations of musicians and her work is still highly revered today.
In this article, we will take a look at 15 of her greatest songs, exploring the importance of her music to the industry and its influence on subsequent generations. We will also look at how these songs have shaped Bonnie's career and made an indelible mark on American music history.
By looking back at some of Raitt's most beloved hits, we can gain insight into the significance of her work and how it has impacted the music industry. Her unrivaled talent and influence on generations of musicians have made her one of the most important figures in American music history, and this article will present a look at 15 of her top songs that defined her career.
Early Career (1971-1985)
"Give It Up or Let Me Go" (1972)
This was one of Raitt's earliest hits, and it immediately established her as a blues-rock singer with a style all her own.
The song is notable for its fusion of folk and country elements, while still evoking the classic sound of the blues. Its success was a sign of Raitt's potential, and it set the stage for her future successes.
"Love Has No Pride" (1972)
This beautiful ballad showcased Raitt's emotional range and lyrical prowess, and its popularity helped to cement her as one of America's premier singer-songwriters.
The song's simple, yet powerful message of heartache and loss resonated with listeners worldwide and it became one of her most beloved hits.
"Angel from Montgomery" (1974)
This timeless classic was co-written with John Prine and its devastatingly beautiful lyrics have since been covered by numerous artists.
The song's mix of soulful blues, country twang and poetic storytelling made it a standout track from Raitt's early career, and it remains one her most beloved songs to this day.
Breakthrough Success (1986-1998)
"Something to Talk About" (1991)
Raitt's 1991 hit single brought her long-awaited mainstream success. The song earned her a Grammy award for Best Female Pop Vocal Performance and reached the top 10 of the Billboard Hot 100 singles chart. She also won an MTV Video Music Award for Best Female Video.
"I Can't Make You Love Me" (1991)
Written by Raitt and Mike Reid, this heartfelt ballad showed her vulnerability as a performer. The song reached the top 40 of the Billboard Hot 100 singles chart and earned Raitt another Grammy award for Best Female Pop Vocal Performance.
This song showed the strength of Raitt's songwriting and showcased her ability to blend rock and blues. It was an important part in her evolving sound and was later covered by other artists.
"Dimming of the Day" (1994)
Raitt's cover of the Richard Thompson classic showcased her unique style and musicianship. The song was a hit, reaching the top 50 of the Billboard Hot 100 singles chart.
"Rock Steady" (1998)
Raitt's collaboration with Bryan Adams on this uplifting and empowering song earned her another Grammy award for Best Pop Performance by a Duo or Group with Vocal.
She and Adams also won an MTV Video Music Award for Best Dance Video. The song was a hit, reaching the top 10 of the Billboard Hot 100 singles chart.
Continued Success and Unwavering Influence (1999-present)
"Silver Lining" (2002)
Diving into social and political themes, Raitt explored a new side to her music with "Silver Lining." She wrote the album in response to the events of 9/11 and sought to create a message of hope amid despair. The album was critically acclaimed for its lyrical depth and beautiful arrangements.
Demonstrating growth as an artist, the record earned her numerous awards and accolades. Rolling Stone praised her ability to "weave personal anguish into songs of strength and hope."
"I Will Not Be Broken" (2005)
Combining personal experience with universal themes, Raitt tackled challenging topics in her most emotionally raw album to date. "I Will Not Be Broken" was seen as a reflection of the heartbreaks she had faced at that time in her life, yet the songs resonated with listeners worldwide due to their powerful and inspiring message.
Inspirational message of resilience, the record was hailed by critics for its "gutsy songs, passionate vocals and masterful guitar work." It earned Raitt a Grammy Award for Best Contemporary Blues Album in 2006.
"Marriage Made in Hollywood" (2012)
Exploring the dark side of fame, Raitt delved into the world of celebrity culture and its sometimes-unseen consequences on her tenth studio album. Her songwriting and musicality were lauded, with critics noting her ability to "put a human face on the often-faceless entertainment industry".
Raitt's ability to tackle tough subjects through her music earned her both critical acclaim and commercial success. The single, "Take it Like a Man" was a top-ten hit and solidified Raitt's status as one of the most accomplished female performers of her generation.
"Gypsy in Me" (2016)
Connecting with her wanderlust spirit, Raitt released "Gypsy In Me," an album inspired by her love of travel and exploration. Featuring world music influences and acoustic-driven arrangements, the record was a new but welcome direction for Raitt.
Maintaining her signature sound while exploring new themes, critics praised "Gypsy In Me" as one of Raitt's most ambitious works to date. The album earned her two Grammy Awards and was heralded as a testament to her creative growth.
"Unintended Consequence of Love" (2016)
Reflections on love and relationships, Raitt's eleventh studio album was a reflection on the joys and sorrows of love. She showcased her strong songwriting skills with thoughtful lyrics and captivating melodies.
Showcasing her strong and emotive vocals, Raitt's performance was praised by critics as one of her finest works to date. The single "Unintended Consequence of Love" saw success on the pop charts and cemented Raitt's place as an influential singer-songwriter in the music industry.
Conclusion
In conclusion, Bonnie Raitt has had an indisputable impact on the music industry through her many decades of success as a blues and rock singer-songwriter. Her songs have served to inspire fans and fellow artists both past and present, cementing her place in history as one of the most successful female musicians of all time.
As we reflect on her career and the legacy of her music, we can look ahead with anticipation to further work that Bonnie Raitt will undoubtedly bring. Her contribution to music is timeless and irreplaceable.