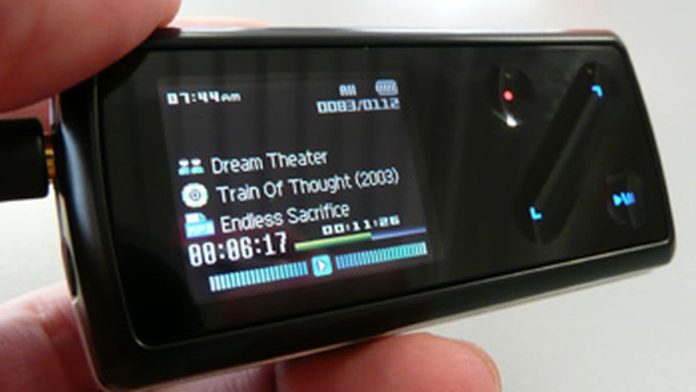 The Cowon iAudio 7 follows up on the popular iAudio 6 and supports several music and video file formats. It offers 60 hours of battery life and a max of 8GB for memory.
The Cowon iAudio 7 looks to be one of those quality MP3 players which may end up being quite popular for its relatively low price point, stylish design and nice mix of features. This player is available in 4GB ($170) and 8GB ($220) flash memory configurations.
Cowon crams a lot of features in the iAudio 7, starting with 60 hours of rechargeable battery life. That's certainly enough time to listen to a bunch of your favorite albums while at the same time blocking out that annoying plane neighbor as you fly overseas. This player is not particularly big either, measuring 1.3-inches x 2.9-inches x 0.7-inches and weighing just 1.8 ounces.
The iAudio 7 is designed to play favorite music when it's available in MP3 or WMA. WMA playback support includes compatibility with copy protected music from online music services like Napster and URGE. If one is a bit of an audiophile and likes lossless playback it's good to know this MP3 player also supports OGG and FLAC music files.
The small 1.3-inch color screen of the iAudio 7 gives one the views you need to see information on the music playing as well as visually navigating menu options for controlling your player. This screen also acts as a gateway to letting you view AVI digital video, including XviD and MPEG-4, as well as digital pictures saved in the common JPEG format.
Several interesting control functions include a special equalizer filter which lets one adjust music bandwidth and frequencies to get a better sound. This player also has what Cowon says is a "swing touch" interface to help make it easier to scroll through music libraries and video files.
One also gets a variety of audio enhancement technologies, such as bass boost and virtual surround sound, with which to further refine the music being played. For those times where MP3 files bore the listener a built-in FM radio can be turned on and listened to with the option for recording what is being broadcast. There's also the option to record one's voice for later memory of past events and the like.
As with any player like the Cowon iAudio 7 there are a bunch of other features which might be of interest to select buyers. These include a viewable alarm clock, multi-language support, on-screen text viewing, zoom-in on digital photos, USB 2.0 transfer speeds and personalized wallpaper. It works with Windows, Mac OS and Linux.
More details on the Cowon iAudio 7 are available on the company's Web site.