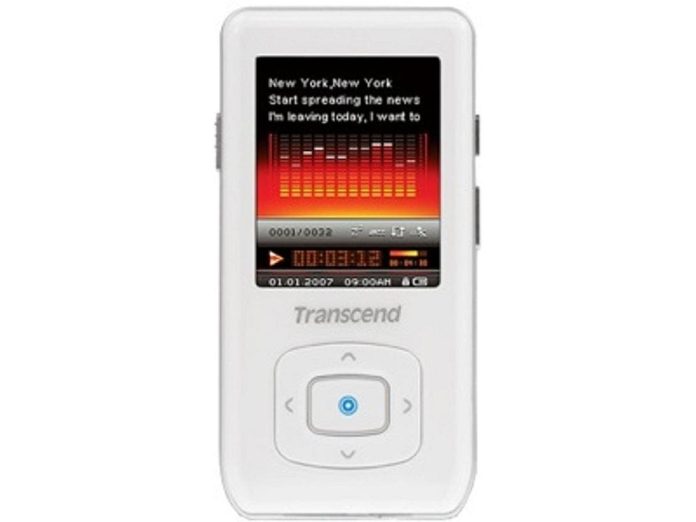 Transcend Information is a computer products manufacturer known for its various flash memory-enabled devices in different product categories. One area is MP3 players, with the company offering its line of T.sonic portable audio players. Its latest player to date is the T.sonic 840.
The Transcend T.sonic 840 is available in two storage sizes – 2GB and 4GB. This particular player is noted by Transcend as having a flashy look with a mirrored surface and metal body. The 840 is also small and doesn't weigh that much in your hand. Battery life is estimated at around 30 hours via a rechargeable Li-ion battery pack.
The most noticeable thing about the T.sonic 840 player on the front side is its 1.8-inch color LCD screen with 176 x 220 resolution. This nice screen sits just above a three-phase wheel for control of on-screen menu choices and music selection. It connects to a host computer through USB 2.0, also being able to serve as a flash drive for storage of non-media files.
Speaking of media files, Transcend's latest player supports a variety of audio, video and digital image formats. Video playback is done in the .mtv style while digital images are displayed if they are .jpg or .bmp files. Audio files the 840 can play include MP3, WMA, WMA-DRM10 and WAV. These media playback choices are joined by the ability to read e-books in TXT format.
In addition to a nice color display and support for various media files you also get a bunch of additional functions built into the Transcend T.sonic 840. Audio support options include a customizable equalizer with seven effects and a lyrics display for karaoke style fun. 13 display languages are supported for song/artist name display. You also can enjoy a-b repeat for those times when you want to replay a portion of a track and variable track playback speeds in case you need to hear a song in slow motion.
Other useful features of the T.sonic 840 include a digital voice recorder with voice activation technology to create gapless audio recordings, a FM radio with recording capabilities and 20 presets and a real time clock which displays local and world times. The MP3 player comes with a USB cable and software which lets you lock your computer and add passwords for your files.
More information on the Transcend T.sonic 840, available in white and black body colors, can be found at Transcend's Web site.