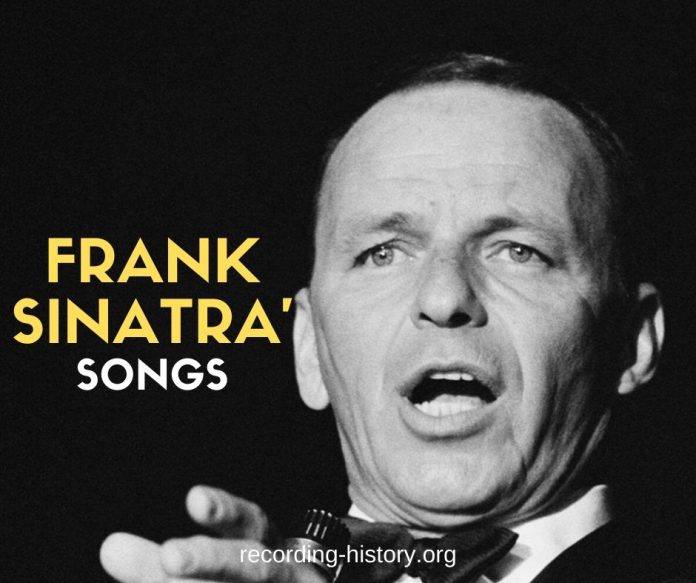 Singer Frank Sinatra have risen to fame singing numbers of big bands. He had a sparkling string of hit songs and records in the 1940s and 1950s and continued to star in hundreds of movies, winning a supporting actor Oscar for his appearance in From Here to Eternity. He left behind a massive catalog of works that includes many iconic tunes. He died in Los Angeles, California, on May 14, 1998. 
#10.  I've Got You Under My Skin
If someone is "under your skin," that means the person is very upset about you. This song twists the sense of the idiom, as a lady got under the skin of Sinatra, but in a manner that made him mad about her.
#9. My Kind Of Town
This was nominated for an Academy Award for Best Original Song but lost to "Chim Chim Cher-ee" from Mary Poppins.
#8. My Funny Valentine
This song was performed in the original Broadway musical Babes in Arms by a woman who addressed a man simply named Valentine.
#7. The Way You Look Tonight
"The Way You Look Tonight" is a song that is used in the film Swing Time, originally composed by Jerome Kerns and Fred Astaire's lyricist Dorothy Fields. Sinatra recorded a cover on his 1964 album, "Sinatra Sings Days of Wine and Roses, Moon River, and Other Academy Award Winners."
#6. Luck Be a Lady
Sinatra added the son in his live repertoire, and was gracious about the movie part he missed to Brando by saying Brando was "not a great singer, but probably the greatest actor ever," 
#5. Strangers in the Night
This was Sinatra's great comeback, becoming his first #1 pop hit in 11 years. His previous climber was "Learnin' The Blues" in 1955.
#4. 
Something Stupid
It is a song about the unpredictability of love. It has been covered many times since It was released in 1967.
#3. New York, New York
The song is written from an entertainer's viewpoint, who leaves a small town and attempts to make it in the city. He welcomes the obstacles in anticipation of a new life in a vibrant community, rather than obsessing with the difficulties he will face.
#2. Fly Me to the Moon
Sinatra was about to marry Mia Farrow, a 21-year-old when he put this to the disc, which gave him an extra spring in the move.
#1. My Way
It began as "Comme d'Habitude," a French song composed by the composers Jacques Revaux and Gilles Thibault. They brought it to French pop star Claude Francois, who changed it a little and recorded the song in 1967. Paul Anka heard this song while visiting France, and when he returned to New York, he re-wrote the lyrics as "My Way." Anka claims it was about 3 a.m. On a rainy night, when the words were coming to him. Then  Anka introduced the song to Frank Sinatra, who recorded it on December 30, 1968.