We could all agree that weddings are one of the most magical moments in one's life; walking in the aisle, families getting together in one occasion, finally uniting with the love of your life through one holy communion.
Choosing the best wedding song for your wedding playlist is a make or break because the songs will just give the right feels to the right moments. So to give you a hunch on timeless wedding songs, here is a list of the top 20 songs you should play on weddings.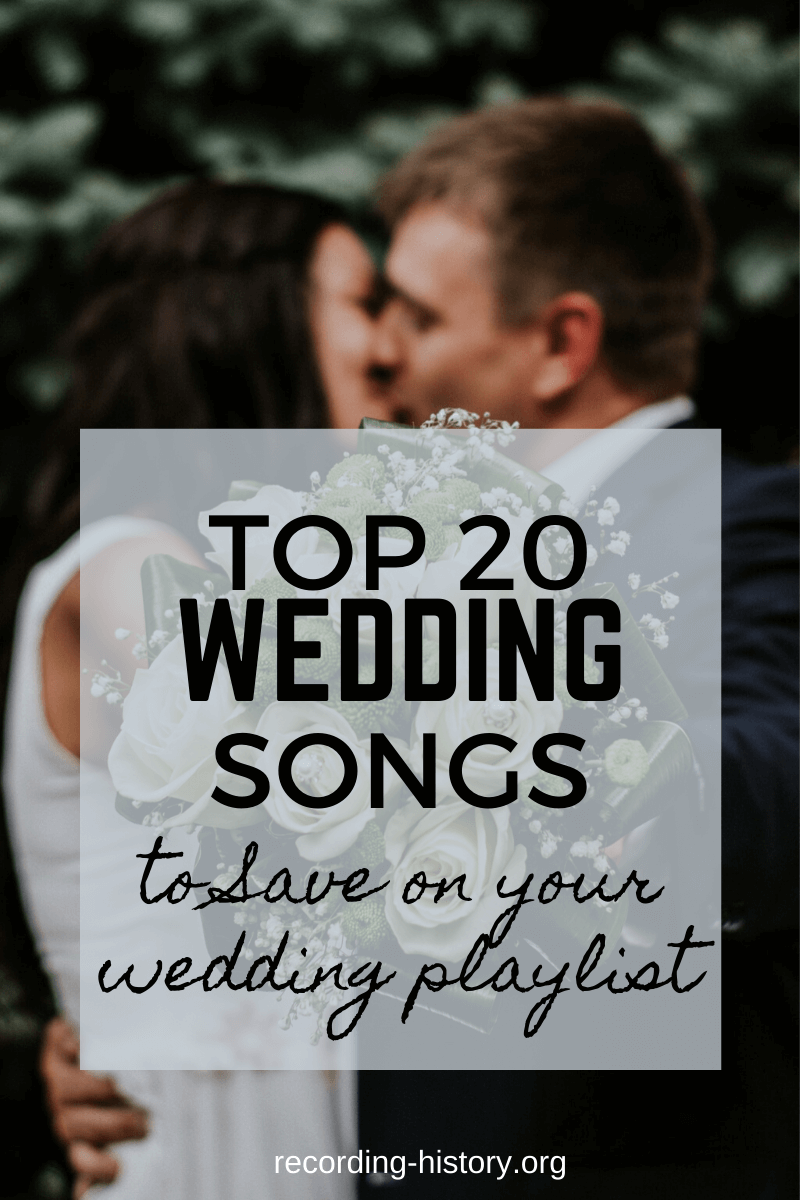 Top 20 Wedding Songs
1. Marry me
It is one of those few acoustic songs of Train and it hits the homerun as a wedding song. Promising each other to always be happy with each other, to sing to each other until the music dies and marrying, choosing each other today and everyday seal the deal. 
2. Just the way you are
All women would love to hear the lines, cause you are amazing, just the way you are, and when you smile, the whole world stops and stares for a while. This song is perfect in wedding receptions, so thanks Bruno Mars for this. 
3. God blessed the broken road
Sung by the country group Rascal Flatts, this popular song is a story told by a man thanking all these winding roads and not getting where he wanted to be because they all led him into his lover's arms which led him to the affirmation that God blessed the broken road that led him straight to her. 
4. You are so beautiful
This song by Joe Cocker is affirms that old is gold. That soft tune and playful melody will sweep you off the hook if you ever get to watch the first bride and groom dance with this song on with its lines, you are everything I hoped for, you are everything I need, you are so beautiful to me. 
5. Make you feel my love
Although a bit melancholic beat, Adele makes us want to fall in love more and actually settle if you already found that women who would go on the ends of the earth for you. It was released in 2015 as part of her record breaking album 25. 
6. The luckiest
This song by Ben Folds is a beautiful ode to the woman you love because it speaks of a life before her and a very beautiful life now that you have her and everything she does makes you feel like you are the luckiest guy in the world. 
7. You look so beautiful in white
Like how Westlife took the world by storm, this song of theirs took weddings by storm having been consistently voted on the list of the top 50 wedding songs of all time. But well deserved, because who would not want to get married with the lines, I'll choose you up to my very last breath, this thing I promise, you look so beautiful in white. 
8. I do (Cherish you)
This song by 98 Degrees is one of the most famous, go-to wedding songs ever. All of its lines lead to weddings like, I do cherish you, for the rest of my life, you would not have to think twice. 
9. I wanna know
This is a song by R&B artist Joe and it makes a good wedding song because it talks about a man in love who has never felt love before and now does because of the woman he loves. It was released in 2017. 
10. God must have spent a little more time on you
This song by NSYNC is a sweet R&B rendition of a wedding song from the perspective of the groom speaking of his adoration of the woman she loves. In here, the guy says that God knew what he needed and so He spent a little more time on his bride to make her perfect for him. 
11. The way I am
We all love Ingrid Michaelson because of her indie upbeat songs. This song was written for her long-time boyfriend and now fiancé and that is what makes it so personal aside from its lines. It talks about knowing someone so well and being in love for so long that there's no other path but settling down.
12. Can't help falling in love
Originally sung by Elvis Presley, the revival of Haley Reinhart ing will tug two heartstrings into one. With her soft, melancholic voice, this song is best for the first dance of the groom and the bride while they sway through the lines, take my hand, take my whole life too, cause I can't help, falling in love with you. 
13. Everything
There is so touching in Michael Buble's songs that we all could not explain. Taking a chance on this song on your wedding will never be a miss especially if you really consider your bride or groom as the personification of every song, every line, every word, your everything. 
14. I'm yours
This song by Jason Mraz is a beautiful song of leaving it all to fate. And don't all wedded couples believe that they are fated for each other? This song makes it all the more special with the lines, this is our fate and I am yours. 
15. Time of our lives
James Blunt never fails when it comes to emotional songs. This song is in the perspective of the man, narrating that time when her father would not talk to him until he was sure that he's going to stay or of him and her mother having awkward conversations. But all of these according to him, led them to where they stand, in the crowd, with voices in hush, and with love filling the room as they dance. 
16. A thousand years
This Christina Perri song became popular in 2010 because of the Twilight Saga where a vampire and a human fall in love and fight for it against all odds. But other than the Edward-Bella feel, this song is full of endearing words, promising a forever by loving each other for a thousand years and more. 
17. All of me
This song by John Legend is very symbolic of the union made in marriage with its lyrics, cause all of me loves all of you, you're my end and my beginning. It is like a marriage vow sung in a song and it is no wonder that it made it to the Billboard Top 100 of the decade. 
18. Perfect
All of Ed Sheeran's songs are beautiful but this one is the most perfect in a wedding. Taking the world by storm in his album Divide, there is no sweeter way to look at your bride or groom than in that exact moment when the song sings, I see my future in your eyes. 
19. The only exception
What is more romantic than knowing you both took a chance at love and found each other? That in a world of hurts and broken families, someone would prove to be an exception? These are the exact vibe that you will get from this song by Paramore on your wedding. 
20. You're still the one
From its very first line with Shania Twain's country pop voice, looks like we made it, all the things that made you fall in love with somebody come rushing in. Imagine walking in the aisle waiting for your bride or groom while the song hums, I'm glad we didn't listen cause look at what we'll be missing. 
Conclusion
Hitting you in that emotional spot is the goal of wedding songs. Evoking nostalgia, tears of joy and love are their primary functions. Whatever the theme of your wedding is, we are sure that these songs will seal the deal.