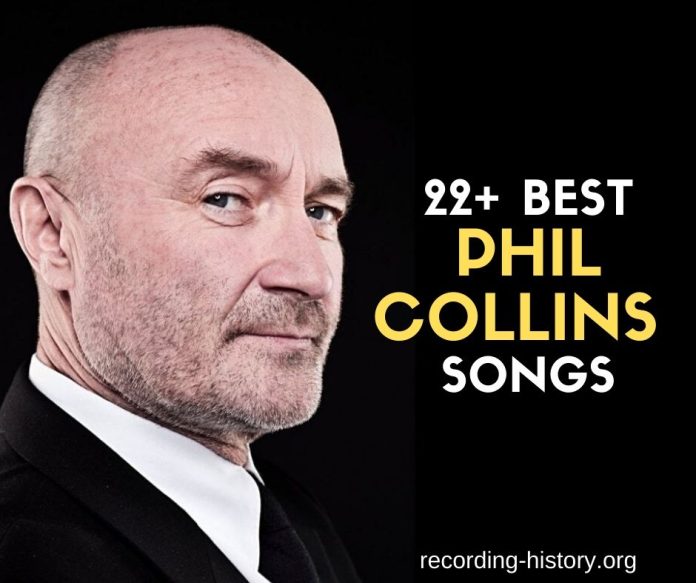 Phillip David Charles Collins, commonly known by his stage name Phil Collins is an English multi-instrumentalist, record producer and songwriter who began as a drummer but later became a singer. The 68-year-old was the lead singer of the rock band Genesis but has since produced and released solo albums and tracks.
Phil was born in the United Kingdom, and his career in music has spanned over three decades. He is best known for songs such as In the Air Tonight-1981, Against All Odds-1984, and Easy Lover.
What was Phil Collins's first song?
Phil Collins' first song was recorded even before his initial entry of the rock band Genesis. His first song, rather the first songs that he sang were in the album Ark 2 released in October 1969
Ark 2 was the only album released Flaming youth, a British rock band.
Phil Collins was the lead vocalist in the songs, Neptune-The mystic, Saturn-Bringer of Old Age, Jupiter – the Bringer of Jollity, Changes, and Pulsar.
What is Phil Collins's most famous song?
Phil Collins's most famous song is "In the Air Tonight," released in 1981 and is also his first solo hit. Phil has received much success throughout his music career, but he is best known for this solo hit.
In the song, Phil narrates that he once saw a man drown on his own with another man looking by and offering no help. The song has a very haunting and harsh lyrics, with most analysts saying that the anger portrayed in the song was directed towards his ex-wife Andrea Bertorelli.
What is Phil Collins's worth?
Phil is worth over $260 million and has sold over one hundred million albums across the globe. The record sales are associated with both his solo act and ass the lead singer of the band Genesis.
Who is Phil Collins' daughter?
Collins has two daughters, Lily Collins and Joely Collins. Joely is the oldest daughter having been born on August 8, 1972.
Like her father, Joely is in the entertainment industry, working in the capacity of an actress and movie producer.
Lily Collins is the youngest daughter of Phil and was born in Match 18, 1989. Lily is in the entertainment industry, working as an actress, professional model and also as a writer. She has been actively working in the entertainment industry from 1992 to date.
Other than his two daughters, Phil Collins also has a son Simon Philip Nando Collins, born on September 14, 1976. He worked as a drummer and was the lead vocalist for the band Sound of Contact.
Who is Phil Collins' wife?
Phil Collins has been married thrice. His first wife was Andrea Bertorelli and was married for five years, between 1975-1980.
Following his divorce from Andrea, Phil married Jill Tavelman in 1984, and their marriage ended in 1996.
His third wife was Orianne Cevey. Phil married Orianne in 1999, and their marriage lasted till 2008 when they separated and officially got divorced.
Between 2007 and 2016, Phil was in a relationship with Dana Tyler, a news anchor working in America. However, Phil and Cevey have had an on and off relationship since 2016 and are often spotted together in social gatherings.
12 best Phil Collins songs
Below is a sample of Phil Collins's best 12 tracks of all time, beginning with "In The Air Tonight."
#1. In the Air Tonight, 1981
#2. Against All Odds (Take a Look at Me Now), 1984
#3. I Don't Care Anymore, 1982
#4. Easy Lover, 1990
#5. Take Me Home, 1985
#6. Another Day in Paradise, 1989
#7. Sussudio, 1985
#8. I wish It would Rain, 1989
#9. Don't Lose my Number, 1985
#10. The Roof is Leaking, 1985
#11. One More Night, 1985
2003
2002
1999
1996
1993
1990
1989
I Wish It Would Rain Down
Something Happened On The Way To Heaven
1988
1985
Doesn't Anybody Stay Together Anymore
1984
Against All Odds (Take A Look At Me Now)
1982
1981
Conclusion
Phil Collins is one of the best musicians and multi-instrumentalists of all time. His career has received much acclaim over the years, with Collins receiving several award nominations and eventually winning them. For instance, in 1984, he won the Grammy Award from the Best Pop Vocal Performance in the male category. He also won a Grammy award in 1985 for the category "Beat Album Original for a Motion Picture or Television Special."
Collins has released many tracks in his career and has sold over one hundred million album copies globally both as a solo artist and as a member of the rock band Genesis. He is, however, best known for his solo track, "In the Air Tonight," which was released in 1981.