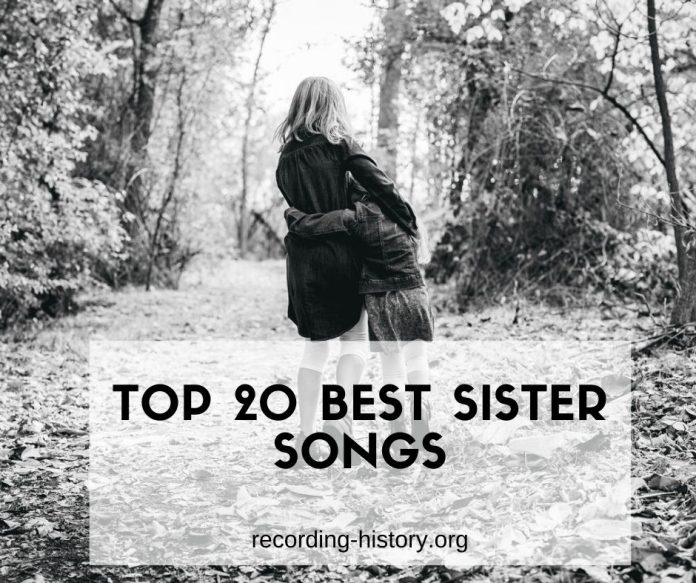 The bond between sisters will never be tethered no matter the circumstances are.
To celebrate and immortalize this special bond, sister songs make it a point that nostalgia creeps in and the love for each other overflow so it is time to give props to some of the best sister songs ever written.
If you have been wondering what these songs might be, let us hop on to the next section of this article.
Top 20 Sister Songs
Whether you are here to find sister songs for an upcoming wedding, or simply just to celebrate each other, here are the top 20 sister songs of all time that you need to know about. 
1. Best friend
While it does not directly say sister on it, most of us consider our sisters as our best friends for life. It becomes more relatable for sisters as Aaliyah and Missy Elliott run through the vocals singing, I'll still be there for you in your time of need.
This song was heard again in 2019 when Missy won the highest honor in the VMA and dedicated it to her best friend Aaliyah who died in 2001. 
2. Sisters are doing it for themselves
This collaboration song by the great Aretha Franklin and the British girl group Eurythmics puts sisterhood on a higher notch as it talks about the importance of women empowering fellow women. It was nominated in the 1985 Grammys. 
3. Lean on me
Calling on your siblings to lean on when you are not strong is the ultimate reason why this Bill Withers classic made it to this list. It was released in 1972 on his second album Still Bill and has made its mark as the 208th on Rolling Stone's 500 Greatest Songs of All Time. 
4. Older sister
This song would make a good sister anthem because it talks about how much the singer, Carly Simon, adores and worships her older sister. It was a single in the last album of The Simon Sisters together and an ode to their older sister Lucy before she got married. 
5. I'll take care of you
We all know the Dixie Chicks one of the pillars of country songs with their very beautiful lyrics and this song is not an exemption.
It talks about two sisters who are weaving through life promising to each other that when the world fails one of them, they will take care of each other. It was a part of their 1998 album Wide Open Spaces which gave them a Grammy. 
6. There you'll be
This song was released in 2001 under the Pearl Harbor album of country hitmaker Faith Hill which won an Academy Award for Best Original Song. It does not directly point to sister but anyone who dedicates her success to someone important can easily allude to this song as a sister anthem. 
7. Little sister
This song is so touching specifically for siblings with sisters that are on the way to recovery from addiction. It was released by the pop artist Jewel in 1995 and since then has been performed 302 times. 
8. I got you
This song hits you in the right spot if you have the most supportive sister as Leona Lewis belts out the verses, if you have no place to run, I got you. Upon its release in 2009, it was a hit single in more than six countries including the US. 
9. This one's for the girls
This song is also about women empowerment where a big sister preaches to the younger generation of girls that they can make it through life regardless of the circumstances. It was released in 2003 in the hit country album Martina by Martina McBride. 
10. Kind and Generous
This is a song of gratitude, respect and adoration for someone who is kind, sacrificing and dependable; three characteristics that could sum up a sister. It was released by singer/songwriter Nathalie Merchant in 1998 under her album Ophelia. 
11. On the ride
This song performed by the teen pop duo Aly and AJ was initially released as one of the songs they performed in their Disney show Cow Belles. It talks about life and how we can easily make it as long as we have a best friend, a sister to make it through with.
12. I'll stand by you
This pop rock song by The Pretenders did not only win a Grammy for Best Pop Performance by a Duo or Group with Vocals in 1994 but is also one of the most timeless songs that one could dedicate for someone that has been there through everything, including your sister. 
13. Miss Celie's blues
A song performed by Quincy Jones for the award winning Spielberg movie The Color Purple and also won an Academy Award for Best Original Song in 1986, this enigmatic song talks about how a woman rose from nothing to something and hopes that her sister follows the same path too. 
14. Sister oh sister
This is a heart tugging, nostalgic indie folk song about missing your sister who is always there to defend you and has been there to lift you up. It was made popular by Rosanne Cash under the album Kin. 
15. We are family
Who would ever forget this sisters/family R&B anthem by the American vocal group Sister Sledge? Talking about how the solidarity of sisterhood and family, it is ranked 20th in the Billboard list of the 100 Greatest Songs by a Girl Group of All Time. 
16. Martha
It is a song of a brother longing to see his sister, asking her to come home and visit the family. Written and performed by Rufus Wainwright in 2010 for his album All Days Are Nights: Songs for Lulu, this song reminds us that we are all rooted somewhere and that there are people who are waiting for us to come home. 
17. When we grow up
This song was released by Diana Ross in 1973 under the album Touch Me in the Morning. It talks about the musings of a younger sister about the person they will be when they grow up and promises in the end that they will never change including how they love and treat each other. 
18. Come dancing
Performed by the award winning British group The Kinks in 1982, this song is a commemorative rock song for the sister of Ray Davies, the songwriter, of his sister Rene who died of cardiac arrest while dancing in a dance hall. 
19. My wish
This is one of the hit songs of the country group Rascal Flatts that is more of a lengthy piece of wishes for someone dear as they go through the struggles of life. It can be a good anthem for older siblings passing it on to their younger sisters. It was released in 2006 under the album Me and My Gang. 
20. Wind beneath my wings
This song by Bette Midler is perhaps one of the most famous family anthems ever written speaking of gratitude, enduring endearment and unceasing support from a loved one. It was released in 1988 and won a Grammy for being the Record of the Year. 
Conclusion
Sisters are forever and we all need songs that will keep reminding us that there are people in our lives who will love to see us happy, who are there through everything and who will remain our best friends no matter what. These top 20 sister songs remind us of these and we can play them anytime if we miss our sisters.