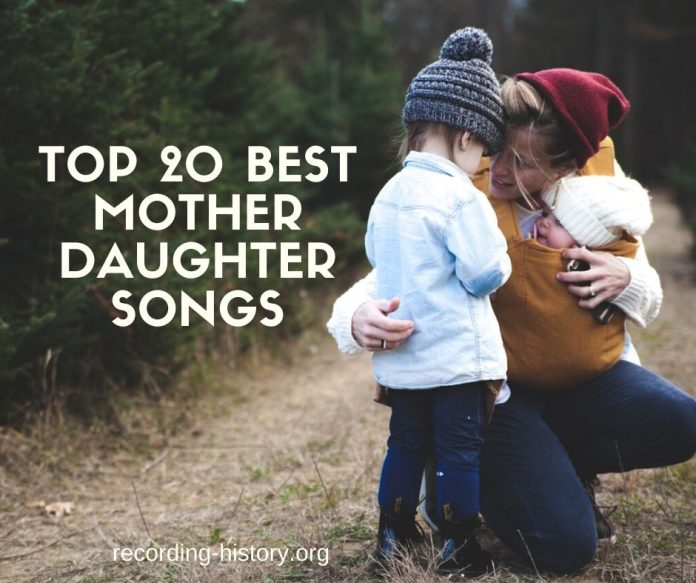 There is nothing more pure than a mother's love and there is no purer bond than mother daughter bonds.
Daughters will become mothers some day and the brand of their motherhood shall always reflect the affection they established with their moms.
There is no better way to celebrate the bond between mothers and daughters than through songs and for starters, you can always start with these top 20 mother daughter songs of all time.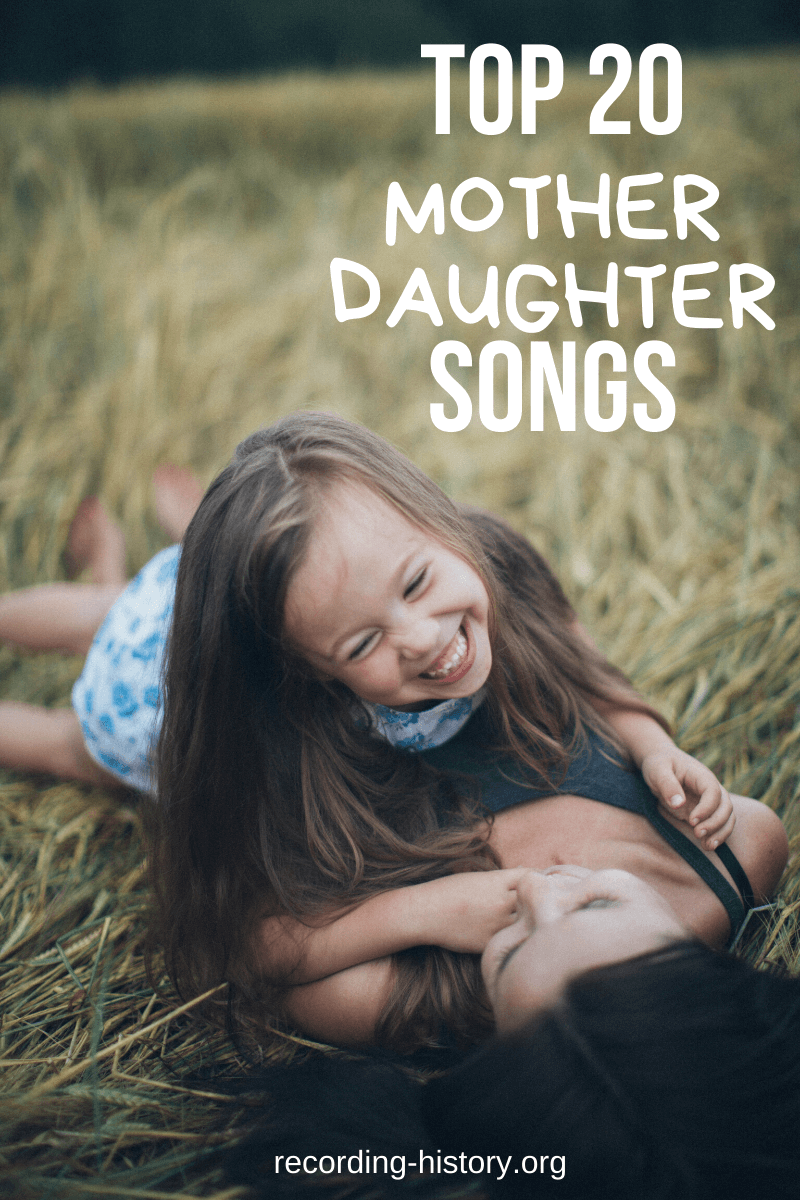 Top 20 Mother Daughter Songs
Like a mother's love, these top 20 mother daughter songs of all time are timeless and off the charts. If you miss your mom or if you are looking for good mother-daughter songs to dedicate to her just to show some love, here are the top 20 mother-daughter songs of all time that you could check out. 
1. Because you loved me (Celine Dion)
This is one of the go-to songs for mothers and daughters because it truly exemplifies everything that our mother does from giving us voice when we couldn't speak and giving us hands when we couldn't reach.
This song won a Grammy, and was nominated for an Academy Award and a Golden Globe, all in one year, in 1996. 
2. I hope you dance (Lee Ann Womac)
This song touches the soul especially when it is sung by a mother to her daughter, empowering her that everything is worth it and it is okay to make mistakes. It has been covered by more than twenty artists through the years. 
3. In my daughter's eyes (Martina McBride)
Hitting Billboard's Hot 100 Chart in 2003, this country song captivates the mother-daughter bond with the vocals of a mother who will never falter because in her daughter's eyes, she is a hero and hopes that one day, the daughter will always see how happy she has made her. 
4. Mama's song (Carrie Underwood)
This maybe one of the most beautiful songs to sing in a daughter's wedding. This talks about how this man your daughter is marrying is a good man and even though she'll marry him, she will never leave you. 
5. Somebody's hero (Jamie O'neil)
What better ode is there for a mother from a daughter than this song telling the world that she may not have saved anyone from a building fire but she will always be someone's hero and that is to her daughter. It was released in 2005 under the country album Brave. 
6. Wind beneath my wings (Bette Midler)
Like the first song in this list, this iconic song would really represent how daughters could not be the people they have always wanted to be if it was not for that one person who has constantly been pushing them to greater heights and that is their mother. 
6. Forever young (Rod Stewart)
This song could pass as one of the best coming of age songs for parents to their children. Originally sung by Rod Stewart in 1988, this song won him a Grammy. 
8. Daughters (John Mayer)
One line in the song particularly asks mothers to be good to their daughters because daughters will be like them as lovers and mothers. And with John's vibrato and jazz-blues tone, it makes the line all the more convincing and powerful. 
9. A mother's love (Kem)
This song basically describes all the lengths a mother would go to just for her children; it doesn't lie and it will make you dream and fly. It was released in 2010 under the album Intimacy. 
10. Sweetest Devotion (Adele)
The song was part of Adele's historic comeback in 2015 under the album 25. It is literally her song to her daughter, having her at only 19, not being ready then but since her daughter came, motherhood has been her sweetest devotion.
11. Mother (Ashanti)
This song is a part of her 2008 album Declaration and true to it, in this song, Ashanti declared her gratitude to her mom for not leaving her and for all the sacrifices she made just for her to get this far. 
12. Blue (Beyonce)
This song by Queen B was written for Blue Ivy, her eldest with Jay-Z, in her 2003 album called Beyonce. It talks about how motherhood made her feel alive and that if she could, she would wrap all her memories with Blue Ivy forever. 
13. Oh mother (Christina Aguilera)
This is an empowerment song from a daughter to her mother whose father is a goner and an abuser. She tells her mom that they both got stronger with all the tears and vowed that he'll never hurt them again. 
14. Landslide (Fleetwood Mac)
This song might not directly talk about motherhood but being ready for the consequences of children getting older and you getting older too perfectly fit the mother image. 
15. Barbie Bandaids (The Isaacs)
This is a beautiful country song of a mother telling her daughter that now that bedtime stories are gone, knowing that she raised her daughter well, makes her bittersweet of letting her go and grow one small Barbie bandaids at a time. 
16. Higher and higher (Jackie Wilson)
It might not also talk of motherhood but this sure fits because a mother's love is a force that will always keep on lifting us up higher and higher. It was first performed in 1967 and won a Grammy Hall of Fame. 
17. A mother like you (JJ Heller)
This one's a shot to the heart as that folksy tone sings, "I hope that I love like you do, because I know that this world would be better if everyone had a mother like you."  Heller wrote this when she became a first time mother in 2019. 
18. If it wasn't for a woman (Kellie Pickler)
This country song is a daughter's tribute to her mom who led her by the hand and taught her everything she needed to know to grow up as a good person and for her to achieve all her dreams in life. It was released in 2017. 
19. I've loved you since forever (Kelly Clarkson)
Inspired by the Hoda Kotb's book of the same title, Kelly belts out how a pregnant mother is excited for her child's birth and assuring her that even before things came to be, she has already loved her since forever.  
20. Like my mother does (Lauren Alaina)
This is an emotional country song performed by American Idol Season 10 grand winner, Lauren Alaina. It talks about how the judgments of society and all her imperfections are made perfect by her loving mother who sees her always as the best. 
116+ Best Mother Daughter's Songs (Bob, R&B, Rock, Country)
(Your Love Keeps Lifting Me) Higher & Higher, Jackie Wilson, 1967, Soul
26 Cents, The Wilkinsons, 1998
A Mother Like You, JJ Heller, 2019, Pop
A Mother's Love, Kem, 2010
A Mother's Prayer, Celine Dion, 2004, Pop
A Thousand Miles, Vanessa Carlton
Ain't No Mountain High Enough, Diana Ross
All is Found, Evan Rachel Wood
Always There, Canadian Tenors, 2009, Pop
Barbie Bandaids, The Isaacs, 2007
Because You Loved Me, Celine Dion, 1996, Pop
Blended Family (What You Do For Love), Alicia Keys feet A$AP Rocky
Blue, Beyoncé, 2013, Pop
Brown Skin Girl, Blue Ivy, SAINt JHN, Beyonce & Wizkid
By Your Side, Sade, 2000, R&B
Can You Feel The Love Tonight, Elton John, 1994, Rock
Child of Mine, Carole King, 1970
Count on Me, Bruno Mars, 2010, Pop
Daughters, John Mayer, 2004, Rock
Every Mother's Dream, Teresa James, 2012, Pop
Forever Young, Rod Stewart, 1988, Rock
Girl On Fire, Alicia Keys, 2012, R&B
God Only Knows, The Beach Boys, 1966
Goodbye's (The Saddest Word), Celine Dion, 2002, Pop
Have I Told You Lately, Rod Stewart, 1991, Rock
Her, Anne-Marie, 2020, Pop
Hero, Mariah Carey, 1993, Pop
How Far I'll Go, Auli'l Cravalho
How You Live (Turn Up the Music), Point of Grace, 2007, Christian
I Believe in You, Steven Curtis Chapman, 2004, Christian
I Hope You Dance, Lee Ann Womack, 2000, Country
I Turn To You, Christina Aguilera, 1999, Pop
I Will Be Here, Steven Curtis Chapman, 2003, Christian
I'll Be There, Jackson 5, 1970, R&B
I'll Be There, Mariah Carey feat. Trey Lorenz, 1992, R&B
I'll Be, Reba McEntire, 2000, Country
I'm Blessed to Call You Mother, Molly Pasuti, 2000, Pop
I've Loved You Since Forever, Kelly Clarkson & Hoda Kotb, 2018, Pop
If It Wasn't for a Woman, Kellie Pickler, 2017, Country
In My Daughter's Eyes, Martina McBride, 2003, Country
In My Life, Chantal Kreviazuk, 2012, Pop
Landslide, Fleetwood Mac, 1975, Rock
Letting Go, Suzy Bogguss, 1992, Country
Like My Mother Does, Lauren Alaina, 2011, Country
Little Girl, Christina Grimmie, 2018, Pop
Little Things, One Direction, 2012, Pop
Love Can Build A Bridge, The Judds, 1990
Mama He's Crazy, The Judds
Mama Said, The Shirelles
Mama, Il Divo, 2004, Pop
Mama, Spice Girls, 1997, Pop
Mama's Song, Carrie Underwood, 2010, Country
Mom, Meghan Trainor feat. Kelli Trainor, 2016, Pop
Mother Knows Best, Donna Murphy
Mother Like Mine, The Band Perry, 2013
Mother, Ashanti, 2008, R&B
Mother, Kacey Musgraves
Mother, Sugarland, 2018, Country
Mother's Daughter, Miley Cyrus, 2019
My Baby You, Marc Anthony, 2000, Pop
My Darling, Wilco, 1999, Rock
My Girl, Temptations, 1964, R&B
My Mother's Eyes, Bette Midler, 1998, Pop
Never Grow Up, Taylor Swift, 2010, Country
Oh How The Years Go By, Amy Grant, 1994, Christian
Oh Mother, Christina Aguilera, 2006, Pop
Promise To Try, Madonna
Promise, Tori Amos, 2014, Rock
Promises, Jhene Aiko feat. NAMIKO & Miyagi, 2014, R&B
Right By You (for Luna), John Legend, 2016, R&B
Shiny, Sara Bareilles, 2019, Pop
Slipping Through My Fingers, ABBA, 1981, Pop
Slow Down, Nichole Nordeman, 2017
Somebody's Hero, Jamie O'Neal, 2005, Country
Speechless, Alicia Keys ft. Eve
Sunrise, Sunset, Cast from Fiddler On The Roof, 1964, Broadway
Sunrise, Sunset, Michael Glaser
Sweetest Devotion, Adele, 2015, Pop
Teach Your Children, Crosby, Stills & Nash, 1970, Country Rock
Teenage Daughters, Martina McBride, 2011, Country
Thank You Mom, Good Charlotte, 2000, Rock
The Best Day, Taylor Swift, 2008, Country
The Best Is Yet To Come, Tony Bennett, 1962, Pop
The Mother, Brandi Carlile
The One Thing, Shakira, 2014
The Prayer, Celine Dion, 2004
There You'll Be, Faith Hill, 2001, Country
They Can't Take That Away from Me, Ella Fitzgerald, 1959, Jazz
Through The Years, Kenny Rogers, 1982, Country
Twenty Years From Now, Kylie Rae Harris, 2019, Country
Utopia, Lykke Li, 2018, Rock
What A Wonderful World, Louis Armstrong, 1967, Pop
Whatever Will Be, Will Be (Que Sera, Sera), Doris Day, 1956, Pop
Where You Lead, I Will Follow, Carole King, 1971, Folk
Wildflowers, Tom Petty, 1994, Rock
Wind Beneath My Wings, Bette Midler, 1988, Pop
You and Me Against the World, Helen Reddy, 1974, Pop
You Are the Sunshine of My Life, Stevie Wonder, 1972, R&B
You Can't Lose Me, Faith Hill, 1996, Country
You Don't Have To Let Go, Jessica Simpson, 2003, Pop
You Raise Me Up, Josh Groban, 2003
You're Gonna Be, Reba McEntire, 2005, Country
You're My Best Friend, Queen, 1976, Rock
You've Got A Friend, James Taylor, 1971, Folk
Conclusion
Mothers and daughters will have the most cherished bond whether we admit it or not. They grow together, learn together, and pass on small family traditions to one another.
What better way is there to celebrate this bond and nurture it through time via nostalgia anytime, anywhere and in whatever occasion than to belt out songs about mothers and daughters.