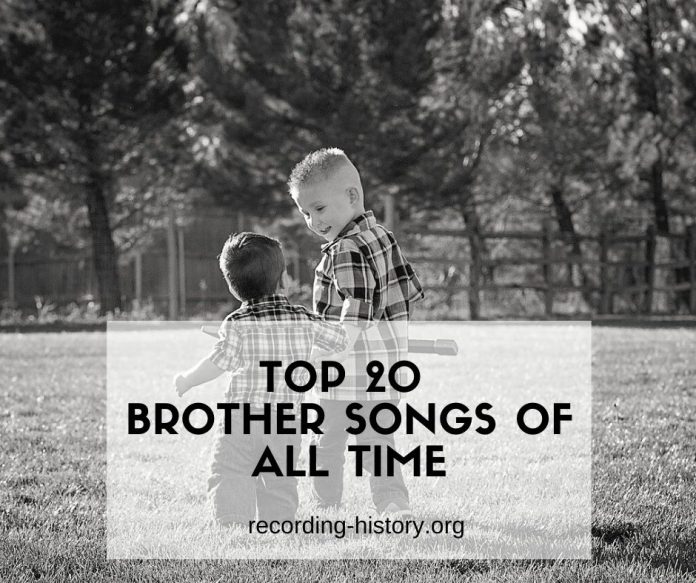 They say that nothing beats the love of a brother to his siblings and this must be true because of the many songs dedicated to brothers. From genre to genre, era to era, the love of a brother runs deep and shall forever hold a special memory in our hearts.
To celebrate our brothers, here is a list of the top brother songs of all time which you could dedicate to your brothers, anytime, any day.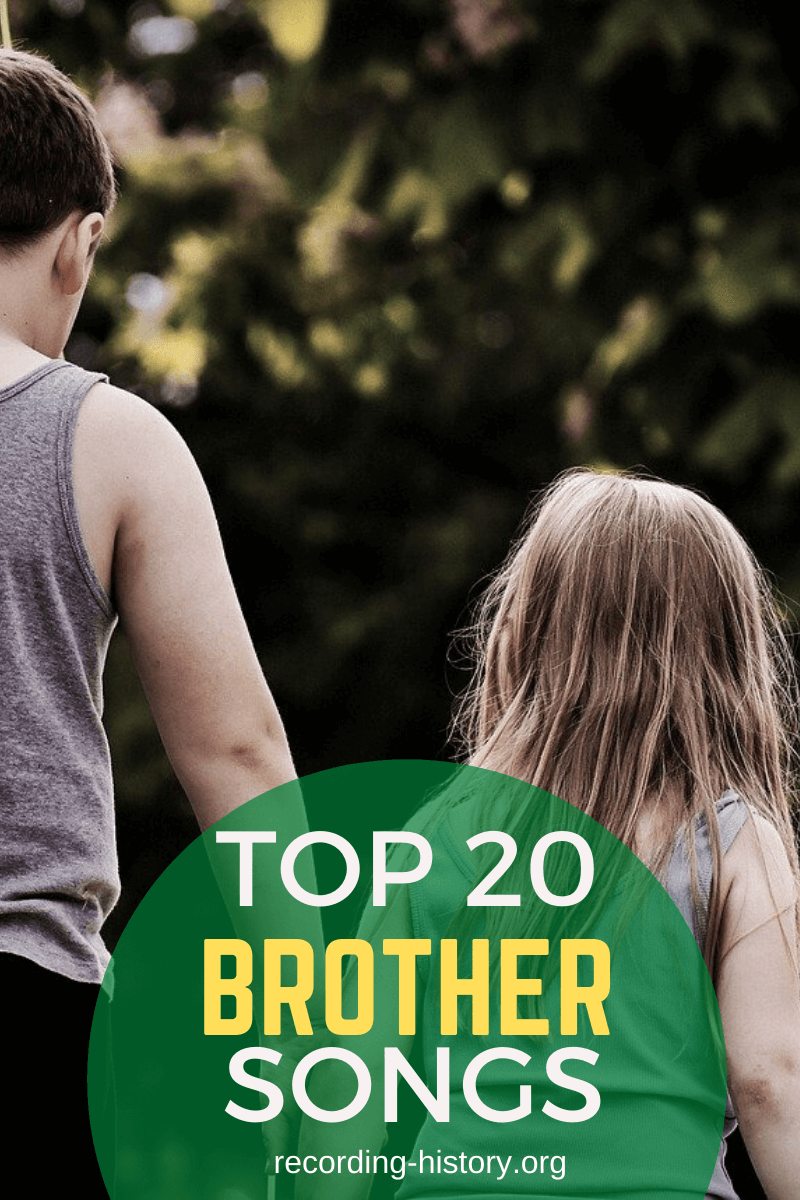 Top 20 Brother Songs of all Time
Our brothers are heroes without capes and here are the top 20 brother songs of all time that will immortalize how dear and beloved they are. 
1. He ain't heavy, he's my brother (The Hollies)
This 1970s classic elemental song is a heartwarming ode to brothers helping brothers without limits, no matter the costs. It was inspired by the slogan of a Boy's Town for homeless boys in London. 
2. What's happening brother (Marvin Gaye)
Coming on from tackling controversial world issues like the Vietnam War in What's Going On, this song specifies a target as this was inspired by his veteran soldier brother returning from war and integrating in a very chaotic America. 
3. My little brother (Art Brut)
This indie rock song offers a fresh take on brotherhood as this was song by literally, the little brother of the lead singer of Art Brut, Eddie Argos. It's a coming of age song talking about that voice in his head that he is now letting out of control. 
4. Boss of me (The Might Be Giants)
This punk rock song was actually used as one of the official anthems in the nerdy siblings TV show Malcolm in the Middle, which was aired in 2001. It playfully sings the squabbles of young brothers and the little brother fighting back because he doesn't want to be pushed around just because he's still young. 
5. My brother's a basehead (De La Soul)
This is that one song which might deviate from the list because it talks about the pain, anger and frustration of a big brother whose little brother became a drug addict moving from weed to crack and  how drugs has engulfed his body and soul. But the vibe becomes warm as he goes through the ways he will help his brother to overcome this addiction. 
6. Highway patrolman (Bruce Springsteen)
This old but gold bittersweet song talks about a devoted cop with obligations to the country and to his family so when his no-good brother does a mess he can't clean up, he does not think twice and shoots him. 
7. Brother (Kodaline)
This 2017 alternative-indie song will hit a homerun as it talks about the unconditional love and unbreakable bond between brothers from childhood to adulthood. It talks about careless days and mature reckonings and how they will forever see each other as safety blankets no matter the age. 
8. Brother louie (Modern Talking)
Well we are not sure if this 1998 song really talks about a rival sibling for the love of a woman but this song tells the story of a guy, convincing Brother Louie that he should set free the woman who his brother loves because it is him she loves back and not her. 
9. Hey brother (Avicii)
This 2013 electric pop song under the album True. It talks about a brother talking to his siblings that even if he's far from home, he hears them and that there's nothing he would do for them. 
10. Brother (NeedToBreathe)
It could be a friend, it could be a sibling, it could be a stranger who needs help,  this song is a song of hope and selflessness of a brother giving shelter for refuge, a fortress for your pain, a call away for all your distress. It was released in 2014 under the album Rivers in the Wasteland. 
11. Brothers in arms (Dire Straits)
This 1985 Grammy winning war song under the album of the same title is a bittersweet celebration of all the brothers in arms who like him fought a war they didn't choose but regardless, did not desert him at the brink of death. 
12. Blood brothers (Luke Bryan)
From his 2013 hit country rock album Crash My Party, this song is a celebration of brotherhood, regardless if bound by blood or friendship, singing brother is a light that does not come cheap, you fight, you cry, you lie and you bleed but you will always lean on one another cause you are blood brothers. 
13. Brother mine (Suzanne Vega)
Released in 2012 under the album Close-Up Vol. 4: Songs of Family, this folk song is a heart-tugging ode of a big sister to her younger troublemaker brother, attending to him with another swollen eye, talking to him that he's go to grow up, man up and be the best version of himself as he goes through life. 
14. On the wings of a nightingale (The Everly Brothers)
This 1984 song under the album EB84 talks about two brothers finding success together in separate ways, coming home through high above land and see, and going to that place of love where everything began. 
15. The greatest discovery (Elton John)
From the master of emotions and ballads himself, this 1970 song is literally about being a little boy excited to meet his newborn baby brother who will have a life filled with love and whose green eyes shall always be filled with stories and adventures. 
16. The bewlay brothers (David Bowie)
This song, like all David Bowie's songs, is a fusion of symbolic meanings, dark art and pop rock themes. It talks about two misunderstood brothers, mistaken by society as evil men, killed one of them and how the living one shall hunt the town and the children for the rest of his days. It was released in 1971, the last song under Hunky Dory. 
17. Song for my brother (Carlos Santana)
It starts with writing on a piece of paper, a song for a brother who stood with him through the hurricane and because of this, fills a gap in his heart no one else will ever replace. It was released in 1980 under the album The Swing of Delight. 
18. My brother (Justin Hayward)
It was released in 1975 under the album Blue Jays and it talks about a little brother thanking his big bro of taking him to verdant greens and deep seas asking him at a very hard time if he could guide him through life's tough decisions again. 
19. Perfect love (Marc Cohn)
This 1991 easy listening acoustic rock can be dedicated to anyone whose love for you feels perfect and that could be your brother. It talks about dreaming together, making it all come true and realizing that along the way, you were given the perfect love.  
20. Our love (Bee Gees)
Popularized by the soft pop rock multi-awarded 70s group Bee Gees, this song is also fondly called as Song for Andy because it was dedicated to him by the songwriter Barry Gibb who was his brother. It was first performed in 1979, the year when Andy committed suicide. 
87+ best songs about brother
He ain't heavy he's my brother, Neil Diamond
Daniel, Elton John
Hey Brother, Avicii
The greatest discovery, Elton John
Brother, Needtobreathe
Brother love's traveling salvation show, Neil Diamond
Song for my brother, Carlos Santana
The night they drove old Dixie Down, The Band
The crime of being me, Catman Cohen
Brothers in arms, Dire Straits
Brother can you share a dime, George Michael
Brother, Kodaline
Brother, Brother – The Isley Brothers
Brothers in arms, Joan Baez
Big Brother, David Bowie
Brother, Pearl Jam
Little Brother, Hoodie & the Blowfish
He ain't heavy, He's my brother – Glen Campbell
Brother, Alice in Chains
Hello Brother, Louis Armstrong
Blood Brothers, Luke Bryan
Brother Bear, Bo Diddley
My Brother – The Moody Blues, Justin Hayward, John Lodge
Hold on Dear Brother, The Beach Boys
My and Bobby and Bobby's Brother – ABBA
Brothers of the Highway, George Strait
Brother to brother – Paul Weller, Terry Callier
Brother John – Joe Satriani
Brother Bill (Last Clean Shirt) – Eric Burdon & the Animals
Sin's a Good Man's Brother – Grand Funk Railroad
Brother (Buddy), Can you spare a dime? – Peer, Paul and Mary
Peace Brother Peace, Dr. John
Brother to the Blues – George Jones
Baby Brother, The White Stripes
Brother wolf, Sister moon – The Cult
Brothers of the road – Hank Williams, Jr.
Sister and Brother – Kate Bush, Midge Ure
The Mother we share – Chvrches
The Bewlay Brothers – David Bowie
Am I the Only One? – Barenaked Ladies
Judas My Brother – Bad Company
Brother Where you bound – Supertramp
Coyote, My little brother – Pete Seeger
My Brother Jake, Free
Brothers and Sisters, Blur
Unknown Brother, The Black Keys
Brother, Gerald Way
What's happening brother, Marvin Gaye
Little Angel, Little Brother – Lucinda Williams
Brother Bill – Bing Crosby, Louis Armstrong
Brother to Brother, Cliff Richard
Soul Brother – Todd Rundgren
He was my brother – Simon & Garfunkel
Sins a Good Man's Brother – George Lynch
Beautiful Brother of Mine – Curtis Mayfield
Godless Brother in Love – Iron & Wine
Brothers of the Road – The Allman Brothers Band
Blood Brothers, Manowar
Spaceboy, The Smashing Pumpkins
Brother trucker, James Taylor
Oh Brother, James Taylor
Who's gonna help brother get further? – Allen Toussaint, Elvis Costello
Big Brother, Stevie Wonder
Brothers on a hotel bed – Death Cab for Cutie
Big Brother Wheels, Buzzcocks
Sun Brother – Portugal. The Man
Brother Don't Play – Carl Cox
Big Brother, Kanye West
Brother Interior – Mother Superior, Henry Rollins, Rollins Band
Big Brother Beat – De La Soul, Moe Def
Brothers on my jock – EPMD
58+ Funeral songs for brother
Only the Good Die Young, Billy Joel
Stop Crying Your Heart Out, Oasis
Street of Dreams – Lindsey Buckingham
I'll See You in My Dreams, Joe Brown
Sunny – Bobby Hebb
He ain't heavy, He's my brother – Glen Campbell
Miss U, Notorious B.I.G.
The Other Side of Life Now, Emmylou Harris
Down the River, Chris Knight
Daniel, Elton John
Good Riddance (Time of your life) – Green Day
Knockin' on Heaven Door – Guns N' Roses
Tears in heaven – Eric Clapton
6 Feet Deep, Geto Boys
All the Colours, Finn Brothers
I will remember you – Sarah McLachlan, Macy Gray
The great gig in the sky – Pink Floyd
You Should Be Here, Cole Swindell
I'll be missing you – Sean Combs, Puff Daddy & The Family, Faith Evans
Pour Out a Little Liquor, 2Pac
Free Bird – Lynyrd Skynyrd, Flashback
Brother in the Wind, High on Fire
Wake me up when September ends – Green Day
They Reminisce Over You, Pete Rock and C.L. Smooth
Dust in the Wind, Kansas
I Still Miss You, Keith Anderson
Lake of fire – Meat Puppets
Will I See You in Heaven, The Jayhawks
Stairway to Heaven, Led Zeppelin
Shadow of the Day, Linkin Park
Missing You, Aaliyah featuring Jay-Z
Who You'd Be Today, Kenny Chesney
Brother, Edward Sharpe and The Magnetic Zeros
Good Die Young, D12
If I Could Only Bring You Back, Joe Diffie
Over you – Blake Shelton
Mama, I'm coming home – Ozzy Osbourne
Don't Say Goodbye, Buddy and Julie Miller
Spirit in the sky, Norman Greenbaum
What a Wonderful World, Louis Armstrong
Wish you were here – Pink Floyd
Brother, Beck
Funeral for a Friend, Elton John
If Heaven, Andy Griggs
The show must go on – Queen
Brother Up in Heaven, Alan Parsons
Free Bird, Lynyrd Skynyrd
In my life – The Beatles
(Don't fear) The Reaper – Blue Oyster Cult
Everything I Own, Bread
If Heaven Wasn't So Far Away, Justin Moore
The Dance, Garth Brooks
The Message, Dr. Dre
He Ain't Heavy; He's My Brother, The Hollies
When I Get Where I'm Going, Brad Paisley
Danny Boy – Harry Belafonte
Go Rest High on the Mountain, Vince Gill
Drink a Beer, Luke Bryan
Conclusion
Brothers may not be necessarily siblings because they can also be friends that turned to family. Regardless, if you are feeling sentimental over anyone you consider as brothers, this list will help you get through a trip down brother memory lane.