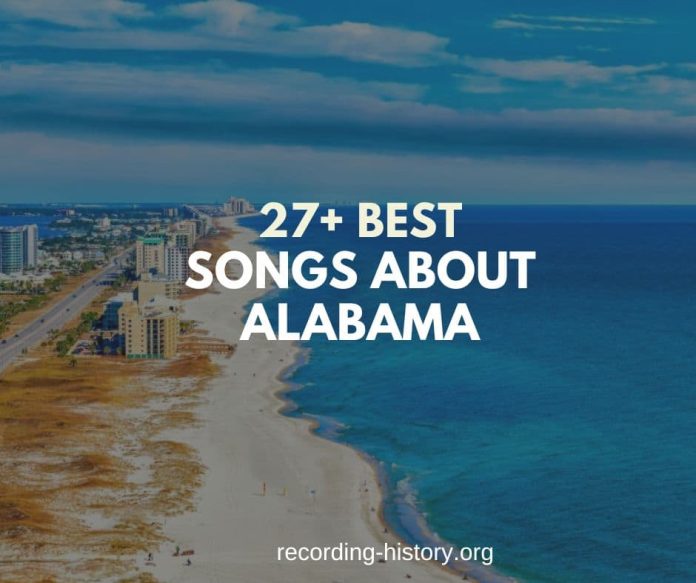 Are you from Alabama? Or have you ever been to Alabama before? Then these songs about Alabama are for you! Music can often be the best form of expression and it is amazing how many songs there are that celebrate this wonderful state.
Whether you're an Alabamian, looking for a way to connect with your home state or someone who just wants to listen to what artists have said about the Yellowhammer State over the years – there's something here for everyone.
From modern country music stars like Chris Stapleton, Little Big Town and Randy Newman, all the way back through classic folksingers such as Woody Guthrie and Leadbelly – join us in our celebration of great music inspired by America's Heart of Dixie.
Alabama By Neil Young.
This singer-songwriter classic is a great genre of music for telling stories about the state. It paints a vivid picture of what it's like to grow up in the south, and how Alabama has shaped his life.
The song perfectly captures the beauty and pride of this great state, but also hints at some of its hidden struggles. Its melodic and nostalgic tune will have you singing along in no time.
Alabama Getaway By Grateful Dead.
This bluesy rock track celebrates life in the Yellowhammer State.
With its sunny riffs, energetic lyrics, and thoughtful storytelling, this song will instantly transport you to a sunny day spent lounging on a porch somewhere in Alabama.
A great choice for those seeking an upbeat and positive introduction to the state.
Alabama High-Test By Old Crow Medicine Show.
This spirited track is a bluegrass tribute to Alabama. It's an upbeat, foot-stomping song that artfully captures the state's unique culture and atmosphere with its heavy harmonies and banjo licks.
A great pick for those looking to get their toes tapping in celebration of all things Alabama!
Alabama Pines By Jason Isbell.
This hauntingly beautiful tune paints a vivid picture of small-town life in the state.
With its gentle guitar licks, soft vocal harmonies, and insightful lyrics, this song captures the essence of Alabama's slower pace of living and its stunning natural beauty.
An excellent choice for those seeking a reflective introduction to the state.
Alabama Song (Whisky Bar) By The Doors.
This iconic rock track is a tribute to the state's nightlife and drinking culture. With its driving beat and bluesy guitar riffs, this song captures the atmosphere of an Alabama dive bar perfectly.
A great selection for those looking for a more rebellious introduction to Alabama.
Ala-Freakin-Bama by Trace Adkins.
This song has been a popular anthem for Alabama football fans since its release in 2007. The lyrics are an ode to the Crimson Tide's successes over the years—both on and off the field. The song is an upbeat, country-tinged tune that captures the spirit of Alabama.
It's also been used as a rallying cry before big games, and Trace has even performed the song live before some of them. The song is a salute to Alabama loyalty and pride, and it continues to be a fan favorite today.
All In Alabama by Hank Williams Jr.
This is a classic country music song. It captures the spirit of Alabamians, from their love of their state to their fierce sense of pride.
The lyrics describe the beauty and hospitality found throughout Alabama's picturesque landscape.
Angel From Montgomery By John Prine.
This touching folk/country song tells the story of a woman who is stuck in a mundane, unfulfilling life.
The protagonist longs for a better future and envisions an angel to take her away from her current situation.
Bama Breeze by Jimmy Buffett.
This classic reggae-rock song from Jimmy Buffett's 1975 album, "Havana Daydreamin'", tells the story of a traveler who finds solace in the coastal breeze of Alabama.
The lyrics are a tribute to the beauty and peace found in nature, as well as to the relaxed vibe of Southern life.
The song's breezy guitar and soft steel drums set the mood for this serene journey of relaxation.
Birmingham by Zach Bryan.
This bluesy country tune tells a story of life in Birmingham. The song paints a vivid portrait of the city, from its bustling streets to its warm and inviting culture.
Halfway Back to Birmingham by Mark Chesnutt.
This upbeat country song was released in 1999 and written by Donny Kees and Dave Robbins. It tells the story of a man reflecting on his life as he gets closer to home after being away for some time.
The narrator expresses the longing he feels for his hometown, Birmingham, Alabama, and reminisces about past memories of friends, family, and his old stomping grounds.
Hello Birmingham by Ani DiFranco.
This song is a love letter to the city of Birmingham, Alabama. Written by the folk singer-songwriter Ani DiFranco, she uses her powerful and heartfelt lyrics to pay tribute to the history of racial injustice in the Deep South.
She paints an intimate portrait of resilience in spite of oppression, offering up an inspiring message of hope for a better future.
The song is an anthem for Birmingham and its inhabitants, encouraging listeners to embrace their own power and take action in creating positive change. DiFranco's song encourages us to stand up for what's right, inspiring us to make the world a better place.
Honky Tonk Highway by Luke Combs.
Honky Tonk Highway by Luke Combs is a fan favorite that speaks to the heart of country music fans. It celebrates life on the open road, with lyrics about having fun and taking risks.
This upbeat number captures Combs' signature sound perfectly, featuring his deep vocals and catchy guitar riffs.
The song pays homage to classic honky tonk music while also pushing the genre forward in a modern way. With its infectious beat and clever lyrics, Honky Tonk Highway is sure to get audiences moving.
Merry Christmas, Alabama (Never Far From Home) By Jimmy Buffett.
Merry Christmas from the heart of Alabama! It's a joyous time of year to visit and enjoy the sights, sounds, and smells of the season.
From Mobile to Birmingham, there's something special about celebrating the holidays in this beautiful state.
Midnight in Montgomery By Alan Jackson.
This hauntingly beautiful country ballad was released in 1991 and is still a fan favorite today. It tells the story of seeing Hank Williams' grave in Montgomery, Alabama.
The narrator reflects on his admiration for the legendary musician and how he wished he could have seen him play one last time.
The song speaks to the power of music and how it can live on through generations and continue to bring joy.
The song was a huge hit for Alan Jackson, peaking at number two on the Billboard Hot Country chart and earning him multiple award nominations. Its popularity has only grown over the years, remaining a favorite among fans of country music.
My Homes in Alabama by Alabama.
This classic country tune, released in 1980, expresses a desire to return home after being away for too long. It's a testament to the power of nostalgia and how it can influence our lives – no matter where we are or how old we are.
The song paints a vivid picture of Alabama with its rolling hills, rivers, and pine trees. It's easy to understand why so many people can relate to this song – longing for the familiarity and comfort of home is a universal emotion.
Alabama achieved huge success with this track, hitting number one on the country charts, and it remains beloved by fans today.
Nothing Sweet About Alabama by The Lost Trailers.
This toe-tapping, feel-good country song is sure to get you dancing! With its upbeat melody and catchy lyrics, "Nothing Sweet About Alabama" will have you singing along in no time.
The Lost Trailers' clever take on Southern life paints a vivid picture of a place so deep in a tradition that it's almost impossible to escape.
With lines like "Ain't nothing sweet about Alabama, she's a little rough around the edges but that's alright by me", they capture the essence of life in The Heart of Dixie and make it impossible to not smile.
Paint Me a Birmingham By Tracy Lawrence.
This song is a nostalgic ode to the city of Birmingham, Alabama. It was written by Tracy Lawrence and released in 2002 as part of his album "Strong".
The song has a melancholy sound that perfectly captures the sense of longing that many have for their hometowns.
Postmarked Birmingham by Blackhawk.
Postmarked Birmingham is a classic rock track from the band Blackhawk. The song captures the feelings of returning to an old hometown with bittersweet nostalgia and longing.
Released in 1992, this single climbed to the top of Billboard's Mainstream Rock chart, becoming one of their most popular hits.
Drawing inspiration from traditional country music, Postmarked Birmingham is an anthem for anyone who's ever ventured home with a heavy heart.
With its signature mix of electric guitars, drums, and hauntingly beautiful vocals, this track is sure to evoke strong emotions in listeners.
Song of the South By Alabama.
Released in 1986, "Song of the South" is a classic country tune by Alabama. The song talks about a man returning home to his beloved wife and children after being away on business.
With its catchy beat and thoughtful lyrics, this song has been enjoyed for decades by fans from all walks of life.
Lyrically, it paints a beautiful picture of homecoming and how the family is eager to welcome him back.
The song has been covered by various artists over the years, including Reba McEntire, who made a successful version in 2004. It remains an enduring anthem for loved ones separated by long distances and serves as a reminder that home is always waiting.
Southern Star by Alabama.
This classic tune from Alabama was released in 1982, and quickly became a fan favorite. Its upbeat melody and optimistic message of never giving up on love struck a chord with people all over the world.
The song topped both country and pop charts and sold more than one million copies across the US alone.
With its signature steel guitar riffs, harmonica solos, and infectious chorus, it's no wonder Southern Star has been a mainstay of classic country radio for decades. From weddings to backyard barbeques, this song never fails to get people on their feet and singing along.
Stars Fell On Alabama By Billie Holiday.
This classic song was first recorded in 1934 and became an instant hit. It tells the story of a man who stumbles upon a magical scene of beauty, as stars fell from the Alabama night sky.
Holiday's tender vocals perfectly capture the feeling of awe and wonder that descended on that fateful evening.
The timeless melody has been covered by dozens of artists over the years, making it an enduring classic that still resonates today.
Stars in Alabama by Jamey Johnson.
Jamey Johnson's "Stars in Alabama" is a country-rock anthem that celebrates the beauty of his home state.
The song paints an intimate portrait of life in the South, describing its expansive fields, majestic mountains and iconic landmarks.
From the gentle strum of the guitar to Johnson's soulful voice, this track evokes a sense of nostalgia and pride.
Johnson's lyrics capture the spirit of Alabama, making it an ideal soundtrack for any summer road trip through the state.
Sunday Birmingham by Suzy Bogguss.
This song by Suzy Bogguss is a classic country tune about getting away from the hustle and bustle of the city for some peace and quiet in an idyllic rural setting.
With its opening line, "One, two, three/Turn it up/Big wheels keep on turnin", this tune is a classic rock anthem. It tells the story of a man in search of his roots, returning home to Alabama after being away for some time.
The song celebrates the beauty and comfort of living in the South, with lyrics like "Where the skies are so blue/Sweet home Alabama".
It's a heartfelt tribute to the sweet home of the singer. With its catchy guitar riffs and memorable lyrics, it has become an anthem for Southern pride. Today, you can hear this classic rock staple blaring from car radios across the country.
Talladega by Eric Church.
Talladega is a classic from Eric Church. This song combines traditional country music elements with modern rock and roll sounds to create an infectious and memorable groove.
The lyrics tell the story of a man's journey to Talladega, Alabama, as he searches for something more meaningful in life. It's all about the power of taking risks, pushing yourself to the limit, and embracing life's challenges.
A fun and inspiring anthem for anyone who loves racing and adventure. So get your engine revved up and hit play on this track – it'll be sure to take you on a wild ride!
The Alabama Waltz By Hank Williams.
This classic American song was written by none other than the legendary country singer Hank Williams, and it is still a favorite at parties and gatherings across the South.
It has been covered by multiple different artists, including Alabama Shakes and Charley Pride. The song was released in 1947, and still captures the hearts of country music fans everywhere.
Its classic sound is sure to get you singing along or two-stepping your way across the dance floor.
The Ride by David Allan Coe.
This classic track is a great addition to any road trip playlist. The song speaks of the thrill and anticipation of journey, making it the perfect accompaniment for any adventure.
With its catchy chorus and country twang, this is sure to be a hit for all types of travelers.
The Three Great Alabama Icons By Drive-By Truckers.
Since the early 2000s, Drive-By Truckers has been one of the most respected bands in Americana music.
Their unique blend of rock, country, and blues has made them a critical favorite and fan favorite alike. And while they've released a number of great albums, one of their most popular releases is The Three Great Alabama Icons.
What Was I Thinkin' by Dierks Bentley.
This 2003 song by Dierks Bentley is a classic country hit. It tells the story of a man who reflects on his decision to go home with an attractive woman after a night out.
The narrator realizes he wasn't thinking straight and regretfully decides that he should have gone home alone.
The catchy chorus and upbeat melody perfectly capture the feeling of having made a regretful mistake.
With its clever lyrics and catchy hook, it's no surprise that What Was I Thinkin' quickly climbed to the top of the country music charts. It remains a fan favorite to this day.
Related:
Conclusion
No matter what genre of music you prefer, there's no excuse not to take a few minutes out of each day and learn about Alabama through its captivating songs.
From country classics like 'If I Had A Hammer' to modern anthems such as 'Sweet Home Alabama', this beautiful Southern state will bring a smile to your face every time you listen to its musical offerings.
Whether you live in Alabama or thousands of miles away, you can appreciate the rich culture and history embedded within the state's music. So go ahead, turn up your sound system, and take a musical journey through 'The Heart of Dixie. You won't be disappointed!
Happy listening!