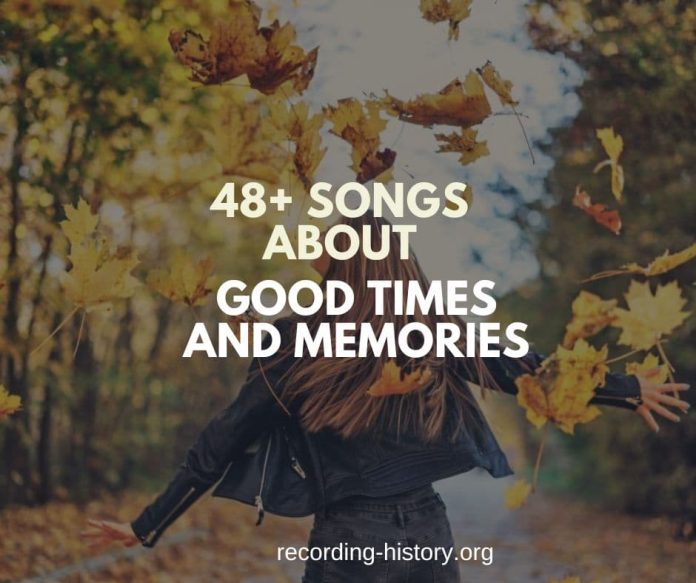 Whether you're young or old, everyone loves a good song about memories and good times. As we all know, those memories are what make life worth living!
In this blog post, we will share 48 songs that perfectly capture the joys of looking back on past memories. We hope you enjoy listening to them as much as we enjoyed putting this list together!
7 Years by Lukas Graham.
The single by Danish soul-pop band Lukas Graham is a nostalgic anthem about life, memories and growing up.
Lead singer Lukas Forchhammer shares his journey through life in the first verse, reflecting on moments of joy and hardship as he moves from childhood to adulthood.
The chorus captures the bittersweet feeling of missing out on old times while embracing the present. The song expresses a sense of hope and optimism, reflecting on how far we've come while looking forward to the future.
It's a perfect reminder to make the most out of our days, cherishing both good and bad memories along the way.
A Long Walk by Jill Scott.
This song is about remembering the good times and being thankful for them. It talks about how it's easy to become overwhelmed with all of the bad things in life, but also how important it is to take time to appreciate the good memories we have.
The lyrics emphasize that even though our memories may fade, the feeling of joy and contentment that comes with them lingers on.
The song is upbeat and has a positive message about cherishing whatever happy memories we have in life.
It's perfect for those times when you need to take a minute to reflect on all of the good you have experienced and be thankful for it.
Amnesia by 5 Seconds of Summer.
This upbeat pop-rock song is a perfect way to transport yourself back to those fun and carefree memories.
The lyrics talk about maintaining these memories even when the good times end and everything starts to fade away.
It's a reminder that although life can be unpredictable, we still have our fondest recollections of happier days.
Back Home Again by John Denver.
This song is a classic that speaks of nostalgia and taking comfort in memories. It describes how it feels to come home after being away for too long, and how all the memories rush back.
It talks about sweet times spent with family, friends, and loved ones that can never be replaced or forgotten.
The lyrics remind us to cherish these moments because they won't last forever. The song is a timeless reminder to appreciate the good times and create lasting memories with those we love.
Beautiful Boy (Darling Boy) by John Lennon.
This song is all about the joy of being a father and watching your child grow. It's a powerful reminder about the importance of cherishing memories and times spent with loved ones.
The lyrics express Lennon's feelings as he watches his son, Sean, growing up before his eyes: "Life is what happens to you while you're busy making other plans".
Through this song, Lennon conveys the importance of living in the moment and taking advantage of all the good times that are sure to come.
He also encourages us to remember these memories so we can look back on them fondly in later life.
Ben by Michael Jackson.
This song captures the idea of fond memories of times spent with someone special. The chorus paints a vivid picture of how important those moments were, singing "And all my worries seem so very far away/All I have to do is remember Ben".
The lyrics also reflect Michael Jackson's own childhood as he recollects his time spent with his older brother, Ben. The song personifies the idea of cherishing those moments of nostalgia and remembering happy times.
Celebration by Kool & The Gang.
This classic from 1974 is all about embracing the moment, cherishing memories, and being thankful for shared experiences.
The lyrics capture a sense of nostalgia and gratitude that can be powerful when looking back on good times. "Celebration" encourages listeners to make the most out of life by taking time to appreciate the past and move forward with joy.
It's a timeless anthem that reminds us to live in the present and make every moment count.
Chicken Fried by Zac Brown Band.
This beloved country tune is all about reminiscing on the good times of growing up in a small town and celebrating the simple joys of life.
Lyrics such as "Ain't nothin' like cryin' in your 'ol Ford, Takin' turns around them back roads" evoke a sense of nostalgia that can make anyone smile.
It's a perfect tune for those who love to reflect on the past and appreciate the good times.
Accompanied by an acoustic guitar, fiddle, and banjo, this song will have you singing along in no time. With its upbeat melody and catchy chorus, Chicken Fried is sure to bring back memories of your own small town or childhood home.
Don't You Worry Child by Swedish House Mafia Feat John Martin.
This beloved hit is all about looking to the future and letting go of any worries or doubts.
The uplifting lyrics "There was a time I used to look into my father's eyes/ In a happy home, I was a king I had a golden throne/ Those days are gone now but one thing's still true/ When I look into the eyes of my children I see it all," remind us that our memories and good times will always remain with us.
This song is sure to put a smile on your face and help you remember the happy moments you've shared with loved ones.
Drift Away by The Dobie Grey.
This song about memories and good times captures feelings of nostalgia in its classic soulful sound. Singing "just take me to that same place, take me away," Dobie Grey captures the sentiment of wanting to return to a special time or place.
The lyrics evoke strong images of childhood recollections and summer days spent with family, friends, and loved ones. The message is clear: cherish the moments you have in life, because they can never be taken away.
Whether it's a song about memories and good times or any other classic track from the past, this one stands out for its timelessness and ability to evoke strong emotions.
Drinkin' Beer. Talkin' God. Amen. by Chase Rice Feat. Florida Georgia Line.
This song is a great way to remember the good times, especially in the summer months. It perfectly captures the joy of spending time with friends and family, having a few beers, and shooting the breeze about life.
The sweet country melody creates an upbeat atmosphere and lighthearted message that will stay with you long after you've enjoyed your time together.
The chorus, "Drinkin' beer. Talkin' God. Amen," is a great way to remember the memories and good times you have shared with those closest to you and recognize that it has all been part of God's plan.
Family Business by Kanye West.
This song is all about reminiscing on the good times, especially those spent with people we love. Kanye raps about his late mother, Donda West and remembers her warmth and comfort.
He reflects on how she raised him to be strong, even in the face of adversity. The chorus captures it perfectly: "Family business, that's what we're all about.
We stick together through thick and thin, nothing could break us down." This track is an ode to the power of family unity in the face of hardship and serves as a reminder to appreciate our loved ones every day.
Family Reunion by Jill Scott.
This song reflects on the joy of coming together with family for special occasions and reunions. The song takes listeners back to their childhoods when times were simpler and spending time with loved ones was a priority.
Jill Scott's beautiful lyrics remind us of how precious these memories are, and how much they can mean to us even as we grow older.
Fernando by ABBA.
A song about two people who were parted by life, but fondly remember the good times they had together. The first verse tells of Fernando's adventures in South America and how he remembers his love with distant nostalgia.
The chorus speaks of their memories as sweet and nostalgic-filled, while also expressing regret at their parting ways. It is a timeless classic, perfect for reminiscing about fond memories and good times.
Gabriel and Me by Joan Baez.
This classic folk song tells the story of a man who remembers sweet memories of his childhood in the summertime. The narrator takes us back to his younger days when he would play with Gabriel, his best friend, and time seemed to stand still.
He recalls the warmth of their embrace, the laughter they shared, and all the sweet moments they spent together.
The song is a touching reminder of the importance of cherishing our fondest memories and treasuring the good times we have in life.
Girls Just Want to Have Fun by Cyndi Lauper.
Released in 1983, this power-pop anthem celebrates the joy of being young and carefree. With its upbeat melody and empowering lyrics, it became an iconic hit and a timeless representation of nostalgia for youthful fun.
Glory Days by Bruce Springsteen.
This classic is all about lost love and the memories that remain. It's a bittersweet reminder of good times gone by, with lyrics such as, "Glory days, they'll pass you by / Glory days, in the wink of a young girl's eye."
The song tells a vivid story of heartache and nostalgia while still managing to be upbeat and hopeful. It's a song that many people can relate to and will find comfort in after going through tough times.
Good Old Days by Macklemore Feat. Kesha.
This upbeat pop-rock song is about cherishing the good times no matter what. It encourages listeners to appreciate their past and be thankful for all of their experiences, both the good and bad ones.
The chorus proclaims, "Let's raise a glass to the good life, toast to the yesterdays, jump in that time machine, go back and get high on the good vibes."
The song is a reminder to embrace all of our memories – both the happy ones and those that taught us something.
Good Time by Niko Moon.
This catchy song celebrates the idea of enjoying life and making memories that last. The chorus captures the care-free spirit of the track with its uplifting lyrics: "Let's have a good time, make some memories tonight.
Let's have a good time, just let it ride. No need to worry about tomorrow, we got right now, so let's have a good time."
The sparkly synths and infectious rhythm provide the perfect backdrop to this feel-good anthem. It is guaranteed to put you in a great mood and make you want to keep replaying it.
Here's To The Good Times by Florida Georgia Line.
This song is a tribute to the good memories shared with friends. In it, the duo celebrates all of their adventures and accomplishments over the years.
The lyrics recall nights spent hanging out with friends and making precious memories that will last forever.
Home Sweet Home by Mötley Cruë.
This classic song talks about wanting to go home and revisit the good times, nostalgia for a simpler time. The lyrics tell of the singer longing for home, realizing that it's not necessarily a physical place but rather a state of mind.
Home Sweet Home is a reminder of our deepest connections with friends and family, and how even when we're far away they're still with us.
It's a reminder of the positive memories we have, and how those can be kept close to our hearts no matter where life takes us.
Along with its timeless message, Home Sweet Home is musically stunning, featuring majestic strings and soaring vocal harmonies that add an emotional depth to the lyrics.
I Go Back by Kenny Chesney.
This country classic has a special place in the hearts of many, as it reflects on memories of growing up and all the heartfelt moments that come with it.
In this tune, Kenny Chesney's lyrics take us through a walk down memory lane that is filled with nostalgia and fond remembrances.
The chorus urges listeners to "go back" to the simpler, more peaceful times of their younger years.
This song is a reminder that it's okay to look back on happy memories from the past and use them to bring joy into our present lives.
I Will Remember You by Sarah McLachlan.
The song is about saying goodbye to a loved one, but also remembering the good times spent with that person.
It talks of how we remember all the happy moments, even if they are now gone. This is a beautiful song to help us reminisce and cherish our fondest memories.
In My Life by The Beatles.
This classic song from the Fab Four is a heartfelt recollection of all the people and places that have made an impact on John Lennon's life, with the chorus "In my life I've loved them all."
It is a nostalgic ode to all of our past experiences and relationships that have enriched us throughout the years.
It's So Hard To Say Goodbye To Yesterday by Boyz II Men.
This classic R&B track is a heartfelt ode to memories of better times. The lyrics evoke nostalgia for summers gone by and the bittersweet feeling of change that comes with them.
In its timeless chorus, Boyz II Men sing about how hard it is for those moments in life to pass us by. It's an anthem for anyone who's ever looked back and wished for those happy times again.
It's Time by Imagine Dragons.
This song celebrates the idea of making memories and cherishing them, even when life gets hard.
The lyrics are a reminder that we should enjoy the good times while we still can: "It's time to begin, isn't it? I get a little bit bigger but then I'll admit/I'm just the same as I was/Now don't you understand That I'm never changing who I am."
The chorus is an anthem of positivity and joy, "It's time to begin, isn't it?/I get a little bit bigger but then I'll admit/I'm just the same as I was/Now don't you understand that we're not gonna stand and watch the world pass us by."
As we take on life, this song reminds us that we should cherish the good times and make memories to last a lifetime.
Memories Back Then by T.I. Feat. Kendrick Lamar.
This song is about cherishing the happy moments of the past and remembering them fondly, despite any hardships that one might have gone through.
The song reflects on how far one has come in life, looking back at all the difficult times, yet still being thankful for everything they have achieved.
With a soulful beat and reflective lyrics, it's sure to be an anthem for remembering the good times.
Memories by Maroon 5.
This song is all about cherishing the moments that we share with loved ones and reliving them through our memories. The lyrics tell us to never forget the smiles, laughter, good times, and special moments we've shared together.
They remind us that these are the things that keep us connected over time, no matter what life throws our way.
The music is upbeat and cheerful, making it the perfect pick-me-up song when you need to reminisce on good times.
It's a great reminder of how important it is to take time out and enjoy the moments that we get with those we care about.
One Sweet Day by Boyz II Men Ft. Mariah Carey.
This classic 90s R&B song is about cherishing memories and accepting the loss of a loved one. The beautiful duet between Boyz II Men and Mariah Carey captures the bittersweet emotions of remembering better days and knowing that those days have passed.
With lyrics like "Though you're gone, you're still with me in my dreams," the song speaks to the power that memories have in our lives.
It's a perfect reminder to take time to appreciate the memories you have with your loved ones and make new memories together.
Only One by Kanye West.
Released in 2014, this song is a heartfelt dedication to Kanye's late mother and his daughter. It has since become an anthem of remembrance for many people, reminding us that we should cherish the memories of our loved ones and think of them fondly when times are tough.
The chorus speaks of how no one can replace a lost family member: "Nobody but you, nobody, nobody but you / I made a mistake tryin' to replace you."
The song is an emotional reminder of the powerful impact memories can have on our lives and how important it is to cherish good times with those we love.
It is sure to resonate with anyone who has experienced a loss and will remind them of the love and joy that can come from remembering the good times.
Photograph by Ed Sheeran.
This heartfelt ballad touches on the subject of preserving memories and all the good times that come with them. The song uses simple, but powerful imagery to create a vivid picture of what it's like to treasure each moment we spend with our loved ones.
It captures the joys and pains of life as we realize that these moments will become cherished memories in the future.
The story told in this song is sure to bring a smile to anyone who listens as they recall their own personal memories of the past.
Photograph by Nickelback.
This song is about remembering past times and cherishing the memories you have. It reminds us to look back on our good times and cherish them for a lifetime, no matter how much time has passed.
The music video depicts a young couple as they share their love with one another in a variety of ways, from going on dates or just spending time together.
The lyrics emphasize the importance of never forgetting the past and cherishing our memories, even when things have changed and people have moved on:
"Look at this photograph/Every time I do it makes me laugh/How did our eyes get so red?/And what the hell is on Joey's head?
Reflections by Supremes.
This classic Motown song encapsulates the joys and heartaches of living life to its fullest. The familiar refrain "Stop! In the name of love" is a reminder to pause, take stock, and appreciate even the most fleeting moments.
The lyrics recall old times and good times, while also looking forward to new experiences that bring hope and happiness. The song's timeless message is that memories, both good and bad, are what shape us into the people we become.
Remember The Time by Michael Jackson.
This classic track captures the joys of nostalgia with its upbeat tempo and clever lyrics. From Michael Jackson's 1991 album, Dangerous, this iconic song is sure to bring back vivid memories of good times that you won't soon forget.
The chorus "Remember the time when we fell in love/Do you remember? Do you remember?" offers a reminder that although life moves fast and we experience many changes, some moments are frozen in time and can still be cherished.
The song is an easy-listening hit that will instantly transport you to the days when life was simpler.
Remember You Young by Thomas Rhett.
This song is about growing old and reflecting on the good times but never forgetting how it felt to be young. The lyrics say "I still remember it like it was yesterday / Oh, when we laughed until we couldn't breathe / And I'm tryin' hard not to forget that feeling now".
This is a beautiful reminder to not let the good times slip away and to always remember how it felt to be young.
Strawberry Wine by Deana Carter.
This classic country song is about a young girl's first romance, the summer she turns 17. She remembers that sweet time, and all of its details—from the "burnin' red cliff road" to his "steel-blue eyes." It's a beautiful homage to first love and the memories it leaves behind.
Summer Of '69 by Bryan Adams.
This classic 80s tune is the perfect reminder of youthful nostalgia. The song celebrates the carefree days of summer when life was all about friends, fun, and freedom.
With its catchy melody and sing-along chorus, this song captures the essence of memories from an unforgettable summer season. It sure brings back a lot of good times!
Summertime by DJ Jazzy Jeff and The Fresh Prince.
This classic rap single from 1991 will bring back fond memories of good times and top-down rides with the windows down.
With its distinctive beat and memorable rhymes, it's hard to forget this summertime jam about taking a break from school and work for some fun in the sun.
From barbecues to street parties, the song captures all of the joys that summer can bring. With its infectious chorus, Summertime quickly became one of rap's biggest hits and has been sampled by many other artists since.
No matter how long it's been, this song will always remind us of memories with friends and good times from summers past.
Sweet Sixteen by Billy Idol.
An upbeat classic rock and roll song, Sweet Sixteen is a nostalgic celebration of memories from the past. It paints an idyllic picture of good times shared with friends and being young again.
The lyrics are full of fond remembrances and bittersweet nostalgia for simpler days. This uplifting tune has been featured in several movies over the years, cementing its place as a pop culture favorite.
It's the perfect sound track for reliving fond memories and looking back on youthful days gone by.
Sweetest Devotion by Adele.
This song describes the memories of a past love that has been lost but still lingers in her heart. In the chorus Adele sings "But I'll never forget the sweetest devotion and how it felt to be loved by you."
The lyrics evoke a sense of nostalgia for days gone by, when everything was more innocent and pure. It's a beautiful reminder that even though times change, the good memories of a past relationship can still be cherished.
That's What Friends Are For by Dionne & Friends.
It's the perfect song for remembering old friends and good times. The lyrics are all about cherishing memories, like "counting a memory or two of our own".
This song reminds us to stay connected with those we love and look back on happy moments.
That's What I Call Home by Blake Shelton.
This empowering song speaks to the feeling of connection we can all have to a place, reminding us that "when you're homesick, no one else feels it like you do".
The lyrics emphasize the idea that home is more than just a physical location; it's a state of mind and an emotion that often comes back to us with nostalgia when we're feeling lost or homesick.
This song is a beautiful reminder of the importance of memories and good times that are associated with our homes.
The One That Got Away by Katy Perry.
This song is all about a special someone that got away. It captures the feelings of sadness, longing, and regret mixed with bittersweet memories of good times shared together.
The chorus speaks to those who have experienced such heartache: "Cause you know in your heart it's now or never/ Those are the hardest words to say/ No one knows what tomorrow brings/ But it's now or never."
The Sweetest Gift by Sade.
This song is a heartfelt ode to nostalgia, expressing the power of memories to bring joy and happiness. The lyrics remind us that "all our yesterdays will come again."
Through its soothing melody and comforting words, this song captures the beauty of remembering good times and cherishing them in our hearts forever.
With lines like "all the sweetest things we shared, still living in my mind," this song will bring out the best memories and make us smile.
For those who want to relive the best moments of their lives, The Sweetest Gift by Sade is a must-listen.
When We Were Young by Adele.
This nostalgic song captures the bittersweet feeling of reminiscing about old memories and good times. Adele's soulful lyrics paint a vivid picture of a time gone by, filled with happiness but also tinged with sadness.
She sings of wishing to go back and relive those moments again, yet knowing she can never return. It's an emotional reminder of how quickly life passes by, and how we must cherish our memories while we still can.
It's a powerful song that will bring up strong feelings of nostalgia in anyone who listens.
White Christmas by Bing Crosby.
This classic Christmas song reminds us of good times spent with family and friends, celebrating the holidays together. It is a heartwarming reminder of happy memories past and present.
The lyrics evoke a peaceful winter wonderland where everyone can gather around to appreciate their blessings.
Every time this song comes on the radio, it's sure to bring back fond memories for those who have heard it before.
You're Gonna Miss This by Trace Atkins.
This song paints the picture of growing up too fast and trying to take in all the memories before they slip away.
It's a great reminder that we should appreciate life and savor every single moment with loved ones.
You're My Best Friend by Queen.
This classic rock song is all about friendship and cherishing the good times. With lyrics like "We've been through so much together/And I just want you to know," it's impossible not to feel the warmth of nostalgia that this song evokes.
Conclusion
When it comes to songs about memories and good times, the options are endless. From feel-good classics to more modern tracks, there is something for everyone.
Whether you're looking for a nostalgic throwback or something new and exhilarating, be sure to take some time to enjoy these musical reminders of life's special moments.