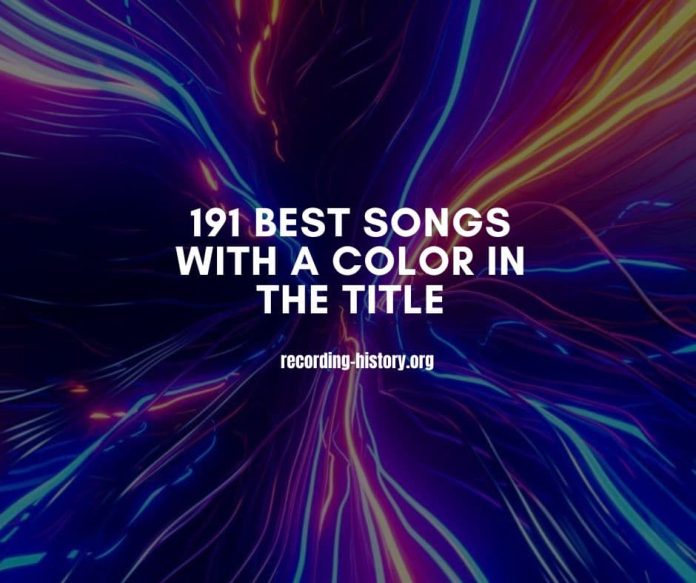 There's something about songs with colors in the title that just makes them more interesting. Maybe it's because they are easy to remember, or maybe it's because they just sound cool. In any case, we decided to put together a list of 191 songs with colors in the title! Whether you're looking for some new music to listen to or you're just curious about what kinds of songs exist with colors in the title, we think you'll enjoy this list.
1) 16 Shades of Blue by Tori Amos.
This song is a hauntingly beautiful ode to the ocean, with its dark depths and boundless beauty.
The chorus of this song speaks to the complexity of life and love, saying "16 shades of blue / can't take me away from you".
2. A Red Letter Day by Pet Shop Boys.
This song was released in 1997 and it's a classic. It's upbeat, catchy and the title perfectly describes how good life can be when something great happens.
3. Back in Black by AC/DC.
This heavy rock classic is an ode to living life against all odds. The title refers to the fact that although the group had recently lost a member, they persevered and came back even stronger.
4. Back To Black by Amy Winehouse.
This iconic song, released in 2006, is about a tumultuous relationship ending.
Winehouse sings with pure emotion and hauntingly beautiful lyrics as she reflects on how the love affair has affected her, going from 'happy ever after' to all black.
The song expresses an intense range of emotions that many can relate to.
5. Band of Gold by Freda Payne.
This classic pop song from 1970 speaks of a woman in search for her lost love and is filled with nostalgia.
Its title refers to the ring of gold that was given to the protagonist by her first love. The phrase "band of gold" has since become an idiom associated with everlasting love and devotion.
6. Behind Blue Eyes by The Who.
This classic rock song was released as a single in 1971 and was written by Pete Townshend. It's a story of loneliness, heartache and pain, expressed with poetic imagery including the line "No one knows what it's like, to be the bad man, to be the sad man".
The lyrics suggest that behind the facade of a happy life, there is a hidden sadness that no one can see. The song has been covered by numerous artists over the years and was made popular by Limp Bizkit's 2003 cover version.
7. Behind These Hazel Eyes by Kelly Clarkson.
This song is about a broken love that was once so passionate and alive.
The singer is torn between wanting to move on while still being unable to forget the memories, which she compares to the color hazel in her eyes.
It's an upbeat yet heartbreaking anthem for anyone who has ever had their heart broken.
8. Big Blue Note by Toby Keith.
This song was released in 2011 and is a classic country tune. The track follows the story of a man who remembers his past relationship with an old flame, reminiscing on the good times they had together.
The title "Big Blue Note" refers to a blue note that has been left behind by the woman he used to love, reminding him of what they used to have.
The song is a great example of how powerful the evocative power of color can be in music. It paints a vivid picture of nostalgia and regret, without ever explicitly mentioning the blue color.
9. Big Yellow Taxi by Joni Mitchell.
This classic folk-rock song from the 70s is a protest against urban development and modernization. The lyrics tell the story of a woman who remembers her peaceful childhood spent near a "big yellow taxi" that has been taken away by new buildings.
The singer laments the loss of nature, lamenting in the chorus: "They paved paradise, and put up a parking lot." The song has been covered by countless artists, showing its lasting impact.
10. Black and Gold by Sam Sparro.
This electro-pop song was released in 2008 and became an international hit, reaching the Top 10 of multiple music charts. The lyrics are about how a person can be successful despite their struggles and setbacks.
The chorus of the song highlights the concept of being "black and gold," with its mix of colors representing a combination of strength and beauty. This song has become an anthem for victory and resilience.
11. Black and White by The Upper Room.
This song is centered around the idea of hope and dreams in a world full of doubt. The lyrics reflect on how life can be seen as both light and dark, good and bad, black and white.
It speaks to how no matter what we go through in life, we have to stay positive and fight for our dreams.
12. Black and White Town by Doves.
This song is a reflection of the struggles between two different worlds that are present in everyday life.
It talks about how the black and white divide can be broken by understanding and accepting each other for who we are, regardless of skin color or background.
The emotionality of this emotionally charged song has made it a staple in indie rock music, as well as a classic for indie music fans everywhere.
13. Black and Yellow by Wiz Khalifa.
This song is an ode to Wiz Khalifa's hometown of Pittsburgh, and the yellow and black colors associated with it. The lyrics celebrate how he has achieved success despite his humble beginnings in the city.
14. Black Balloon by Goo Goo Dolls.
This song was a hit from the late 90s and captures the feeling of wanting something so much, but knowing that it's impossible to have.
The chorus talks about waiting for a "black balloon" to come along and take away all the pain and sadness.
15. Black Betty by Ram Jam
16. Black by Pearl Jam
17. Black Capricorn Day by Jamiroquai
18. Black Coffee by All Saints
19. Black Eyed Boy by Texas
20. Black Heart Inertia by Incubus
21. Black Hole Sun by Soundgarden
22. Black Horse and the Cherry Tree by KT Tunstall
23. Black is Black by Belle Epoque
24. Black Magic by Little Mix
25. Black Magic Woman by Santana
26. Black or White by Michael Jackson
27. Black Suits Comin' (Nod Ya Head) by Wil Smith
28. Black Velvet by Alannah Myles
29. Black Widow by Iggy Azalea feat. Rita Ora
30. Blackbird by The Wurzels
31. Blackstar by David Bowie
32. Blue Ain't Your Color by Keith Urban.
This hit single off of his 2016 album Ripcord features soulful guitar licks and smooth vocals that make this song perfect for any occasion.
Urban tells the story of a man trying to win back the love of a woman who has moved on to someone else.
The song's lyrics focus on how blue isn't her color, as if she's settling for less than what she deserves. It's a mellow yet upbeat track that can be enjoyed by all who appreciate good music.
33. Blue Bayou by Roy Orbison.
It's a classic from the late 1950s, telling the story of someone who is longing for a simpler time in their hometown.
The lyrics capture the feeling of nostalgia for those long-forgotten days: "I'm going back some day / To Blue Bayou," Orbison croons wistfully.
The song has been covered by other artists, including Linda Ronstadt and Emmylou Harris, but none have been able to match the original. Blue Bayou is a classic that will stand the test of time.
34. Blue by Eiffel 65.
This classic 90s dance hit has been a favorite of many generations. The song was released in 1999 and quickly rose to the top of the charts, reaching number one in multiple countries around the world.
Its memorable lyrics, upbeat music, and infectious chorus make it an easy favorite for any occasion.
35. Blue by LeAnn Rimes.
This song was written by Bill Mack and was released in 1999 as the lead single from her album "Sittin' On Top of The World".
This country-pop ballad is about a woman's yearning for a lost love. The lyrics are simple but beautiful, with Rimes singing " Blue – I'm blue, like the color of the sky/Blue, I'm blue, like the deep ocean's tide/I'm longing for you to come back to me."
The emotion in Rimes' voice makes this song a timeless classic that will make listeners feel her pain as they listen.
It was a major hit and earned Rimes two Grammy Awards in 2000 – Best Female Country Vocal Performance and Best Country Song. To this day, it remains one of her most popular songs.
36. Blue by Marina and the Diamonds
37. Blue by The Verve
38. Blue Jay Way by The Beatles.
This classic 1967 track was the band's first foray into psychedelic rock. Written by George Harrison, the song is a meandering musical journey that takes its name from Blue Jay Way, a street in Los Angeles where Harrison stayed one night.
The lyrics evoke feelings of confusion and disorientation as he attempts to find his way through the unfamiliar neighborhood. With its dreamy piano melody, swirling sitar sounds and hypnotic vocals, Blue Jay Way is a unique example of how colors can inspire creativity.
39. Blue Jean by David Bowie
40. Blue Jeans by Lana Del Rey
41. Blue Monday by Fats Domino
42. Blue Monday by New Order
43. Blue Moon by The Marcels
44. Blue Peter by Mike Oldfield
45. Blue Red and Grey by The Who
46. Blue Sky Mine by Midnight Oil
47. Blue Suede Shoes by Elvis Presley
48. Blue Sunday by The Doors
49. Blue Velvet by Bobby Vinton
50. Blues From a Gun by The Jesus and Mary Chain
51. Brown Eyed Girl by Van Morrison.
This classic rock song is an ode to a former love and contains the lyrics "Making love in the green grass behind the stadium with you".
52. Brown Eyes by Destiny's Child.
The song was released in 2001 and peaked at number two on the Billboard Hot 100 chart. The lyrics of Brown Eyes tell the story of a woman who is deeply in love with someone and is willing to do whatever it takes to keep them together.
The chorus of the song goes: "Brown eyes, you got me going crazy, I'm so in love with you, can't let you go…". The song perfectly captures the emotions of a tender and passionate relationship, making it a fan favorite.
53. Brown Girl in the Ring by Boney M.
The song was released as a single in 1978 and reached number two on the UK Singles Chart. It is a calypso-style dance song composed by Frank Farian and Rajesh Roshan and sung by Maizie Williams from Trinidad & Tobago.
With its catchy chorus, the song has become an international classic and is often used as a call and response in children's games.
54. Brown Skin Girl by Beyoncé, SAINt JHN & Wizkid
55. Brown Sugar by D'Angelo
56. Brown Sugar by Rolling Stones
57. Bye Bye Blackbird by Julie London
58. Caribbean Blue by Enya.
This romantic and ethereal song has become an oft-covered classic. The calming melody belies the more melancholic lyrics, as Enya sings of a lost love and her longing to be reunited with them.
The color blue may symbolize the sadness of unrequited love, but also the hope that things will eventually improve.
59. Charlie Brown by Coldplay.
This song is an alternative rock anthem that speaks to the feeling of being a misunderstood outsider. The lyrics explore themes of loneliness, heartbreak, and lost youth in a way that will make you feel like Charlie Brown himself.
The chorus unapologetically declares: "I'm just like Charlie Brown, yeah I need someone to help me out". This song is the perfect anthem for anyone who has ever felt like a misfit, and its title serves as an homage to the iconic character.
60. Counting Blue Cars by Dishwalla.
This classic 90s rock song is a fan favorite and tells the story of a dreamer counting blue cars on his way home. "Counting Blue Cars" was released in 1996 and peaked at number 11 on Billboard rock chart, making it one of Dishwalla's most successful singles.
The lyrics are loaded with imagery of hope and longing, and the catchy guitar riffs make it an instant classic.
61. Crimson & Clover by Tommy James and the Shondells.
This classic '60s song has been covered by many artists, including Joan Jett and the Blackhearts.
The lyrics of this upbeat classic reference a number of colors, from crimson to clover. This bright and cheerful tune has become an anthem for generations of music fans.
62. Deep Purple by Nino & April.
Released in 1967, this classic rock song is associated with the color purple. The lyrics tell a sad love story of a woman who's been left alone and is longing for her lost love. The song has become an anthem for heartache, and its deep purple hue adds to the feeling of loneliness.
63. Deeper Shade of Blue by Steps
64. Deepest Blue by Deepest Blue
65. Don't it Make my Brown Eyes Blue by Crystal Gayle
66. Ebony and Ivory by Paul McCartney and Stevie Wonder
67. Electric Blue by Arcade Fire.
This song is an upbeat, dreamy track that invokes a sense of freedom and exploration. The color blue represents the concept of an unknown journey, something that this song captures perfectly.
With its powerful percussion and emotive lyrics, Electric Blue radiates a feeling of liberation and optimism.
68. Evergreen by Wasted Penguinz.
This song has a darker tone to it, with an uplifting and emotional chorus. The lyrics paint a vivid picture of the changing colors of life, from joy to despair and back again.
With its beautiful melodies and powerful lyrics, this is sure to be one of your go-to songs for when you're feeling down.
69. Evergreen by Will Young
70. Fade to Black by Metallica.
From their fourth studio album, Ride the Lightning, this track is a fan-favorite and an ode to depression. Lyrically, it paints a vivid picture of loneliness as the color black fades away in the sky.
71. Fade to Grey by Visage
72. Fields of Gold by Sting
73. Fools Gold by The Stone Roses
74. Gold by Chet Faker.
This soulful tune has a great beat and melodic chorus. With lyrics about being in love, the song is sure to tug at your heartstrings.
75. Gold by Spandau Ballet
76. Gold Digger by Kanye West Feat. Jamie Foxx.
This song is about a man's realization that the woman he loves only cares about his financial status.
The title references the idea of a 'gold digger,' someone who is only interested in or attracted to someone because of their wealth or potential to make money.
It paints an image of a woman dressed all in gold, making it an apt choice for this list.
77. Golden Brown by Stranglers
78. Goldfinger by Shirley Bassey
79. Good as Gold by The Beautiful South
80. Goodbye yellow Brick Road by Elton John
81. Green Door by Shakin' Stevens.
This song was released in 1981 and reached number one on both the UK Singles Chart and the Irish Singles Chart.
It is an upbeat rockabilly tune that tells of a mysterious door behind which exciting things may be happening.
The song has been covered by many other artists over the years, including High School Musical in 2007.
82. Green Green Grass of Home by Tom Jones
83. Green Light by Beyoncé
84. Green Light by Lorde
85. Green Onions by Booker T. and The M.G.'s
86. Green Tambourine by Lemon Pipers
87. Grey Day by Madness
88. Heart of Gold by Neil Young.
This classic 1972 song is about a man on a journey in search of his fortune. The color gold is symbolic of the wealth and success he hopes to find, and the title serves as an indicator of his optimistic outlook on life.
89. Hey! What did the Blue Jay say by Shirley Temple
90. I Guess That's why They Call it The Blues by Elton John
91. I Saw Red by Warrant
92. Idlewild Blue (Don'tChu Worry 'Bout Me) by OutKast
93. Indigo by Molokok.
This hauntingly beautiful song is driven by a delicate piano melody and intricate guitar work. With its dreamy atmosphere, it's the perfect way to relax after a long day.
The lyrics of Indigo evoke the beauty in life's small moments—the sunlight streaming through a window, the sound of birdsong, and the feeling of being alone in the world.
The singer reflects on the different shades of color that make up our experience and how they can bring us peace and joy in the everyday. It's a gentle reminder to take time to appreciate life's little moments, no matter how mundane they may seem.
94. Inner City Blues by Marvin Gaye
95. Into The Blue by Kylie Minogue
96. Itsy Bitsy Teenie Weenie Yellow Polka Dot Bikini by Brian Hyland
97. John Brown by Bob Dylan
98. Just be Good to Green by Professor Green Feat. Lily Allen
99. Kozmic Blues by Janis Joplin
100. Lady in Black by Uriah Hheep.
This classic song, released in 1971, has been covered by numerous artists over the years. With a haunting melody and powerful lyrics, it tells the story of a woman who appears as a black ghost in the narrator's dreams.
The song alludes to death and loss but also hope and strength. It paints an image of a figure shrouded in darkness, yet radiating light and warmth.
Through its simple yet profound lyrics, the song encourages us to embrace our shadows and find comfort in the unknown.
101. Lady in Red by Chris de Burgh
102. Like Red on a Rose by Alan Jackson
103. Lily The Pink by The Scaffold
104. Little Girl Blue by Janis Joplin
105. Little Green Bag by George Baker Selection
106. Little Green Bag by Reservoir Dogs
107. Little Red Corvette by Prince
108. Little Red Ridin' Hood by Sam the Sham
109. Little Red Rodeo by Collin Raye
110. Little White Church by Little Big Town
111. Long Cool Woman in a Black Dress by The Hollies
112. Mamy Blue by Ricky Shayne
113. Mellow Yellow by Donovan.
This classic song from 1966, which was a top 10 hit in both the United States and the United Kingdom, is all about being content with life.
The lyrics refer to the joy of smoking "mellow yellow" cigarettes, but many believe that Donovan was actually referring to marijuana. Whatever his true intent, this upbeat tune is sure to put a smile on your face.
114. Men in Black by Will Smith
115. Mr. Blue Sky by Electric Light Orchestra
116. Natural Blues by Moby
117. Nights in White Satin by The Moody Blues
118. Ol' Red by Blake Shelton
119. Old Red Eyes is Back by The Beautiful South
120. Old Yellow Bricks by Arctic Monkeys
121. Orange County by Stefy.
This song was released in 2006 and was the lead single from Stefy's debut studio album The Orange Album. The lyrics describe a longing for the sunny weather of Los Angeles, with references to its popular beaches like Laguna Beach and Newport Beach.
It evokes feelings of nostalgia for the carefree days of childhood spent in California, an image that is reinforced by the dreamy music of the song.
The song has been featured in television shows like Laguna Beach: The Real Orange County and 90210. It remains a fan favorite to this day, a testament to its timelessness and appeal.
122. Orange Crush by R.E.M.
123. Out of the Blue by Debbie Gibson
124. Paint it, Black by The Rolling Stones
125. Painting the Roses Red / March of the Cards by Kathryn Beaumont and The Mello Men
126. Pink by Aerosmith
127. Pink Elephants on Parade (Dumbo) by Frank Churchhill and Oliver Wallace
128. Pink Orange Red by Cocteau Twins.
This song is about the power of color and how it can influence our emotions. It's a classic from the 1980s that still resonates with fans today, thanks to its dreamy, atmospheric sounds.
The lyrics evoke feelings of nostalgia, warmth and joy as they explore different shades of pink, orange and red.
Singer Elizabeth Fraser paints vivid images with her powerful vocals and the instrumentation provides a lush backdrop for the vibrant colors.
129. Pink Shoelaces by Dodie Stevens
130. Pink Toothbrush by Max Bygraves
131. Pink Triangle by Weezer
132. Powder Blue by Elbow
133. Pretty Fly (For a White Guy) by The Offspring
134. Pretty Green Eyes by Ultrabeat
135. Purple by DAGames.
This song by the YouTube music artist DAGames is all about a person who confuses their love for someone with an obsession. The singer expresses that they don't want to let go of this person and they can't help but be consumed by their purple emotions.
This song has been popularized among gamers, particularly those who play Roblox. It features a catchy electric guitar riff and heavy drums that drive the song forward.
The lyrics perfectly capture the intensity of feeling obsessed with someone, and its colorful music video really brings this emotion to life in a unique way.
136. Purple Hat by Sofi Tukker.
The quirky, indie-pop duo released this song in 2020 as part of their album "Good Luck and Do Your Best". The infectious groove is bound to get stuck in your head and the lyrics tell a story about taking risks and living life on one's own terms.
The chorus chants "Living my life in technicolor, no purple hat can hold me down." This song is an anthem for anyone who wants to be brave and make their own rules in life.
137. Purple Lamborghini by Skrillex & Rick Ross
138. Purple Pills by D12
139. Purple Rain by Prince
140. Red Alert by Basement Jaxx
141. Red Blooded Woman by Kylie Minogue
142. Red by Daniel Merriweather
143. Red by Elbow
144. Red by Taylor Swift.
Released in 2012, this hit single was featured on Swift's fourth studio album Red. The song reflects the intense emotions of a tumultuous relationship and expresses her battle with insecurity and heartache in a blend of sad, upbeat melodies.
145. Red Hot by Debbie Gibson
146. Red Hot Salsa by David Sheriff
147. Red Light Spells Danger by Billy Ocean
148. Red Rain by Peter Gabriel
149. Red Red Wine by UB40.
This classic reggae song is truly timeless and its simple lyrics bring a smile to most. It tells the story of a man who attempts to forget his pain and sorrow by drowning himself in red wine.
The chorus "Red, red wine goes to my head/Makes me forget that I still need her so" has resonated with generations of listeners, making it one of the more popular songs with a color in its title.
150. Red Right Hand by Nick Cave & The Bad Seeds
151. Red Rubber Ball by The Cyrkle
152. Red Solo Cup by Toby Keith
153. Redneck Woman by Gretchen Wilson
154. Roses are Red by Bobby Vinton
155. Seein' Red by Dustin Lynch
156. Silence is Golden by The Tremeloes
157. Silver Lady by David Soul.
This 1977 hit song tells a story of unrequited love, and its lyrics speak to the silver hue found in the protagonist's eyes. The narrator talks of his admiration for this woman, who he sees as an unattainable beauty whom he can only admire from afar.
In this classic love ballad, David Soul sings about the longing and heartache of never being able to truly have this woman, described by her silver eyes that he can only dream about.
158. Silver Lining by Rilo Kiley
159. Singing the Blues by Guy Mitchell
160. Small Black Flowers That Grow in the Sky by Manc Street Preachers
161. Song Sung Blue by Neil Diamond
162. Supermassive Black Hole by Muse
163. Tangled Up in Blue by Bob Dylan.
This classic folk song is often cited as a highlight of Dylan's 1975 album, Blood on the Tracks. The lyrics explore themes of love and heartache, and the title reflects that with its reference to being tangled up in a web of blues, or feeling overwhelmed by sadness.
164. The Black Hills of Dakota by Doris Day
165. The Green Door by Jim Lowe
166. The Lady in Red by Chris De Burgh
167. The Song of Purple Summer by Rise Cast
168. Tie a Yellow Ribbon by Tony Orlando & Dawn
169. True Blue by Madonna
170. Two Black Cadillacs by Carrie Underwood.
This song tells the story of a woman whose husband is cheating on her with another woman, and both women show up to his funeral in black Cadillacs.
171. Union City Blue by Blondie
172. Violet Hill by Coldplay.
This 2008 single off of the British rock band's Viva La Vida album has become an iconic song for the group. With lyrics about a place that is far away, and the somber guitar strums that accompany it, Violet Hill creates an atmosphere of nostalgia and longing.
The song also serves as a reminder of how beautiful things can be, even when they're fleeting, with its bold chorus of "Where we used to play, won't be the same."
The verses also have a dream-like quality, invoking imagery of a peaceful place and time where one can find solace.
173. Welcome to the Black Parade by My Chemical Romance
174. White & Nerdy by Weird A; Yankovic
175. White Flag by Dido
176. White Horse by Taylor Swift.
This country-pop crossover song was released in 2008, and is Taylor Swift's fifth single from her second studio album Fearless.
The song has the singer reminiscing over a lost relationship and mourning that it can't be rekindled. The metaphor of a white horse as a symbol of hope appears throughout the lyrics.
177. White Liar by Miranda Lambert
178. White Light by The Corrs
179. White Lines (Don't Don't Do it) by Grandmaster Flash and Melle Mel
180. White Lines by Grandmaster Flash
181. White Mustang by Lana Del Rey
182. White Rabbit by Jefferson Airplane.
This classic psychedelic rock song was released in 1967 and is one of the band's signature hits. It paints a surreal, fantastical picture of Alice in Wonderland with a chorus that sings "Go ask Alice when she's 10 feet tall".
The lyrics explore the idea of escaping reality by taking drugs like LSD and refer to the Lewis Carrol novel directly with the line "Feed your head, feed your head". With its dreamy sound and evocative lyrics, White Rabbit is a perfect example of the free-wheeling music scene of the 1960s.
183. White Rabbit by Jefferson Starship
184. White Riot by The Clash
185. White Wedding by Billy Idol
186. Yellow by Coldplay.
This upbeat, hopeful song celebrates the feeling of finding joy and peace in life. The lyrics celebrate new beginnings and hope for the future: "Look at the stars, look how they shine for you".
The song was released as the lead single from Coldplay's third album X&Y, with its playful music video depicting colorful animated scenes.
The bright, cheerful yellow tone of the song reflects the optimism in its lyrics and perfectly encapsulates the feeling of a new dawn filled with hope and possibilities.
187. Yellow Flicker Beat by Lorde
188. Yellow Ledbetter by Pearl Jam
189. Yellow River by Christie
190. Yellow River by The Tremeloes
191. Yellow Submarine by The Beatles.
Released in 1966, Yellow Submarine tells the story of a journey to colorful underwater world populated by strange creatures. The song's cheerful melody and optimistic lyrics echo its bright vision of a whimsical utopia beneath the waves.
Conclusion
From the bluesy classic "Midnight Blue" to the powerful "Purple Rain", music has a long history of songs that utilize color in its titles.
Music is an incredibly powerful tool for capturing emotion and connecting with listeners on a deeply personal level, and these songs are proof that adding a splash of color to its title can help create an even more memorable experience.
Whether expressing joy, sorrow, or any emotion in between, the use of color in song titles can help listeners better relate to the feelings of a track and make it even easier to feel connected to the artist's story. No matter what your favorite color is, there's sure to be a song out there that speaks to you